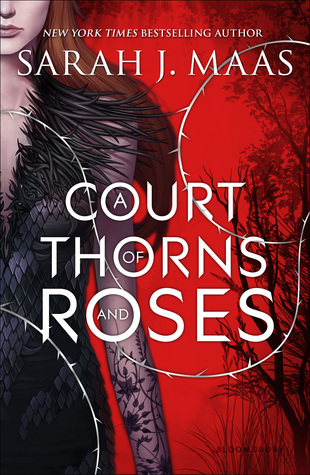 A Court of Thorns and Roses (A Court of Thorns and Roses, #1)
by
Sarah J. Maas
Series:
A Court of Thorns and Roses #1
Pages:
416
Published on
May 5th 2015
by
Bloomsbury Children's
Genres:
Romance
Amazon
|
B&N
|
BookDepository
|
Goodreads
Also by this author:
Throne of Glass
,
Crown of Midnight
,
Throne of Glass
,
Crown of Midnight
,
Heir of Fire
A thrilling, seductive new series from New York Times bestselling author Sarah J. Maas, blending Beauty and the Beast with faerie lore.
When nineteen-year-old huntress Feyre kills a wolf in the woods, a beast-like creature arrives to demand retribution for it. Dragged to a treacherous magical land she only knows about from legends, Feyre discovers that her captor is not an animal, but Tamlin—one of the lethal, immortal faeries who once ruled their world.
As she dwells on his estate, her feelings for Tamlin transform from icy hostility into a fiery passion that burns through every lie and warning she's been told about the beautiful, dangerous world of the Fae. But an ancient, wicked shadow grows over the faerie lands, and Feyre must find a way to stop it... or doom Tamlin—and his world—forever.
Perfect for fans of Kristin Cashore and George R. R. Martin, this first book in a sexy and action-packed new series is impossible to put down!

I love epic fantasies, impossibly beautiful fairies, true romance, difficult quests, and retellings.  All of these and more can be abundantly found within the covers of A Court of Thorns and Roses (ACOTAR).  From the cover, until the last word the reader is taken in an amazing journey into the world of fairies.
One of my favorite fairy tales is Beauty and the Beast.  I feel myself drawn to the story over and over.  To the possibility of falling in love with the person inside the beast, with the girl that goes off to the unknown because of her family, with the idea that love does conquered all.  ACOTAR is one of the best retellings of B&B because it combines this and much more.
Feyre's had a hard life.  She lives in a small cottage, in a life of poverty and struggle, with her father and two older sisters.  In order to survive, she learned to hunt.  One day she kills a wolf in the woods that happenes to be Fae and she's is taken away by a huge beast into Fairy Lands.  The beast turns out to be Tamlin, the High Lord of the Spring Court.  Together with Lucien, Tamlin's emissary and best friend, they keep an eye on Fayre.
Fayre is very smart, although she's illiterate (I hope this is remedied on the next book because it's just sad!).  She thinks like a hunter and her instincts are spot-on.  She's always looking for a way to escape, to survive, to protect herself.  She's introduced to the life at court slowly.  She's given freedom to roam as long as she keeps within the Spring Court, she's given paints and more importantly, respect, appreciating and eventually, love.
"Don't feel bad for one moment about doing what brings you joy."
Tamlin is quite, thoughtful, sad, constant, and often in a bad mood.  He's fighting a "blight" that has stricken all the courts and he has a fraction of the power that he once had. I love Tamlin and the patience that he had with Fayre. Their relationship was slow to develop and full of secrets and even some guilt on both parts.  There are a few steamy scenes in the book, so younger readers should tread carefully.
"His throat bobbled. His kiss that time was deep and thorough, unhurried and intent.

I let the dawn creep inside me, let it grow with each movement of his lips and brush of his tongue against mine. Tears pricked beneath my closed eyes.

It was the happiest moment of my life."
On the eve of a sure attack to the court, Tamlin send Fayre back home to her family in order to keep her safe.  Thanks to Tamlin her family is  now very rich, but Fayre realizes that she has to go back to make sure that Tamlin is okay, she no longer fits within her family.  This is where the second part of the story starts. 
"I love you," he whispered, and kissed my brow. "Thorns and all."
Fayre sacrifices SO much for Tamlin.  She's suffers a lot, both mentally and physically in order to save him and return his powers to him.  Rhysand is sort of our villain.  He's the lover of the bad queen and a High Lord too.  He only plays to win and he always bets on himself.  For some reason, he's interested in Fayre and he helps her, but on his awful terms.  The convoluted logic of his makes no sense to me, or anyone with an iota of decency.  I don't hate him (he did help Fayre), but I don't like him either.
"Rhysand stared at me for long enough that I faced him.

"Be glad of your human heart, Feyre. Pity those who don't feel anything at all."
I loved the story.  The world building, the plot, the dialogue, the descriptions, are all perfect.  If you've read any of Maas' books, you know that she's an amazing writer (if you haven't, what are you waiting for?!) I cannot wait for the next book.  I cannot wait to continue Fayre and Tamlin's story.
Sarah J. Maas can do no wrong in my eyes.  In the mist of her Throne of Glass series, she started another trilogy that manages to be as good, just in a different way.  I adored ACOTAR, it is one of the best books I've read, not only this year, but possible ever.  I cannot recommend it enough and I hope you read it, and love it as I did.
Check out Maas' Pintrest board for the series, it is SO pretty 🙂