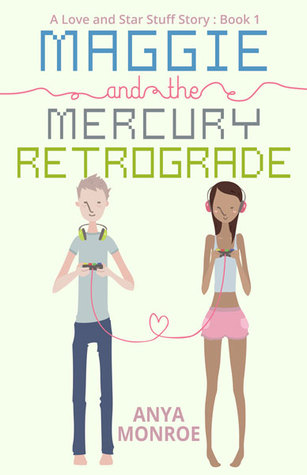 Maggie and the Mercury Retrograde
by
Anya Monroe
Series:
Love and Star Stuff #1
Pages:
220
Published on
8th October, 2015
by
The Lovely Messy
Genres:
Contemporary
,
Romance
Format:
eARC
Source:
Author
Amazon
|
B&N
|
Goodreads
My life is spinning out of control faster than I can say sorry for all the things I've done since this whole planetary shift began.

Like apologize for the fact I made out with my soon-to-be stepbrother. And his stepbrother. And that I'm crushing on the one guy I swore I'd never be into… while keeping it all from my BFF.

Mom says I think the world revolves around me, but the truth is, I'm just trying to survive the worst week of my life. The universe is legit out to get me.

It started when my gaming nemesis deleted my AsteroMine galaxy and it's only gone downhill from there.

It isn't my fault. I swear.
I received this book for free from the publisher or author in exchange for an honest review.
This does not affect my opinion of the book or the content of my review.

My Thoughts
If you haven't noticed, I've hit a bit of a slump lately. Trying to get back 'in the mood' of reading has proved tougher than expected, probably because I've been reading my share of Halloween-themed books when I was meany to be picking up a light-hearted contemporary instead. Maggie and the Mercury Retrograde was exactly what I needed it right now. It had me laughing and smiling constantly, and it easily made me forget that all my distractions.
I have to say that the cover of this book is what initially caught my attention, and was, ultimately, what drew me in. As soon as I started though, I knew that this book and me was going to click. The writing style couldn't have been more perfect for the story it was telling. It nailed the perfect mix of formal writing, 'teen language' (which authors never get right) and the snarky humour of our protagonist, Maggie. It read exactly as I would expect myself Maggie to sound. The humour had me laughing and just nodding with understanding. Maggie just got it, and I think there is an almost undeniable bond between a character and a reader when they can say that that specific character feels utterly realistic and almost connected to them. So, obviously, I thought the character development was done incredibly well written, and done with such a great twist. Maggie was not the nicest person in the world. She had a lot of flaws, but she knew that and didn't try to hide, just tried to work out how she could be a better person while staying true to herself – can you ask for much more? I also loved the support network around her, and how Maggie explored what everyone in her life meant to her. Tallie was such a great friend and I cannot wait for her own story (for more reasons too, but spoilers!).
The plot was a little cheesy and over the top at the times, but it was fun, easy to breeze through and made me laugh. I think the tropical setting was perfect, but the romance was a little questionable. This book had a love-quandrangle to the extreme. Well, kind of – and I think that's the only reason I found it tolerable. The relationships in this book were all tested, and the book was truly about Maggie discovering who she wanted to be so they were necessary to her growth. I did like Orion as a character, but I felt that if had been a teeny bit more fleshed out he could have been just that little bit more fantastic (and that would have made me so much happy with the general romance).
Overall, this was an adorable story that I throughly enjoyed it. I am very excited for Tallie and the Total Eclipse now, and I hope that I get to more of Anya Monroe's books soon. I'd definitely recommend this book if you love Meg Cabot and Sophie Kinsella's writing styles and general sense of humour. The setting of Maggie and the Mercury Retrograde is similar to Sophie Kinsella's Wedding Night, so if you are looking for a younger version of that book (with some of the gaming geekiness of Armada) than I'd be inclined to shove this book in your face and shout, "Read it now!"
Question of the Day

: Are you a fan of Meg Cabot or Sophie Kinsella? And have you read any Anya Monroe books before?
Latest posts by Rachel Lightwood
(see all)