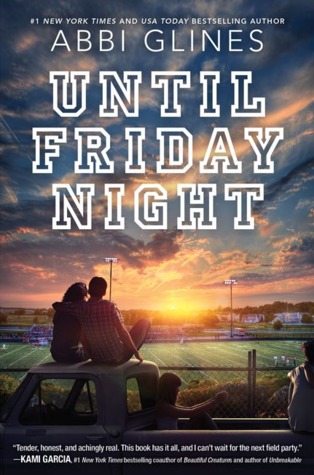 Until Friday Night
by
Abbi Glines
Series:
The Field Party #1
Published on
25th August, 2015
by
Simon Pulse
Genres:
New Adult
,
Contemporary
,
Romance
Format:
eARC
Source:
Edelweiss
Amazon
|
BookDepository
|
Goodreads
To everyone who knows him, West Ashby has always been that guy: the cocky, popular, way-too-handsome-for-his-own-good football god who led Lawton High to the state championships. But while West may be Big Man on Campus on the outside, on the inside he's battling the grief that comes with watching his father slowly die of cancer.

Two years ago, Maggie Carleton's life fell apart when her father murdered her mother. And after she told the police what happened, she stopped speaking and hasn't spoken since. Even the move to Lawton, Alabama, couldn't draw Maggie back out. So she stayed quiet, keeping her sorrow and her fractured heart hidden away.

As West's pain becomes too much to handle, he knows he needs to talk to someone about his father—so in the dark shadows of a post-game party, he opens up to the one girl who he knows won't tell anyone else.

West expected that talking about his dad would bring some relief, or at least a flood of emotions he couldn't control. But he never expected the quiet new girl to reply, to reveal a pain even deeper than his own—or for them to form a connection so strong that he couldn't ever let her go…
I received this book for free from the publisher or author in exchange for an honest review.
This does not affect my opinion of the book or the content of my review.
I was hoping Until Friday Night would be so much more than the New Adult stereotype – borderline-abusive romance, arsehole of a romantic interest, characters with tragic backgrounds they need saving from, instalove/instalust and all that crap. I've been recommended this story multiple times. This author's work even more times, more than I can count. But unfortunately, Until Friday Night was exactly what I hoped it would be.
What went wrong?
• West was an arsehole. I'm sorry but the way he acted towards almost everyone was not okay. He slut-shamed. He acted obsessive and possessive of Maggie – which isn't okay, ever.
• The slut-shaming was awful. There wasn't a single girl Maggie's age that wasn't portrayed as a slut/whore/bitch/trash. Maggie has no female friends. All the girls at school harass/bully Maggie because they're jealous of how utterly gorgeous she is (of course!) and how she's getting West's attention when she's both the new girl and "that mute girl". All of these girls are used for sex by the jocks (West, Maggie's cousin, and Maggie's friends, Nash etc.) and thought of as disposable. And simply because they're attractive girls they're considered silly, ditzy, overly talkative and all these other 'girly' attributes so that they make Maggie look like a saint. It drove me bonkers! The only decent female character in this story are Maggie's aunt, and she's barely in the story.
• It didn't help me like West any better that he goes out with a girl for over a year (on and off again) and says to Maggie/everyone else that he feels nothing for her, their relationship means nothing… but he's also telling that girl he loves her. It's just not okay to tamper with people's emotions like that. It's cruel and cowardly.
• Maggie's mutism was not handled in the way I wanted to be. It's treated as if Maggie just decided she didn't want to talk to people anymore… well, until a hot guy came along and wanted to get into her pants. Mutism is a psychological disorder and it isn't as simple as deciding when you feel like talking to people or not! Besides Maggie was suffering from traumatic mutism not selective mutism so I just don't think the information in this book was accurate… and that's coming from someone that knows nothing about this specific topic.
• The book started with a massive infodump about the character's backdrop but I never felt West was ever truly sincere about his father's cancer. He was always going on about how much he was hurting but I don't know, I never felt it. We never really saw his grief. He just told us that he used girls and sex to cover his emotional pain, but we never got to really explore that (and BTW, this is no way should excuse his behaviour). I want to feel the feels when someone's father dying of cancer, but I just didn't.
• Brady was an arsehole too. He treated Maggie like he owned her. How dare he tell people they weren't allowed to talk to her or be friends with her! Being your cousin, pretty or mute doesn't mean you cannot have a social life, and no one should be allowed to have that power over anyone. Maggie had just moved to a new town after suffering through some pretty life-changing shit, the least she deserves is a fresh start – not to be isolated.
• In the end, I didn't ship Maggie and West at all. I didn't like West. I didn't. He was obsessive, possessive and, at times, cruel and cold. He had a temper, he didn't let her talk to other guys, he didn't want to her to talk to anyone but him… in another book his character could have been used as a serial killer or at least a creepy stalker.
• Also, what's with the title. I don't get the reference. I mean, obviously they had games/field parties on Fridays but I don't really think this is the most apt title for the book.
It wasn't all doom and gloom though. There's a reason – a couple of them actually – why I couldn't give this a flat-out one star rating:
• It was written in dual narration… and done well! I know that a lot of people dislike multiple POVs, but I have such a weakness for dual narration. Getting to read about both sides to the story (especially if it is a romance) can never go wrong – if it is done well, of course. This way we got to see the situation from both Maggie and West's perspectives and get into their heads to understand them more. This wasn't a one-sided romance. We got to see how they both felt about each other from their own eyes, and I think that really helped me understand their actions better too. And even if the chapters hadn't been titled, they had such unique voices that I would have instantly known whose POV I was reading from which is always what you want in a story narrated like this.
• The last 15% wasn't nearly as bad. Maggie finally stood up for herself and called West out on his obsessive behaviour… I don't agree with the she handled it particulary well ((view spoiler)) as it led to so much excessive drama.
• I actually didn't mind the character of Maggie at all. She was sweet and tough at the same time. She was smart and did call West out on some of his bullshit. I liked that she what she wanted, and had a generous heart. I'm not sure I agree with her choice of romantic partners but she was easily my favourite character of the story.
• The cover is gorgeous. Honestly, go zoom up on it. I love the detail and the colour scheme. The sequel isn't quite as nice, but I honestly like this cover a lot.
Overall, I have to say that I am disappointed that this is another of those NA romances that perpetuate all the stereotypes about the genre. I didn't like West. I didn't like the romance. I wasn't a fan of the way Maggie's mutism was handled. I wish I could have found this as cute and shippable as everyone else, but sadly this didn't cut it for me. I'll probably continue on with the series, if only because I hope to see Brady redeemed in the companion.
QoTD: What NA romances have you read the don't follow this formula? I really want to get into this genre but I am having a heard timing finding anything original.
Latest posts by Rachel Lightwood
(see all)