These are some of the books I read in January that I didn't have a lot to say about – whether that's because I loved it to much to form a coherent review or because it was appalling depends on the book in question. Either way, I certainly read some interesting books so far this year and here's a brief idea of what I thought of some of them.
Hotel Ruby by Suzanne Young:
Hotel Ruby

by Suzanne Young
Pages: 288
Published on 3rd November, 2015
by Simon Pulse
Genres: Suspense, Thriller, Mystery, Romance
Format: Hardcover
Source: Publisher
Amazon | B&N | Goodreads

Also by this author: The Program, Just Like Fate

Stay tonight. Stay forever.

When Audrey Casella arrives for an unplanned stay at the grand Hotel Ruby, she's grateful for the detour. Just months after their mother's death, Audrey and her brother, Daniel, are on their way to live with their grandmother, dumped on the doorstep of a DNA-matched stranger because their father is drowning in his grief.

Audrey and her family only plan to stay the night, but life in the Ruby can be intoxicating, extending their stay as it provides endless distractions—including handsome guest Elias Lange, who sends Audrey's pulse racing. However, the hotel proves to be as strange as it is beautiful. Nightly fancy affairs in the ballroom are invitation only, and Audrey seems to be the one guest who doesn't have an invite. Instead, she joins the hotel staff on the rooftop, catching whispers about the hotel's dark past.

The more Audrey learns about the new people she's met, the more her curiosity grows. She's torn in different directions—the pull of her past with its overwhelming loss, the promise of a future that holds little joy, and an in-between life in a place that is so much more than it seems…

Welcome to the Ruby.
I received this book for free from the publisher or author in exchange for an honest review.
This does not affect my opinion of the book or the content of my review.
My Thoughts
It's been two day since I finished Hotel Ruby, and I honestly have no idea how to phrase what I want to say about this book. I need to emphasis that this is seriously the softest one star rating I have ever given. I harbor no hard feelings towards this book, I honestly just cannot muster the energy to care about it all. I should feel outraged or at least intensely disappointed at how dull, predictable and just silly this story was, but *shrugs* for some reason I'm just ready to leave this book in my past and move on. It was dull, all of it – the writing, the characters, the plot – and my feelings about it are too.
I guess if I had to elaborate I would point out that I've read four or five stories with this exact plot trope (I won't spoil exactly what it it, but as soon as you start this book you'll know what I mean), and it's not interesting. It's overdone now, and has become predictable – I knew exactly how this story would end as soon as Audrey feel asleep in the car. Being right isn't fun. Predictability in mysteries/thrillers is one of my all-time biggest pet peeves so it lost my interest pretty early on.
If that still wasn't enough, I guess I could tell you how little I cared about Audrey and the other characters. Audrey's one distinguishing feature was her grief for her dead mother. She seemed to have little more personality other than this intense grief – which could have been interesting to explore if this story focused on that (and they way it effected her family) rather than the mystery of Hotel Ruby. The romance between her and the mysterious, hot, suit-wearing boy was yawn-inducing – predicable, dull, cliched and lacking any form of chemistry or connection. I don't even care to elaborate about it, it's every reader's worst instalove nightmare manifested.
I honestly cannot think of what else to say about Hotel Ruby– this book was the epitome of dull. I didn't enjoy any aspect of the story – especially the insanely predictable, our MC's lack of personality and the failed attempt at romance. I wish I could have something positive to say, but apart from the gorgeous cover, I'm not sure there is anything to say. I'm not sure I even want to check out the author's other series. I seemed interesting but if this is any indication of her writing style, I'm hesitant and dubious.
What to Read Next: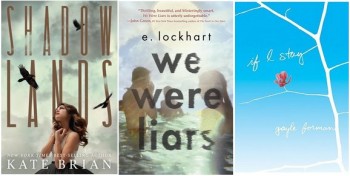 ---
Remembrance by Meg Cabot:
Remembrance

by Meg Cabot
Series: Mediator #7
Published on 2nd February, 2016
by William Morrow Paperbacks
Genres: Adult, Paranormal, Mystery, Romance
Format: eARC
Source: Edelweiss
Amazon | BookDepository | Goodreads

Also by this author: Proposal

In Rembrance, the seventh installment of the Mediator series, all Susannah Simon wants is to make a good impression at her first job since graduating from college (and becoming engaged to Dr. Jesse de Silva).

But when she stumbles across an ancient murder, old ghosts—and ex-boyfriends—aren't all that come back to haunt her.
I received this book for free from the publisher or author in exchange for an honest review.
This does not affect my opinion of the book or the content of my review.

My Thoughts:
This is one of those books that I need to say a lot about because well, the Mediator series is over now. No more Jesse… *sobs*. But it was such a satisfactory conclusion to the series (and much needed) that I don't have that much to say about it.
The last 5% was brilliant – it made me laugh, cry and swoon. I know that it sounds silly – the last teeny tiny bit of the book was the best pary, how can that be worth it? But it just was, it tied everything up exactly like I hoped it world without being too cheesy or forcing the ending too much. People got together, others didn't, we saw old friends and made new ones – it was just perfect. *happy tears*

I really liked the character of Becca and was glad that Suze was able to step in to help her. I still doubt Suze's abilities as a counselor – I mean swearing, using intimidation, and threatening patients isn't the best way to earn trust – but Becca & Suze developed a rather sweet relationship and I liked seeing it grow.

The 'ghost' was terrifying at first but quickly grew… less terrifying. We got a little distracted by the personal drama, which I personally enjoyed more but knew (deep down) shouldn't have been the focus of the story. I didn't quite understand what the ghost's significance was – she barely talked and seemed to cross over way too easily. How did she get over her anger so quickly, and why didn't she help Suze out more? I think her haunting's were 'used' a little too much to push the personal drama in certain directions.

The entire incident surround Paul pissed me off at times too. It was a little unbelievable at times (as if someone that wealthy and famous would care about Suze after all those years) and well, Paul's just a douchebag (he's a lot worse, but I'll try to keep it PG).

You know how much I adore Jesse so it was more than fabulous getting to see more of him, but what was up with his mood swings? I get that he's protective, and I even get that's his cultural background (as sexist as it may be) made him believe he had to protect Suze from all the dangers of being a mediator, but man did he scare me at times! He would be all sweet and then bam, being bashing the living daylight out of someone. And his anger at NCDPs was hard to understand. Surely his experience would have made him more empathetic? Plus his change of mind at the end (about marriage and sex) was a little too rushed. I mean, I didn't agree with him in the first place and I honestly have no idea how he waited as long as he did – even I, as the reader, was dying – but his change of heart was a little too uncalled for and convenient.

The writing relied a little bit too much on dialogue though. I mean, the first solid 8% of this book was dialogue between Suze and Paul – which is completely ridiculous. There could have been some more descriptive passages to break it up, but since this is a heavily character-driven story I could see why that happened.
Overall, I couldn't have asked for a more satisfying finale to this series, but there were few kinks – mainly involving Paul. I'd definitely recommend this series to fans of supernatural kickassery who love their female protagonists feisty, sassy and flamboyant… and a hot ghost thrown in for the hell of it too (pun totally intended).
What to Read Next: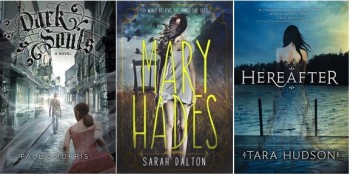 ---
Afterlight by Rebecca Lim: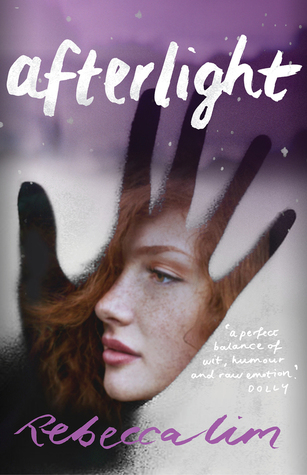 Afterlight

by Rebecca Lim
Published on 24th June, 2015`
by Text Publishing
Genres: Young Adult, Paranormal, Thriller, Romance
Format: eARC
Source: Edelweiss
Amazon | BookDepository | Goodreads


Since her parents died in a freak motorbike accident, Sophie Teague's life has fallen apart. But she's just enrolled at a new high school, hoping for a fresh start.

That's until Eve, a beautiful ghost in black, starts making terrifying nightly appearances, wanting Sophie to be her hands, eyes and go-to girl. There are loose ends that Eve needs Sophie to tie up. But dealing with the dead might just involve the greatest sacrifice of all.

Dark, thrilling and unrelentingly eerie, Afterlight will take you deep into the heart of a dangerous love story, revealing the otherworldly—and deadly—pull of past wrongs that only the living can put right.
I received this book for free from the publisher or author in exchange for an honest review.
This does not affect my opinion of the book or the content of my review.
My Thoughts:
I've been thinking about this review for the last couple of days and I'm still not sure what to write. There's no pretending I'm a fan of Rebecca Lim. I read her book The Astrologer's Daughter when it first came out and rather disliked it (read: loathed it). The characters drove me crazy, there was no conclusive ending (who bother writing a mystery when you aren't going to solve it?) and the writing was trying way too hard. It left me angry and bitter. Afterlight wasn't nearly so infuriating, but I cannot pretend that I particularly enjoyed it either.
For one, the writing tried so hard to be poetic and pretty, but – to me, at least – it didn't suit the story. It was a little too… whimsical? Flowery? This isn't a light-hearted story, it's dark and gloomy, and the writing just didn't manage to capture that feeling at all. In fact, it almost seemed to be trying to 'hide' the darker themes behind the writing style, to counter-balance it or something. This was especially evident with the ending – some serious stuff is going down and the writing was trying to make the scene, I don't know, mean something? There were all these metaphors about life & death and it was just out of place.
The characters didn't help the matter either. While I was much more tolerant of Sophie than Avicenna (the protagonist of The Astrologer's Daughter), I cannot pretend that I came to care for her. Both her and her romantic interest (whose name I cannot be bothered looking up – Jake? Jude?) seemed to have little personality above seeing ghosts. And the romance – boy oh boy – was it just boring and predictable. The hottest boy in school ignores the advances of all the 'hot, cheerleader' types and falls for the quirky, misfit girl instead. Where have I heard that before? Oh, right… in every other book ever. I won't even go into a rant about the fact that they 'loved each other' after only two days… *snorts*.
Another thing I just didn't work for me was the ghost lore of this story, which seemed to have no real consistency at all. It seemed to be being made up as the story went along. I have so many questions about the ghosts and 'seers' in this story that were left unanswered: Why did Eve make Sophie do all those charitable acts? How did she talk/communicate with the romantic interest (seriously, what was his name!?) and not Sophie? What was with the tattoos and old spells – how did they work? If Sophie could see ghosts her whole life, why didn't they bother her until Eve showed up and annoy Romantic Interest his whole life instead? Who becomes ghosts and how? …. I have so many unanswered questions, as you can see.
And my excitement for this book being set in Australia quickly dwindled when I realised that the setting seem to be almost identical to the one in The Astrologer's Daughter – both dark, filthy, seedy apartments in Melbourne. This time the protagonist just lived behind her grandmother's bar rather than an apartment block.
Overall, I tried to give the author a shot at redemption, but I just wasn't able to enjoy her latest story as much as I wanted to. She's written another series so I maybe give that a go at some point, but I don't think I'll be holding my breath in anticipation.
What to Read Next:
---
Questions of the Day

: Have you read any of these books before? Oh, and definitely let me know whether you're a fan of the Mediator series and were happy with this conclusion or not. I've been hearing mixed things.
Latest posts by Rachel Lightwood
(see all)