The Memory Key
by
Liana Liu
Pages:
368
Published on
March 3rd 2015
Genres:
Science Fiction
,
Dystopian
Format:
eARC
Source:
Edelweiss
Amazon
|
B&N
|
Goodreads
Lora Mint is determined not to forget.

Though her mother's been dead for five years, Lora struggles to remember every detail about her — most importantly, the specific events that occurred the night she sped off in her car, never to return.

But in a world ravaged by Vergets disease, a viral form of Alzheimer's, that isn't easy. Usually Lora is aided by her memory key, a standard-issue chip embedded in her brain that preserves memories just the way a human brain would. Then a minor accident damages Lora's key, and her memories go haywire. Suddenly Lora remembers a moment from the night of her mother's disappearance that indicates her death was no accident. Can she trust these formerly forgotten memories? Or is her ability to remember every painful part of her past driving her slowly mad — burying the truth forever?
I received this book for free from the publisher or author in exchange for an honest review.
This does not affect my opinion of the book or the content of my review.
There are some books that you just cannot connect with, no matter how much you try. Sadly The Memory Key is one I'll have to add to that list. No matter how much I tried to get into this story, to make myself care about the whiny brat of a MC, I couldn't. The city could have blown up in the end and killed off every last character but I probably would still have been yawning, desperately trying to muster up a few scraps of emotions to pretend like I gave a damn.
I never quite understood the point of this book. Lora, the MC (whose name I had to go and look up despite finishing this book only last night), seemed to randomly get the idea that her mother's car accident, and resulting death, was more than just an 'accident' and then just run with it. It was ridiculous and unbelievable, but Lora seemed to know more than the audience did and planned a million daring adventures to prove it. She clutched at straws and managed to pull all these amazing connections together despite the whole thing making no sense. I still don't get why the things that happened in this book actually happened nor understand the need for so many lies and manipulation to occur in the first place. It was, seemingly, a rather hastily organised conspiracy which easily unraveled at the hands of a 17-year-old – I don't believe such an influential and highly organised business could do such a shoddy job of it all.
Not only that but I wanted this story to focus more about the dystopian world it was set in. A viral form of Alzheimer's called Vegrets has plagued the world and the cure to it is these devices known as memory keys – which are practically chips they embed in your brain as a baby so that they can record memories and thus "cure" any Vegrets. I loved this idea! I loved that it didn't seem too far off – because despite not believing that memory keys are our future, I like to think that such technology isn't such an unreachable dream in sixty years time. And when reading these sorts of books, I love entertaining the idea that these sorts of dystopian worlds could possibly, one day, truly occur. Of course with the upgrade of technology comes further moral debates about the notions of privacy – similar even to what we are currently discussing in the contemporary world – so I loved that aspect of The Memory Key.
What I didn't love was the characters. Like I mentioned before, I never came to care about any of them. Lora, especially, was not the sort of character I admire. She seemed to always be angry at someone. I understand that her situation was less than ideal and she had a lot on her plate, but it doesn't give her the free pass to lie to her father, to scream at her best friend and call her a bitch, or do any of the other things she did. One of my biggest pet peeves in books is toxic friendships, and while I wouldn't quite label Lora and Wendy's friendship as 'toxic', Lora's inner monologue about Wendy's flaws and how much she hates her was enough to make me scream.


Oh, and the romance! Boy oh boy, do I need to say that love triangles do no work again? Well, actually I do. Liana Liu, love triangle do not work! I didn't like Tim or Raul. I didn't like the way that Lora treated either of them. I didn't like the way that Tim treated Lora. And while Raul was nice, we all knew he was a distraction and he really didn't need to be in the story.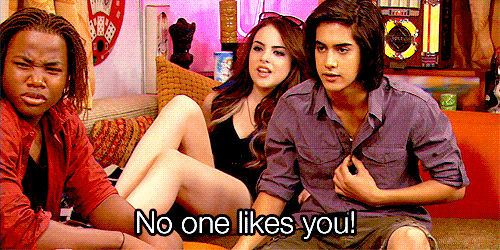 Overall, my main problem with this book is how little I cared about it – the plot, the setting, the characters, the romance… *yawn*. Lora wasn't the MC for me. The love triangle was unnecessary. The dystopian setting could have done with some more fleshing out. This isn't something I'd recommend to anyone – even hardcore dystopian fans – and I don't look forward to the sequel, if there is to be one.
Question of the Day

: What is your favourite type of technology? I am a bit peculiar for teenager since I absolutely loathe mobile phones. Computers, though? They're much more my thing! My laptop is my baby. Honestly.
Latest posts by Rachel Lightwood
(see all)