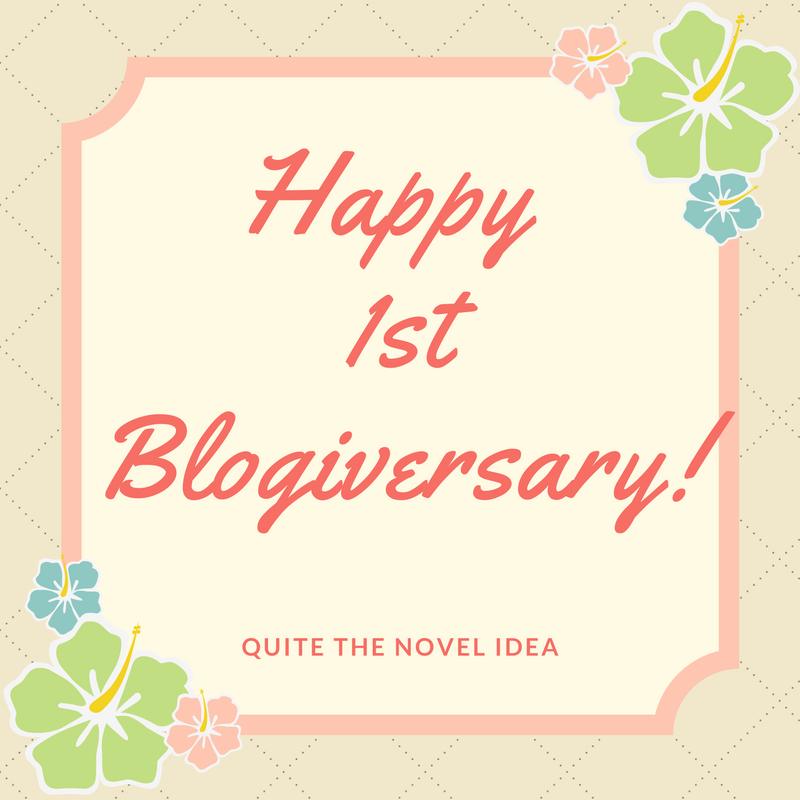 Quite The Novel Idea is officially 1 year old today and we have two awesome giveaways for you all but before you enter those, first we'd all like to say something about how this past year has been for us and what we see in the future of this blog. Looking back and looking forward. So patience, young grasshoppers. There are giveaways at the end waiting for you.
Bee
Has it really been 1 year already? Good god time flies by these days. I mean… last month I would've celebrated my 4th blogoversary if I'd still been on Istyria book blog. Can you believe that? And while I loved that blog dearly, I can't say I regret taking the step to join forces with Liza. It's been incredible to have her and Rachel helping out and I love these girls so much. <3 Blogging with them is a pleasure and an honour and now that Steph has joined the team it's even more perfect. I just want to thank you all for your continued support of our blog and I hope you guys stick around for a long time because I'm sure as hell not going anywhere just yet. I'm hoping to make more discussion posts this year and maybe start a old feature back up again. Before I go I just want to say to the awesome ladies that are my co-bloggers: I love you and thank you for everything you girls do for me and this blog.
Liza
YAY!!! Cue in the balloons and I'll bring the cake girls!
Last year I found myself in a bind since I'd lost my previous co-blogger and another contributor.  It left me stressed out and I also wanted a new blog design.  I approached Bee and Rach about merging our blogs, which is a scary prospect when you've been blogging for four years already. To my surprise, they loved the idea and Quite the Novel Idea was born.  I'm so thankful that they replied to my email instead of asking if I was crazy!
I want to thank my wonderful co-bloggers: Bee, Rach and now Effie.  Thank you Leah for loving books and sharing that love with us.  Thanks to fellow bloggers Nereyda, Nick, Alyssa, Gen, Eva, Stephanie, Hannah, Rachel, and many more who we love.  Thank you for all of you, dear readers who stopped by the blog one time or many, thank your your comments, for following on social media, for the Tweets, for the likes and for the love.  I hope we can provide reviews and posts that you want to read and original content for you.
Rachel
I'm the opposite to Bee! I cannot believe that it was only a year ago when Liza approached Bee and myself about her brilliant idea to start Quite the Novel Idea. It seems like I have been with these girls for so much longer. Blogging with these girls was one of the best decisions I have ever made in my life. They are some of the most supportive and beautiful people I have ever come across in the blogopshere, and I can say with certainty that I wouldn't have made it this whole time without them. I want to thank them from the bottom of my heart for being such amazing co-bloggers and friends, especially since – as you may have noticed – I was a bit absent in the last few months. I let myself get carried away with the stress of my senior year, university applications, and all that fun stuff.  Liza, Bee and the amazing Effie – who I'm so excited to start working with – kept this blog going.
In the last year, I have honestly loved every second of working with the girls on this blog and cannot wait for the year ahead. I love having a platform to share my bookish thoughts and interacting with like-minded people. It is one of the most rewarding things. I hope 2017 can be an even better year for us, and to all the people who support us: I  thank you. Everyone who has ever commented on a post, Tweeted at us or interacted with us on Goodreads, please know that every positive comment, word of encouragement or shoutout (etc.) mean the world to us. It's what keeps me going so thank you, thank, you, thank you.
Effie
I'm still the new girl here but I've been following Quite the Novel Idea since its creation. Their posts have made me laugh, cry, squeal and thanks to them I've been introduced to a wide variety of books as well. I couldn't have asked for better co-bloggers. And I want to thank all the ladies for making me feel welcome when I joined them not so long ago. We make a good team and I'm proud to call myself a QTNI Lady and I'm looking forward to keep blogging with you ladies and, of course, all you readers: who've liked, commented, followed and given us so much love. One more shout-out to my ladies here: Thank you for embracing me into the fold and for everything you've done. Let's make this year, a year filled with great posts, great content and above all else share the love we all feel for the books.
Giveaway #1 (International)
Rules:
~ This giveaway is open internationally, provided Book Depository ships to your country. Check if your country is on their list here.
~ We are not responsible for packages getting lost in the mail.
~ Once the rafflecopter ends, a winner will be chosen at random and notified via e-mail. The winner has to respond within 48 hours or another winner will be chosen.
~ Cheaters will be disqualified. Naturally.
Giveaway #2 (US Only)
What you can win – The books pictured above (please note, some of these are finished copies and some are ARCs, also some are autographed to me "Liza")  AND an original print and two homemade bookmarks, and a "I need YA" button.
Rules:
~ This giveaway is only for US mail addresses.
~  We are not responsible for packages getting lost in the mail.
~ Once the rafflecopter ends, a winner will be chosen at random and notified via e-mail. The winner has to respond within 48 hours or another winner will be chosen.
~ For all other rules to to the Policies page.
Good luck!
Latest posts by Bee, Liza & Leah
(see all)