Hey guys! Today for Pride Month, I'm going to share you my 10 favorite LGBTQIAP+ reads. Yes, this is ranked. Yes, they're all awesome, but number 1 is literally the best ever. Keep in mind that this is MY opinion and MY list. If you do not agree with it, why don't you make your own list so we can discuss? Okay, let's start with number 10.
10. Fan Art by Sarah Tregay
Fan Art needs more time in the spotlight because it's actually a very cute and sweet story. It's about Jaimie, a gay boy that has yet to come out to the world who finds himself falling for his best friend. He's too scared to tell him because he thinks it'll ruin his friendship, but it seems that the school already knows what's up. And not everyone is as supportive as his parents. Definitely a must-read, guys!
9) One Man Guy by Michael Barakiva
One Man Guy is another book that needs more spotlight! It was such a nice surprise when I read it. It's super adorable and the perfect summer read. It's also very diverse! The main character, Alek, is Armenian. This'll also make you hungry because they talk about Armenian food a lot. YUM. So go read it, like now.
8) Gracefully Grayson by Ami Polonsky
Gracefully Grayson is a middle grade book about Grayson. She's a girl stuck in a boy's body, but nobody knows this. She's scared of how people will react. This book is a very important one to read and it left me speechless. It sends an important message without beating you over the head with it and honestly, it's a very inspiring story. Definitely one you must check out.
7) Symptoms of Being Human by Jeff Garvin
Symptoms of Being Human is a book that I know some of my blogger friends did not enjoy quite as much as I did. And I understand. But I love this book. It's about Riley, who's genderfluid, something I was not familiar with. So through reading this book I actually learned quite a bit about it and I love that because I like understanding all the different sexualities better. I also loved Riley and how we never got a definitive answer as to what gender Riley is by birth. Because it doesn't matter. If you haven't read it yet, I suggest you check this one out.
6) The Summer I Wasn't Me by Jessica Verdi
Jessica Verdi is known with me for her emotional stories. They always tend to hit me in the feels big time. This one was no different. It's about Lexi, she's gay and her mother can't quite deal with that. So she sends her daughter to a "de-gaying" camp. I cried hard with this book. The stuff Lexi and her friends at the camp go through is something NOBODY should ever have to experience. And what made it that much sadder to me is the knowledge that this does happen in the real world. It's very intense at points and a bit hard to read, but it's important that you do, so check it out, if you can.
5) The Great American Whatever by Tim Federle
This book landed Tim Federle a spot on my author auto-buy list. I just love his writing, simple as that. The Great American Whatever is a much lighter read compared to number 6 on the list, but still emotional at some points. There is a lot of humor in this one and I love a funny book. Quinn, our main character, also got a spot on my favorite character list. I just loved his voice and his entire personality. So if you're not into overly emotional and intense books, read this one. For real.
4) Jerkbait by Mia Siegert
Jerkbait touches on a lot of tough topics and does it quite effortlessly without making it too emotional or heavy. And at the center is the relationship between the twins Tristan and Robbie. This is Mia's debut novel and I can't wait to see what she does next because this one was SO amazing. Highly recommended, duh.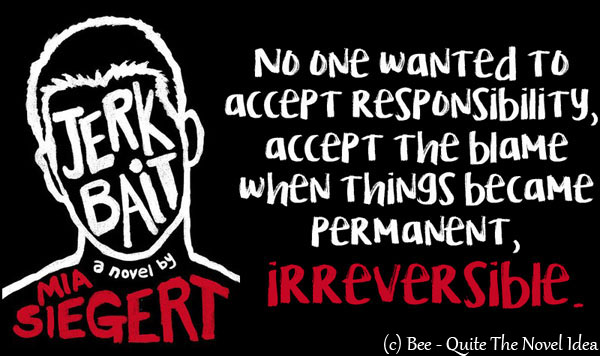 3) Highly Illogical Behavior by John Corey Whaley
I loved this book so much I can barely stand it. This was my first John Corey Whaley book and now I must read all of his books ever. Because OH MY GOD. This book is written from 3rd person POV, which is usually very tricky for me because it's hard for me to connect with the characters. But not in this one. I loved Solomon and yes, he's also on my favorite characters list. I loved how this book handled mental illness. I loved the writing. I loved everything. And you should read it. NOW.
2) How to Repair a Mechanical Heart by J.C. Lillis
HTRAMH is a book that Becky (Albertalli) has recommended to me multiple times. And now I see why. It's so geeky and shippy and adorable. My heart can't take it, guys. This is also the first book to be added to my GR shelf: nothing even comes close. A Book previously solely occupied by Simon VS. So yes. That should tell you something. Go read it.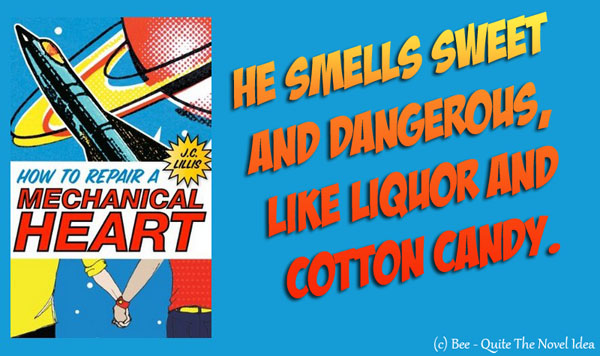 1) Simon VS the Homo Sapiens Agenda by Becky Albertalli
I mean, honestly. Do I even need to explain this one? It's the best book of ever and gets better every time I read it. My love for it is endless. And if any of you didn't see this one coming, you clearly don't follow me, like, anywhere.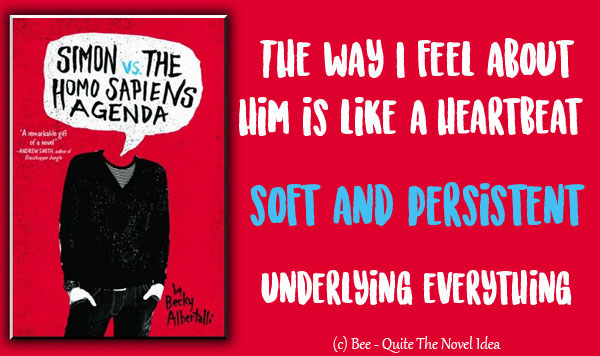 Have you read any of these? Are there any of your favorites NOT on this list? Let me know in the comments!