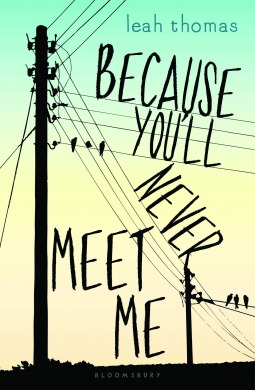 Because You'll Never Meet Me
by
Leah Thomas
Published on
July 2nd, 2015
by
Bloomsbury Publishing
Genres:
Contemporary
Source:
NCTE
Amazon
|
B&N
|
BookDepository
|
Goodreads
Also by this author:
Because You'll Never Meet Me
,
Because You'll Never Meet Me
,
Nowhere Near You
In a stunning literary debut, two boys on opposite ends of the world begin an unlikely friendship that will change their lives forever.

Ollie and Moritz are best friends, but they can never meet. Ollie is allergic to electricity. Contact with it causes debilitating seizures. Moritz's weak heart is kept pumping by an electronic pacemaker. If they ever did meet, Ollie would seize. But Moritz would die without his pacemaker. Both hermits from society, the boys develop a fierce bond through letters that become a lifeline during dark times—as Ollie loses his only friend, Liz, to the normalcy of high school and Moritz deals with a bully set on destroying him.

A story of impossible friendship and hope under strange circumstances, this debut is powerful, dark and humorous in equal measure. These extraordinary voices bring readers into the hearts and minds of two special boys who, like many teens, are just waiting for their moment to shine.

Because You'll Never Meet Me is probably the strangest, most wonderful book I've read this year. I wasn't prepared for the crying session that took place while I was reading it nor was I ready to love it as much as I did. It might not be for everyone but I truly enjoyed every minute of it.
Ollie and Moritz are both lonely boys because of extraordinary circumstances. Ollie is allergic to electricity so he lives a very secluded life and Moritz was born without eyes and has a pacemaker. It isn't until they begin exchanging letters that they realize that they have something in common.
This gorgeous debut is clever, unique, and incredibly powerful. Everything about it is so heartbreaking yet hopeful. I had an internal struggle because I couldn't stop reading but I didn't want to finish it. I grew an attachment to both boys and I wasn't ready to let go. Actually, I finished this book a couple of days ago and I'm still thinking about it so I think Ollie and Moritz will stay with me for a while.
The plot is a little out there but the interaction between the boys keeps it from feeling ridiculous. The two perspectives are very well written. Each boy has a unique voice and that's a clear sign of a good writer. I'm very shocked and disappointed that this is a debut novel. Shocked because it puts a lot of seasoned writers to shame and disappointed because I want to read another Leah Thomas novel as soon as possible.
Even though the novel is both emotional and strange, the balance between the two is pure perfection. Because You'll Never Meet Me warmed my heart and made me wish that I could read it forever. I hope it makes you feel the same way.
About Paola
Paola blogs at Don't Fold the Page. Twenty-something. Anglophile. Cat lady. YA Bookworm. Occasional fangirl. Amateur baker. Football (the soccer kind) enthusiast.
Blog | Twitter | Goodreads | Instagram