Hi there gorgeous readers!  I'm here to share my personal experience with migraines and to recommend something that actually worked for me.  If you don't know what a migraine headache is, lucky you!  For real, I don't wish them on my worse enemy (not that I have any 🙂 ) These are not normal headaches, they are stronger, often causing pain in specific areas of your head (temples, or one sided, or right behind your eyes) and cause other symptoms like sensitivity to light, nausea, and dizziness. I'm sure symptoms are as varied as the person having the migraine.  Oh, and they can last hours or days.
My migraines started at the ripe age of 15.  That was the year my parents got divorced and after many doctors and tests (EMGs, labs, ophthalmologists…) it was decided that my headaches were stress related.  I suffered through them for YEARS.  Some worse than others and some so epic that shall forever live in infamy.  I tried many medications and to reduce my stress level.
In 2009 the love of my life was deployed to Iraq. I started having migraines every day for three weeks straight and I finally went to the doctor and he told me that if I was serious about getting rid of my headaches, that I should read this book: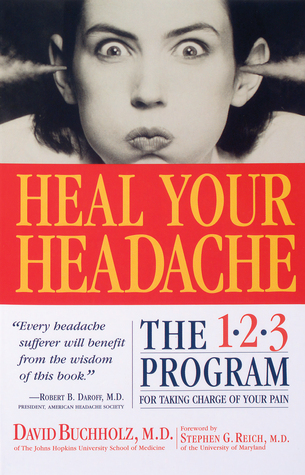 I immediately ordered it and followed the program to the proverbial "T".  What is it you ask?  Well, it's a program designed to recognize your triggers –  food, emotional, medical and environmental – and then minimize them.  I'm sure I cannot spell the whole thing for you as I didn't come up with the system (copyright and all that that), but learned a lot about my triggers.  Some of them are:
Food
Nitrates – I cannot eat anything with nitrates, including hot dogs, cold cuts, canned foods.
Certain nuts – Peanuts are absolutely a big NO-NO for me.  Al a lesser extent, I can't eat pecans and cashews.
Preservatives – Not all, but some canned foods and frozen dinners are bad for me.
Chinese – I avoid at all cost and also any soy based food.
What I do:  Obviously, I avoid eating these.  I cook a lot from scratch, I read labels carefully, I don't eat something if I don't know what's in it, I ask questions about the food when I eat out.
---
Other Stuff
Lack of rest – If I don't sleep at least six hours every night, I can't function right and I take the risk of getting a headache.
Stress – Work, life, kids… they happen.  It can be stressful at times.
Hormonal – Sadly, there is nothing I can do at specific times of the month.
What I do: I try to sleep at least six hours per night, specially since I have insomnia.  I try to plan ahead, I'm very organized and try to minimize stress and decompress with my hobbies.
I'm not a doctor, but this has worked for me for eight years so far.  My humble advise is to take care of yourself, know your triggers, avoid them and you will be so much happier.  I don't know for you, but for me, nothing that I eat is worth a migraine. Nothing.
Do you happen to have bad headaches or migraines?  Have you tried a diet? Do you know your triggers? 
I'm an avid reader (since I learned to read at age four) and a book blogger (since May, 2011).I read mostly YA, but I also read romance, new adult and some middle grade.

Born in Puerto Rico, hola :), military wife for 22-years, and mother of three boys.I work full time doing something else that I love (sadly I don't get paid for reading!)