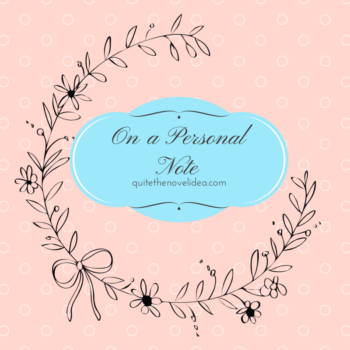 Hi everyone!!!!  As you might now I stopped blogging full time at the end of April (see that post here), but I did promise to keep in touch and contribute to Quite the Novel Idea and I've done a terrible job thus far.  A few days ago Bee has a beautiful baby girl (if you want to see Emma, check out Bee's Facebook page) so it's my job to help Leah as much as possible to keep the blog going.
So, what have I been up to?  Like I said in my goodbye post, I've been extremely busy.  Here is a recap in pictures:
We went to hubby's graduation in Florida and we also visited his family (two sisters-in-law and their children and grandchildren). We drove there which is a 14 hour drive for us, but it was okay at the end.
That same week I had carpal tunnel surgery of my right (and dominant) and which meant that I was off from work for a couple of weeks and with limited use of my hand.  Thank goodness that my mom came for an extended visit to help me out and also to attend Brian's graduation (more about that below).
You might remember that Brian has taken part of several plays and he had a ceremony to induct in the Thespian Society a new group of students.  Saying goodbye was bittersweet for him and he got an award for being so awesome at it.  We also went to Chris' Spring concert.  He plays clarinet in middle school (he just finished 7th grade) and he was really amazing.  He's grown so much in the last few months that he's now taller than me and certainly my mom (in the picture with him).
This is one my favorite pictures of Brian's prom. He's such a handsome young man!
Brian's graduation!!! The first picture is of my three boys and my niece and the second is of Brian and his proud mama.  He's already enrolled in a college at driving distance from us in Maryland and I hope he has a bright future ahead of him.
Andredi had a severe allergic reaction to…. something.  Well, the ER treated the allergy and he had a consult with an allergist, but they can't do the testing until later this month because his body had to get rid of the steroids and all the Benadryl…  We are all trying to be careful to avoid any new foods, perfumes, detergents, etc.
Hubby and I celebrated our 26th wedding anniversary on the 4th of July!  We went to the National Harbor for some shopping and for a relaxed lunch.  I'm so happy to share my life with my best friend.
Lastly, we celebrated Chris' 13th birthday on Friday!  Oh, and I've lost now 25 pounds!
That's a lot, right?
Reading?
Not really…. I've been re-reading a lot of favorites and I've read a few books.  It's nice to not have to read just because I need to have material to write a post.  I love the lack of pressure, but I do miss all of you guys 🙁
What comes next?
I plan to help out here while Bee is out taking care of her new baby girl.  Since I'm not taking any new books for review, I plan to tackle my reading lists one book at a time.  We are also planning a family vacation in August, but we don't have a destination yet.
On the professional front, I'm planning to start studying for new credentials (I have to sit for a test) and I've been looking into another master's degree that I think will help be out professionally. We'll see if I find a good fit and the money for that….
Well, that's all for now.
How's your summer so far?  Are we melting away like we were last week?  Have you eaten a lot of ice cream?  Any vacation plans?  What are your favorite reads of the last two months?