Since we (Bee & Effie) watch a lot of movies together, and Effie just joined this blog, we thought it'd be fun to discuss the movies we see here on the blog. Because movies are awesome. And thus Movie Madness was born. The first movie we're going to discuss? Disney's latest musical adventure MOANA.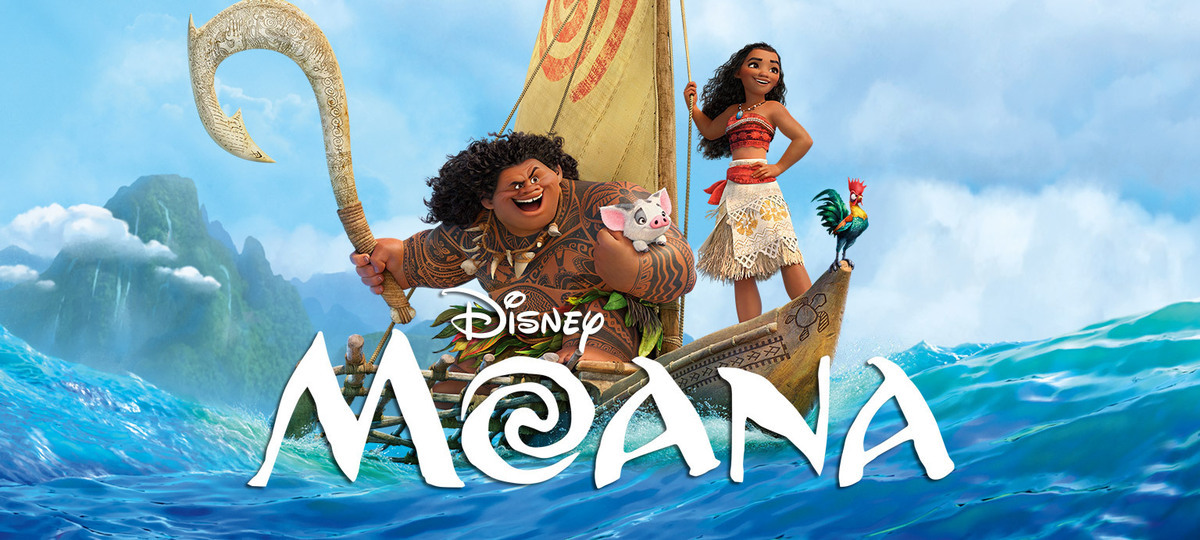 MOANA tells the story of Moana, the strong-willed daughter of the chief in a Polynesian tribe, who is chosen by the ocean itself to reunite a mystical relic with a goddess. When a blight strikes her island, Moana sets sail in search of Maui, a legendary demigod, in the hope of saving her people.

MOANA features the voices of Auli'i Cravalho, Dwayne "The Rock" Johnson, Jemaine Clement, Alan Tudyk and others. It was directed by Ron Clements and John Musker, co-directed by Don Hall and Chris Williams and has music written by Lin-Manuel Miranda, Opetaia Foa'i, and Mark Mancina.
Story
Bee: I hate to start this on a negative note, but I just want to get it over with so I can start gushing about this movie, okay? So the story is the only part where I had a few issues with. While I absolutely ADORE it and the diversity in it… It's a bit predictable and not all that different from other Disney musicals. That doesn't really take away from my enjoyment of the movie, but still. It's something I noticed. And I think some of these tropes could have been avoided. Like Moana's father, but I'll talk about that later. Overall though, I really loved the story. It felt very authentic to the island life and the history and lore and culture of this world was just beautiful.
Effie: True, Moana is like most Disney films in the way of story. But it was still breathtaking (especially the visuals) and it still made my heart jump up and feelings to going on a rollercoaster ride. It's Disney after all, no matter what they do, they always seem to make me feel so much when I watch their stories unfold on screen. Also crazy/wise Grandma's are the BEST!!
Bee: Well yes, Disney is good at the giving us the feels and they probably always will be.
Characters & Cast
Bee: This cast is SO diverse. I've seen behind the scenes videos of this movie and I don't think there's a single cast member that isn't a POC. I LOVE IT. Yay diversity! And they were all excellent, really. Especially the girl that played Moana and, of course, The Rock himself, who played the demi-god Maui. But the characters themselves were awesome too. Moana was a great lead and a great addition to the Disney Princess collection. Maui was fabulous and hilarious. But Heihei is the MVP though. For sure. My only nitpick with the characters is Moana's dad. I don't like that he's the standard strict dad that won't let his daughter leave for her own safety and all that. I think that could've been left out.
Effie: Full on LOVE for the cast and characters. Pua is soooooo adorable!!! I want to squish him, and hug him to death! And of course the girl that voiced Moana was fantastic. Her voice acting is amazing and she sounds cute. To be honest, I never expected The Rock to be as fantastic as he was, as the demi-god Maui. But he pulled it off spectacularly, especially the singing! Unlike Bee, I didn't really find Moana's dad to be a negative note. I'm so used to seeing this trope in Disney movies, that most of the time, I just flow with it. I did think Moana's grandma was awesome! And that idiotic chicken HeiHei, OMG, hi-la-rious!
Animation
Bee: It's Disney so what do you expect, honestly? They up their game every time and once again, they knocked it out of the park. The animation is gooorgeous. Especially the hair and the water in this movie. Seriously. It's stunning.
Effie: I especially loved the hair of all the characters and the playfulness of the water too. It's incredible what they can do with technology these days. Moana is so detailed and colourful! It's gorgeous!
Music & Soundtrack
Bee: Speaking of authentic… THE MUSIC OMG. It's gorgeous and gives the perfect island-vibe and the songs are beautiful and I love all of it. I still hum You're Welcome and We Know The Way and How Far I'll Go all day long. I can't get enough of this music. But honestly… I didn't really expect any less what with Lin-Manuel Miranda being attached to it.
Effie: We Know The Way is definitely my top favourite! I got so many goosebumps when the music started and they started singing. The harmony and feels it gave me was just so deliciously wonderful.
Our Favorite Song From The Movie:
Check out all the songs and the soundtrack of the movie in this amazing playlist and fall in love with it because it's GOOOOOORGEOUS.
Other favorite tracks of ours (so be sure to check those out in the aforementioned playlist!):
Bee: How Far I'll Go, You're Welcome, Know Who You Are, I Am Moana, Heartache, Te Fiti Restored
Effie: How Far I'll Go, Know Who You Are, Te Fiti Restored, We Know The Way
A Brief Word About The Short Film INNER WORKINGS
Bee: As per usual with Disney, there was a short film attached to the main movie. This time it's the short film titled Inner Workings. I just wanted to briefly mention it because I adored it. It was super charming and funny and had a beautiful message. So please, do check it out some time. It's not long and definitely worth your time.
Effie: Indeed, it was a very charming and funny short film. I'm especially fond of the way the Brain realized that sometimes, logic is overrated and that you have to follow the Heart. Can I also mention that I thought the Stomach was adorable?
Bee: That's a very weird sentence to be honest…
Have you seen MOANA? If so, what did you think about it? If not, do you want to? Tell us in the comments!
Latest posts by Bee, Liza & Leah
(see all)