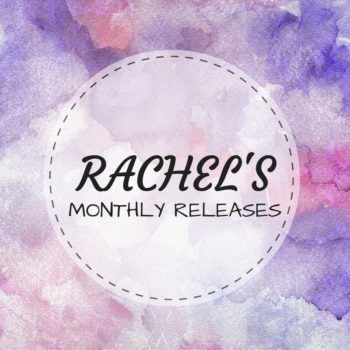 I know that we seem to say this every year but 2017 truly seems to be the year with all of the amazing new releases. I thought a great way to let you guys know which new releases on my radar would be to create a new monthly feature to showcase what's publishing. Just to note, there is no real rhyme and reason to the following list. They're in no particular order. If anything, they may be grouped by genre. These are all books I am personally excited for. Feel free to let me know of any ones I missed in the comments and let's get right into it!
---
May 2017 Releases:
Series Starters:
Borrowed Souls by Chelsea Mueller •  I have already read this one so you can see my full thoughts here. I enjoyed the new UF lore and the love interest (Derek) but the story as a whole was a little cliched. If you like swoony UF stories, I'd definitely recommend it though.
House of Furies by Madeleine Roux •  I was not a fan of Roux's Asylum series but I'm hoping her newest series will be much better? I love that it's set in an English boarding school so I've got my fingers and toes crossed hoping that this will be more up my alley.
The Shadow Cipher by Laura Ruby  •  I have heard nothing but amazing things about this author's writing so I eagerly anticipating steampunk story. It's about a city which was designed as a giant puzzle and a treasure hunt? Sounds good to me!
Dreamfall by Amy Plum  • One of the few sci-fi things I can tolerate is dream manipulation. I think this premise sounds surprisingly creepy and awesome. It's definitely not one to be ignored. It's almost being pitched to fans of Danielle Rollins… which I am!
Flame in the Mist by Renee Ahdieh   •  I feel like the only person in this entire blogging community that hasn't given The Wrath and the Dawn a chance yet but this is a Mulan retelling. My fave Disney movie + alchemy + samurais = high anticipation! *salviates* It's also my book club's BOTM for June so colour me keen.
The Traitor's Kiss by Erin Beaty  •  I don't know what to make of this synopsis! A girl who spies on girls to force them into arranged marriages? It sounds a little odd but spies, handsome soldiers and political intrigue added to the gorgeous cover is too good to resist.
Dark Breaks the Dawn by Sara B Larson  •  I kind of skimmed the synopsis of this one so the only reason it is on this list the mention of shapeshifting magic! Shapeshifters are my favourite types of paranormal creatures so I'm kind of intrigued how it'll be handled in this story.
---
Standalones:
The Truth About Happily Ever After by Karole Cozzo   •   I really enjoyed Cozzo's How to Say I Love You Out Loud last year so this just sounds like an adorable read. Cinderella? Theme parks? I'm in!
Windfall by Jennifer E Smith •  I tend to completely adore or completely loathe Smith's books so I really, really hope it's the former in the case. The premise of someone winning the lottery and having a worse life afterwards is fascinating. You never really think of it like that so I'm hoping that this will be cute and fun.
Romancing the Throne by Nadine Jolie Courtney  •  Umm, this is based on Prince William and Kate and Pippa! I am not a big fan of the royal family but I think this sounds adorably cheesy and like a good time.
I Believe in a Thing Called Love by Maurene Goo  •  A girl obsessed with k-dramas? I love it! I don't watch them myself but I have a friend who adores them so I hear all about them and I've the early praise for this book is ridiculous. I think we may have the next To All The Boys I've Loved Before on our hands!
One Italian Summer by Keris Stainton  •  I don't know why but I love reading about grief and the promise of an Italian story sounds too good to resists.
Noteworthy by Riley Redgate •  It's about acapella! I adore acapella. Plus, the MC is bi and she has to pretend to be male in order to join a super exclusive, awesome acapella group?
Say No to the Bro by Kat Helgeson  •  After the disappointment that was Helgeson's debut, Gena/Finn, I definitely need to give this author a second chance. Even if the cover, title and synopsis is screaming at me to run – this just has the vibes of a disaster… or it that just me? I'm going to brave against my instincts and give it a go.
Girl Out of Water by Laura Silverman  •  This book was the subject of major controversy late last year but despite all of that, I love the sound of this book. I'm interested in reading more about the Lincoln and for some reason, it's giving me One Would Think the Deep vibes (which was one of my fave books from last year).
Ramona Blue by Julie Murphy  • I don't think this one would even be on my radar if it wasn't for the discussions on Twitter about the synopsis (which was rather controversial and raised questions about sexuality & labelling). It's pitched as a "thought-provoking novel about modern love, family, and the labels that we just can't seem to escape" which sounds good to me and I'm also there for an LGBT+ protagonist.

Just a Normal Tuesday by Kim Turrisi  •  I've heard this one is a mix between The Last Time We Say Goodbye (Cynthia Hand) and Love Letters to the Dead (Ava Dellaira) so I'm interested to see what I'll think of it since I loved TLTWSG and absolutely loathed LLTTD.
Someone Else's Summer by Rachel Bateman  •  This premise does not sound all that unique and uses some of the tropes that I tend to avoid – road trips + someone else's bucket list – but I just have a strange feeling that I should give it a chance. I do enjoy books which explore grief and depression/mental illness so I think be surprising. Hopefully!
And We're Off by Dana Schwartz   •  I don't know what else to say other than this sounds like a fun contemporary. Europe. Art. Grandparents. History. It sounds too good to resist.
How to Make a Wish by Ashley Herring Blake  •  Hmm, to be completely honest. I'm not sure whether I'll end up picking this one up or not. The only thing calling to me about it is that it has LGBT+ characters and the author (who is an #ownvoices author) speaks up for a lot of important issues on Twitter (including bisexuality representation).
It's Not Like It's a Secret by Misa Sugiura  •  A birracial f/f romance? Please!
It Started With Goodbye by Christina June  •  There are so many things calling to me about one: the love interest plays cello, contemporary fairytale retelling, possible magical realism, graphic design, family… you get my point. Bring it on!
Eliza and Her Monsters by Francesca Zappia  •  I loved reading about people who write fanfics or blog so this just sounds adorable. Plus it is written in a multimedia format and I have heard nothing but good things from some of my most trusted blogging friends.
Four Weeks, Five People by Jennifer Yu  •  Books with a large cast and multiple POVs are my jam and added with the premise – five teens with various mental illnesses/conditions bonding at a therapy camp – and I'm sold.
Release by Patrick Ness  •   After A Monster Calls, I need more of this author's books in my life.
In a Perfect World by Trish Doller  •   I have never read a contemporary book set in Egypt before so that's kind of the reason I have this on my TBR. The setting alone is enough to entice me.
Violet Grenade by Victoria Scott  • Despite my rocky history with Scott's books, I'm a complete sucker for psychological thrillers. The fact that we also have a protagonist with dissociative identity disorder – something I have never read about before – has my completely sold.
The Duke of Bannerman Prep by Katie A. Nelson  •  I love reading rich people thrillers and this sounds really different. It's a retelling of The Great Gatsby – which I'll admit that I know nothing about – but it is also being pitched as a mix between Green's Looking for Alaska and Brian's Private series.
One of Us is Lying by Karen McManus  • For fans of Pretty Little Liars, you say? You have my attention! I love large cast character-driven mysteries like this. I'm so keen! Literally one of my most highly anticipated books of the year.
The Love Interest by Cale Dietrich  •  A book about spies that pokes fun at the love triangle tropes and has an m/m romance? I cannot wipe the smile off my face. This is another one of my most highly anticipated books of the year! Ahhh!
Brave New Girl by Rachel Vincent  • I've been hearing really good things about this one so far and I am always on the lookout for a new dystopian, even if this one sounds a little unoriginal.
Cold Summer by Gwen Cole  •  Time travel and WWII… need I say more? I'm emotionally invested already. This is literally one of my most anticipated reads of the year. I am also intrigued by the mention of the protagonist's PTSD.
The Guns Above by Robyn Bennis  •  I looove steampunk novels but I have not read nearly as many adults ones as I would like. Also, I cannot resist such a feminist-sounding premise and it has a POC MC.
The Seafarer's Kiss by Julia Ember  •  Eeep, an #ownvoices LGBT+ retelling of The Little Mermaid with an f/f relationship and mermaids!
The Wishing Heart by J.C. Welker  •  The basic premise of this book is "with a book in her bag and a switchblade in her pocket, Rebel's been thieving her way through life while hoping for a cure to fix her ailing heart"! If that doesn't intrigue you, it's about jinnis and a game of mystic cat and mouse. It's also got an LGBT+ protagonist? Ahhh!
Royal Bastards by Andrew Shvarts  •  I absolutely love the sound of this one! It is a fantasy with all my favourite elements and the idea of banding the royal bastards together is genius. I'm so keen.
---
Sequels:
Always and Forever, Lara Jean by Jenny Han  •  I don't think anyone predicted that we'd get a third sequel to this series but we are! Personally, I was never a massive fan of the first book (or Lara Jean, in general) but I am curious to see how this love triangle will sort itself out…
Contagion by Teri Terry  •  I know a lot of people are over dystopians but they remain some of my favourites. It's hard to impress me with them anymore but I'll always give them a shot.
Avenged by Amy Tintera  •  For some reason, Ruined got a ton of mixed reviews last year. I was one of the minority that absolutely adored it. I looooved the characters and the plotline was so fast-paced and consuming. I'm also 100% invested in the romance. The wait for this one is killing me!
Latest posts by Rachel Lightwood
(see all)