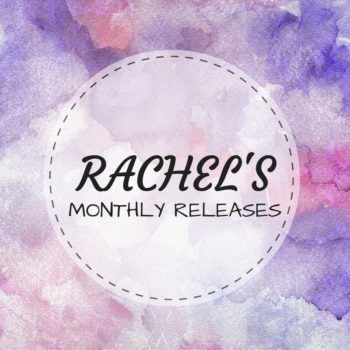 I know that we seem to say this every year but 2017 truly seems to be the year with all of the amazing new releases. I have had some of these books on my TBR since 2015 or so… to say I'm eager for them is an understatement! I thought a great way to let you guys know which new releases on my radar at least would be to create a new monthly feature to showcase what's publishing.
Just to note, there is no real rhyme and reason to the following list. They're in no particular order. If anything, they may be grouped by genre. These are all books I am personally excited for. Feel free to let me know of any ones I missed in the comments and let's get right into it!
---
January 2017 Releases:
 Series Starters:
Wires and Nerves by Marissa Meyer  •  Winter is currently on my bedside table, anxiously waiting to be read, so I do have every plan to try and finally finish this series off this month. Iko was always one of the standout characters in the series so the promise of a graphic novel is too much to ignore. I have feeling this is going to be really epic!
Carve the Mark by Veronica Roth  •  I was one of the rare readers who thought that Allegiant was – hands down – the best book in the series so I'm more than a little excited to see what Roth has been up to since then. Even is space books aren't my jam, you can bet that I'll be picking this one up as soon as it releases!
Freeks by Amanda Hocking  •  This is one of those authors that I have every single one of her books/series on my TBR but I still haven't actually read any of them. Maybe I can start with this one? 'Cause it's about circuses and magic and looks amazing. It also has a character called Gideon… so I'm sold.
Frostblood by Elly Blake  •  This was actually my first read of the year and just let me say, I loved it! If you liked either Red Queen or Ruined definitely make sure to add this to your TBR. Although, I'm calling dibs on the preciousness that is Arcus.
Poison's Kiss by Breeana Shields  •  I know that the idea of someone having the ability to kill someone with a single touch/kiss isn't new but I mean, how can you resist that premise? Assassins that have to kiss their victims to murder them and this assassin just assigned her true love!? I really hope that this book just knocks my socks off. It just sounds so, so promising… and again the cover is certainly helping my case. It's gorgeous!
I See London, I See France by Sarah Mlynowski  •  Mlynowski's All About Rachel series was my childhood! I had no idea that she was writing something new, and I love that it's focuses on travel. Hopefully, it'll live up to my expetctaions.
---
Standalones:
By Your Side by Kasie West  •  It's set in a library. A library. A YA romance in a library… is that no all the information you need!? I know the reviews have been pretty negative but I still have reasonably high expectations.
Our Own Private Universe by Robin Talley  •  I haven't read a really good contemporary f/f romances since Everything Leads to You so when I saw that the author of As I Descended was publishing one, I knew I had to read it.
A Tragic Kind of Wonderful by Eric Lindstrom  •  Speaking of diverse, all I know about this book is that it is about a girl with bipolar disorder and it's by the author that wrote Not If I See You First. I don't need any more information than that. I'm in!
The Hundred Lies of Lizzie Lovett by Chelsea Sedoti  •  In all honesty, I had no idea this was on my TBR until I checked my Goodreads shelves to see which books to add to this post. Supposedly, I have a copy from Edelweiss? Looks like I'm reading this one completely blind! From the cover, I'd guess it could be a contemporary but I have zero idea.
The Edge of Everything by Jeff Giles  •  Everyone got ARCs of this at '16 BEA, I think. I honest to God don't know anything else about this one other than someone mentioned bounty hunters…? I kind of just clicked on it 'cause it was an auto-approval and the buzz at the time was high… regretting it a little now. Hopefully, it'll be surprisingly good?
History is All You Left Me by Adam Silvera  •  I still haven't read Silvera's More Happy Than Not but this book has an LGBT+ romance and handles topics like OCD and grief so it sounds right up my alley!
Under Rose-Tainted Skies by Lousie Gornall  •  This book may sound a little bit familiar because it was actually released last year (with a different cover) in the UK. I'm not sure what that's about – probably territory rights or something – but this book is about a girl with agoraphobia and OCD. You guys probably know that Highly Illogical Behaviour is one of my all-time favourite books so I need more books about this topic. Also, one of my favourite BookTubers, Kate @ Girl, Reading, adores this book.
A Quiet Kind of Thunder by Sara Barnard  •  While I avoided Barnard's debut because of the mixed reviews, nothing can stop me from picking up her latest release. It's about a girl with selective mutism who befriends a boy who is deaf, which means not only is it wonderfully diverse (!) but I just have a feeling it might finally be one a diverse romance done right.
The Radius of Us by Marisa Marquardt • I'm not sure about this one. It doesn't sound like my sort of read, exactly, but it's been getting a ton of good reviews and I think it has elements of diversity?
Whenever I'm With You by Lydia Sharp  •  A missing boy + the Alaskan wilderness? Yes, please! This sounds right up my alley, although the romance will hopefully not be too over-powering. And man, that cover is gorgeous!
Life in a Fishbowl by Len Vlahos  •  I have never read a book like this before. If you mention the words "reality television", I'm usually gone in under two seconds flat but I don't know… there is something calling to me about this one. I think it could be an interesting look how families deal with terminal illnesses.
To Capture What We Cannot Keep by Beatrice Colin• This is another one I have already read. While it wasn't for me, if you enjoy historical women's fiction with a very literary writign style (and don't mind cheating as much as I do), this one may be up your alley. I did really love the Eiffel Tower/French aspect!
That Burning Summer by Lydia Syson  •  This is actually a reprint/rerelease of a 2013 book but I'm counting it anyway. This book is set during WW2 and as a historical fiction buff, I'm pretty sure it's full-on illegal to dislike books set in this time period. I'm so keen for it!
Wait for Me by Caroline Leech  •  Yes, that's right. There are two WW2 books on this list. I'm powerless at resisting them, I tell you! It's such a fascinating time period and I'm quite keen to see what this will do to set itself apart.
The Last Harvest by Kim Liggett  •  This sounds like such an intense and haunting mystery/horror! I'm always going on about the fact that I can never find a decent YA horror story so maybe the publishing gods answered my prayers?
RoseBlood by A.G. Howard  •  I actually haven't read anything from this author before so I don't know why I'm anticipating it so heavily… maybe it's because it's a freakin' Phantom of the Opera retelling! *launches into theme song* … if you couldn't tell, I may have a weak spot for musicals and I'm so, so keen to see how it'll translate onto the page.
Flicker and Mist by Mary G Thompson  •  A fantasy world where you can turn invisible at will? Despite the gross cover, I love this concept! Invisibility is not a new superpower but I've never read about it to quite this extent. I also love that our protagonist is mixed-race.
---
Sequels:
Wayfarer (Passenger #2) by Alexandra Bracken  •  We all remember how the first book in this series – Passenger – split the reading community lat year. I was someone who fell sort of in the middle. I liked some aspects of it and disliked others. What aspects I did love were the romance and Nicholas so I'm definitely continuing on with the series! The cliffhanger has killed me…
Windwitch (The Witchlands #2) by Susan Dennard  •  *hyperventilates* Truthwitch was another book that split the blogging community last year but personally, I completely fell in love with it. Hype be damned! I adored the characters, the world, the romances. I just need more, more, more from this series and the fact that my favourite character is narrating it makes me want to sing and cry of joy simultaneously. I'm so keen!
Long Way Home (Thunder Road #3) by Katie McGarry  •   I read the first books in this series last year and why I wasn't a massive fan of Nowhere But Here, I really wanted  Violet and Chevy's story, who are the MCs of Long Way Home! I'll have to speedily read the second book, Walk the Edge, before I get to this one, though.
Wrath of the Storm (Mark of the Thief #3) by Jennifer A. Nielsen •  While I was not the biggest fan of the first book in this series, the sequel, Rise of the Wolf, was such an improvement. I'm interested to see how the series will wrap up – and hopefully, get all my answers-  but I cannot say this one is the highest of my priority list.
Latest posts by Rachel Lightwood
(see all)