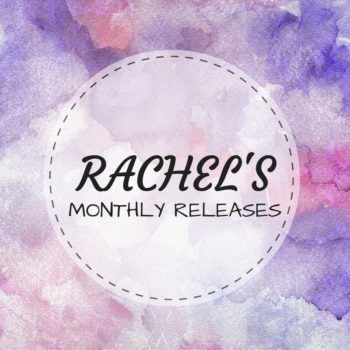 I know that we seem to say this every year but 2017 truly seems to be the year with all of the amazing new releases. I thought a great way to let you guys know which new releases on my radar would be to create a new monthly feature to showcase what's publishing. Just to note, there is no real rhyme and reason to the following list. They're in no particular order. If anything, they may be grouped by genre. These are all books I am personally excited for. Feel free to let me know of any ones I missed in the comments and let's get right into it!
---
March, 2017 Releases:
 Series Starters:
100 Hours by Rachel Vincent   •  I've put this one on and off my TBR a couple of times because it sounds like Black Ice – which I despised – but it also sounds like the sort of thriller I'd enjoy? I think I'll wait to see everyone else's response to this book before I make any formal expectations but I'm hoping it'll be a pleasant surprise.
The Bone Witch by Rin Chupeco  •  This synopsis starts with the line "when Tea accidentally resurrects her brother from the dead…". Not only does it promise magic and witchery but accidently reviving corpses. I've heard mixed reviews but also that it is quite spooky so I'm cautiously optimistic.
Hunted by Meagan Spooner  •  A Beauty in the Beast retelling! I liked this author's Starbound trilogy so I'm interested to see what a non-science fiction book from her will be like. I've heard lots of good early buzz too.
Blood Rose Rebellion by Rosalyn Eves  •  This is set in Hungary (!!) and deals with a magicless girl in a magical world… so like HP from a squib's POV? I don't know. I just love the idea of this!
Strange the Dreamer by Laini Taylor  •  I love the sound of this vague synopsis – gods, librarians. warriors, nameless cities – and this author is so beloved that it feels blasphemous not to have read one of her books. I definitely need to change that! I hope it's worth the hype but either way the ARC is gorgeously shimmery so least it looks inviting.
Shadow Run by AdriAnne Strickland and Michael Miller  •   I'm not really a massive sci-fi fan but since reading a lot over the past few months, I'm eager to see if I'll find something I truly love in the genre. This one sounds really enthralling – just from the synopsis – and it's also been getting some good earlier reviews so it's definitely caught my eye.
---
Standalones:
Secrets of a Reluctant Princess by Casey Griffin  •  To be honest, the only reason this one is on the list is because I got an invite to read it on Netgalley and the synopsis/cover does kind of remind me of a contemporary I read and loved last year, Liars and Losers Like Us.
Remind Me How This Ends by Gabrielle Tozer  •  Aussie author, contemporary, childhood besties + a gorgeous cover. That is all.
Seven Days of You by Cecilia Vinesse  •  A second-chance romance set in Japan? Yes, please! I cannot wait for this one. It's one of my most highly anticipated books of the whole year. No pressure or anything, Vinesse!
You're Welcome, Universe by Whitney Gardner  •  This is also one of my most highly anticipated books of the entire year! It has a deaf POC protagonist and graffiti wars… I want it immediately.
Things I Should Have Known by Claire LeZebnik  •  Sisterly relations + diversity = here is my money, take it. I've read a few books about the relationship between an older sibling and their younger autistic/disabled sibling and it is probably one of my favourite tropes. This one definitely has my name on it.
The Pants Project by Cat Clarke   •   Well, this books sounds incredible relevant and modern. I know from personal experience that schools can be so weird about their dress codes and I love the idea that there are people standing up to that. I think this could be a real winner.
Braced by Alyson Gerber   •  I don't particularly enjoy middle grade contemporary stories all that much but I think this one is calling to me. I've never read a book with scoliosis before so that should be informative. I really hope this will be enjoyable and well-written!
Ultimatum by K.M. Walton  •  I'm not going to lie, the cover of this one is definitely the thing that is drawing me in the most. It's simple yet gorgeous… but anyway, this one is about brothers who are trying to deal with the strains of growing up and the grief of losing their mother when their alcoholic father gets liver failure and they are forced to make a life-changing decisions.
Goodbye Days by Jeff Zentner  •  I haven't read Zentner's debut yet – oops – but this sounds really powerful and I've heard his writing style is to die for. It's about grief and car accidents and survivor's guilt.
The Inexplicable Logic of My Life by Benjamin Alire Saenz  •  If you hadn't heard of Saenz' books before I would be very surprised. He's incredibly popular! I believe this book is set in Mexico and is a contemporary romance of some sorts? I've heard it'll break my heart with its gorgeous writing. Also, the author is an #ownvoices writer (both POC & LGBT+).
The Hidden Memory of Objects by Danielle Mages Amato  •  This one is being recommended to fans of Cynthia Hand's The Last Time We Say Goodbye which you know I loved. It's about suicide/depression, art, murderabilia and has elements of magical realism (possibly). I'm not a fan of the cover but definitely need this one in my hands!
Waking in Time by Angie Stanton  •  A time-travel romance! I have not read like this before – though I know the premise is not that original – and it's calling to me. Also, the 1920s… need I say more.
Overturned by Lamar Giles   • I think for someone so obsessed with mysteries the fact that I've never read a book about a murderer getting free is a tragedy. I definitely think this will be an interesting, insightful and, hopefully, thrilling read.
Nemesis by Brendan Reichs  •  Not only is this book written by the co-author of the Virals series, but the premise is crazy good. Seriously, go read the synopsis here. This girl gets murdered on her  birthday every two years by a mysterious man for unknown reasons… If that's not intriguing than I don't know what is!
Hellworld by Tom Leveen  •  A YA horror! Finally. This is such an underrepresented genre but this one sounds promising. It's about a girl whose mother – the co-host of a ghost-hunting show – goes missing when exploring a haunted cave so, years later, she decides to team up with some friends and investigate.
Bad Blood by Demitria Lunetta  •  I'm a little worried that this one is being pitched to fans of Natasha Preston – because I am definitely not – but the premise includes a girl struggling with  self-harming tendencies, nightmares that might be a little too real, and cute boys with Scottish accents – which is more than enough to catch my interest.
The Beast is an Animal by Peternelle van Arsdale •  Does this cover not scream dark fantasy? I love that! I think this one is about a girl with a secret ability trying to protect her sister/village from soul-eating monsters. Something like that. It sounds deliciously creepy.
The Gauntlet by Karuna Riazi  •  This is being called "a steampunk Jumanji with a Middle Eastern flair". I'll just leave you with that so you can understand why I am so damn excited for this. Also, it has not one but two female lead characters who are Muslim POCs!
The Metropolitans by Carol Goodman  •  When I requested this book it only had a title and synopsis. I saw the words, Pearl Harbour, Arthurian legends, and ancient book and was sold on the premise. If I had know it was a middle grade story and that its cover would be this gross, I would've skipped over it. Maybe that's a good thing? It means I'm only interested in the premise…? We'll see how this one turns out. I'm not that keen anymore…
---
Sequels:
Forever Geek by Holly Smale  •  *sobs uncontrollably* This is the last book in this series. Ever! My heart is not ready to say goodbye to these characters. At all. I'm a mess just thinking about it…
Traitor to the Throne by Alwyn Hamilton  •  I remember nothing about the first book in the series other than the fact that I was pretty underwhelmed so this one is def not top of my highly anticipated list. I'll still give it a go, though…

The End of Oz by Danielle Paige  •  Another finale! I don't know if I'm ready for this one either. This month is going to slay me emotionally, I can tell already. The third book in this series was the weakest one so far so hopefully, it saved its awesomeness for this final book!
Dragonwatch by Brandon Mull  •  You may recall that I reread the Fablehaven series last year because it is one of my top favourite series of all-time. Even though the series finished nearly five years ago, we are getting an extra sequel this month and I just… I don't know how to feel about it. If it doesn't live up to the original series, I'm going to be crushed and emotionally scarred for life… I'm not even remotely kidding.
Saga, Volume 7 by Brian K. Vaughan •  … do I really need to say anything? Anyone who reads and enjoys graphic novels is aware of this series and – if they have any sense – are in love with it also. Man, these characters and this story is just phenomenal and Volume 6 left us on a cliffhanger so I'm dying to have this in my hands.
---
Sequels of Series I'm Behind In/I Am Personally Not Yet Up To:
---
The rest of these are March releases that I personally have no interest in but may catch your eye:
The Most Dangerous Thing •  A Psalm for Lost Girls • Truth or Dare • Alone •  Max •  Dead Little Mean Girl  • Wonderful Feels Like This •  Ten Miles One Way •  Proof of Lies •  Project Emergence
Latest posts by Rachel Lightwood
(see all)