Hello, everyone! Time is flying again, and I'm late with the wrap ups. Let's travel back a couple of months, shall we?
September:
It was my sister's month! We have a yearly tradition where we go to the Hollywood Bowl to see John Williams, film composer extraordinaire, conduct some of his scores with the Hollywood Bowl Orchestra. This is always a treat because Star Wars fans bring their light sabers. I know I brought mine. 🙂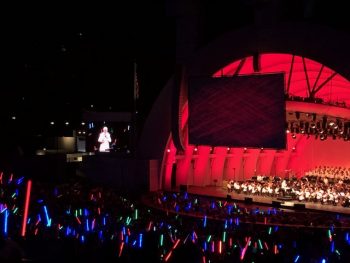 My sister, best friend, and I went to Universal Studios Hollywood Horror Nights. Starting the spooky stuff early is a must, and Universal is a great one. These are the few decent pictures I was able to snap. The Ghostbusters maze was our favorite.
StayPuft Marshmallow Man in the Ghostbusters maze.
The Us maze. It was…interesting to say the least.
Other than that, it was a very hot, laid back month.
Books Read in September
Although I didn't read that many books (curse you, social media!) it was a good month for discovering new-to-me authors and their novels.
Best Book of the Month and the Biggest Surprise: All the Ugly and Wonderful Things. It's a very polarizing book because of the topic, but I thought it was well written.
October
Woohoo, spooky stuff abounds! I had a great month. It was my birthday, and that weekend I went to L.A. Comic Con to fulfill a dream I've had since I was about eight years old. On October 11th, 2019, at 12;54 p.m., I met Elijah Wood. He was there for photo ops, autographs, and to discuss his upcoming movie productions.
I was NERVOUS. What if I babbled? What if I cried? But everything happened so fast that I didn't have time to process it until after I picked up my photo. I was wearing my Over the Garden Wall shirt, because I love that miniseries and he voiced one of the characters. The photo op crew had us line up, ushered us into this curtained off area to set out stuff down, and line up for our photos. When it was my turn and I made eye contact with him, I darn near floated out of the building. While I was talking toward him, our brief conversation went as follows:
Elijah: Hi!
Me: Hi!
Elijah: Cool t-shirt!
Me, internally screaming: Thank you! (photo) Thank you so much, Elijah, I'm so honored.
The convention was so much fun. The cosplayers come out in full force. I couldn't resist taking a photo of this motley crew I found wandering the floor.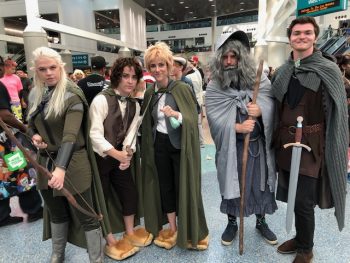 A few days later, I went with my sister and best friend to New Orleans. It's a city I've been wanting to visit for years, and it did not disappoint. It's full of old school charm and wonder. We got to visit the French Quarter, City Park, and Metairie Cemetery, one of the oldest cemeteries in the city.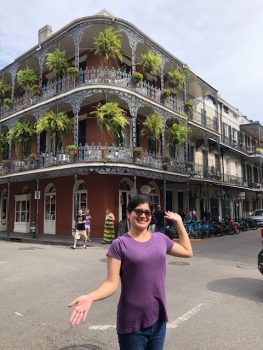 In front of the building everyone takes pictures at when they visit Nola.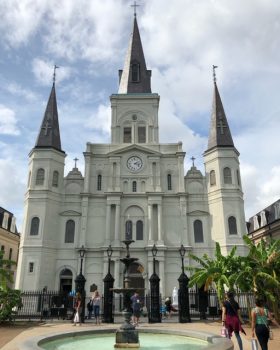 St. Louis Cathedral. My sister and friend are the people at the lower righthand corner.
Mardi Gras masks.
Spanish moss on oak trees in City Park.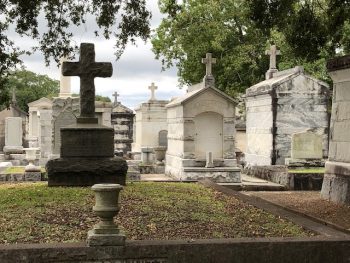 Metairie Cemetery during a tour.
We got to listen to locals play music on Frenchman Street (highly recommend going there for the music if you visit) and, of course, had beignets and coffee. I've dreamed of this experience, and it was everything I dreamed of and more. If we could, we would have eaten nothing but beignets,
Life is not the same since this moment. A Nola must!
The rest of the month was dedicated to Halloween and Dia de los Muertos.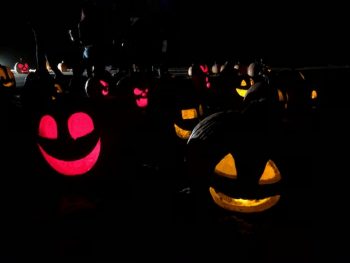 Pumpkins at our local botanical garden.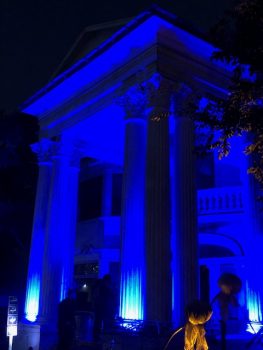 "Haunted house" experience.
An ofrenda for a Dia de los Muertos procession I participated in for work. It was our third year being involved.
And of course, Halloween. I was Coraline with a slightly different hair style. 🙂
Grown up Coraline is still not having it.
Books Read in October
Slightly better book count this month.
For someone who likes Spooky Season, I only read one book that could be categorized as spooky. 🙂
Best Book of the Month: Hands down, The Bone Houses. So atmospheric, so otherworldly!
Onward! Thanks for stopping by and catching up!