Mirror Mirror is a brand-new feature that replaces the old Stacking The Shelves/Weekly Recap posts. Bieke decided to make her own original feature because it was more than just a STS or recap post.
In My Life:
Well, the biggest thing is probably the fact that Quite the Novel Idea went live! This is a secret project that Bee, Liza, and I have been collaborating on for the last two weeks or so. We've gotten so much support and love from you guys about the change so we thank you all so much for that. I think there's always that teeny little seed of doubt in your brain before you announce such a big change like this, but there's been nothing but encouragement from everyone. I think I can speak on the whole team's behalf when I say it truly means a lot!
I've been staying at my Granny and Pa's place for most of the last two weeks. We're getting scorching weather down under and it's consistently been over 35 degrees for at least two weeks now! My house's aircon died back in November so I wasn't coping at home. Luckily Gran's aircon is wonderful and I can think and read and blog without breaking into the sweat, mostly. The only bad thing is I haven't had access to my books and the wifi is a little dodgy, but could be worse. #firstworldproblemsmuch?
The Clean Slate Readathon finished. I didn't do nearly as well as I hoped but I still managed to knock out some books I've been meaning to read forever so that was worth it.
I've been to the library almost every second day for like the past three weeks! It's getting kind of ridiculous, It's just that graphic novels are so short and I fly through them in less than an hour so I constantly need to go back and get the sequels/swap them for something.
---
On the Blog:
---
In the Blogosphere:
---
What I've Been Reading & Watching:
Read: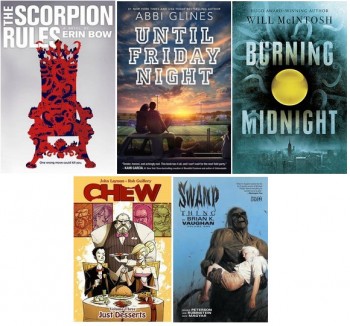 I wasn't able to enjoy The Scorpion Rules nearly as much as I wanted to (which was my polite way of saying that I loathed it with every fiber of my being). Until Friday Night was also disappointing. I thought West was an arsehole honestly, and I didn't appreciate the way Maggie's mutism was handled. Everyone warned me that Burning Midnight would be super meh but I didn't think it was too bad. Chew, Vol 3: Just Desserts! was fun but I still had problems with the world-building. Swamp Thing, Vol 1 was the first pf Brian K. Vaughan's graphic novels that I wasn't a fan of! It had a great premise, but the execution just wasn't that good… *pouts*.
Watched: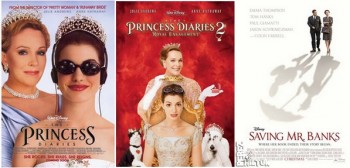 At my Granny's place there isn't much to watch, to be honest. We rewatched Saving Mr Banks because we haven't seen it since we saw it in cinemas, and it's such a gorgeous movie. If you adore Mary Poppins, this is a much watch movie! I also marathoned The Princess Diaries duology when it was on TV… and then immediately rewatched the second one again. #sorrynotsorry It's seriously one of my favourite movies…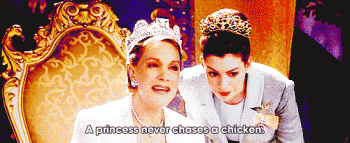 ---
What I'm Current Reading & Watching:
Reading: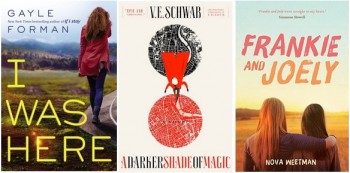 I Was Here was annoying me so this afternoon I started one of Bee's favourites, A Darker Shade of Magic – it's too soon to tell what I think of it, but I"m excited! I've also been reading Frankie & Joely since the beginning of the month and just cannot get into it. It feels like a modern To Kill a Mockingbird. You know, two kids in the country doing nothing much at all? Boring!
Watching: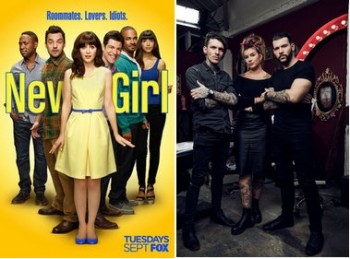 I'm kind of obsessed with New Girl at the moment! I haven't seen it before but I'm watching season 4 as it airs and loving it. Schmitt is gorgeous! And damn, I'm swooning over Ryan so bloody much. *fans myself dramatically* I've also been trying to watch the new season of Tattoo Fixers (such a guilty pleasure show of mine) but since it's an English show, I just cannot find it anywhere. *pouts* I've seen the first two episodes at least, and I'm already not a fan of the girl who replaced Lou.
Latest posts by Rachel Lightwood
(see all)