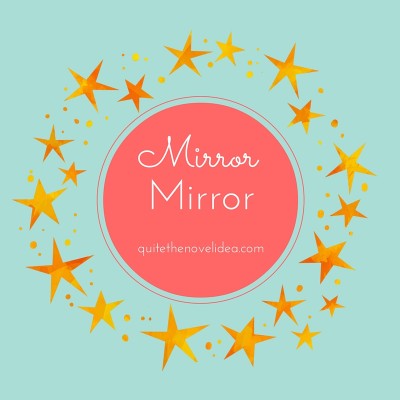 Mirror Mirror is our feature that replaces the old Stacking The Shelves/Weekly Recap posts.
New On My Shelves
For Review
~ The Love Interest by Cale Dietrich
~ Alan Cole Is Not A Coward by Eric Bell
~ The Hanging Girl by Eileen Cook
~ A Semi-Definitive List of Worst Nightmares by Krystal Sutherland
~ Release by Patrick Ness
~ Like Water by Rebecca Podos
~ Good and Gone by Megan Frazer Blakemore
Thank you to Feiwel & Friends/The Fantastic Flying Book Club, HMH Books for Young Readers, HarperTeen, Balzer + Bray & Katherine Tegen Books for these!
Bought/Gifted
~ Bang ~ by Barry Lyga
~ Dead Little Mean Girl by Eva Darrows
~ The Hate U Give by Angie Thomas
I bought Bang and Dead Little Mean Girl because I've enjoyed some of these authors' other books so yay! I got this beautiful copy of THUG from a dear friend and I'm SO happy! I hope to re-read soon.
In My Life
~ I went to see Power Rangers with my best friend Stephanie, which was awesome and SO MUCH NOSTALGIA. I had a tonne of fun watching this movie and totally geeked out all over the place.
~ I also went to see Beauty and the Beast again with my work friends Erica and Joyce and it was just as amazing as it was the first time. I cried again. Whahh.
~ Woooork sucks, because I have only worked one day in the last three weeks and I am frustrated because I'm not getting any clarity from them. They say it's a calm period, which would be fine if they didn't keep hiring new people all the time. So. Yeah. That sucks.
~ Overall though… April was a bad month. My mental health took a serious dip again. I haven't written anything and I'm reading a lot less than I used to. I'm starting therapy this month and last week I started taking doctor prescribed antidepressants. So it's been a tough month. Virtual hugs are welcome and much needed.
So What's new with you this week? Tell me all about it in the comments!
Save
Save
Save