Mirror Mirror is our feature that replaces the old Stacking The Shelves/Weekly Recap posts. Bieke decided to make her own original feature because it was more than just a STS or recap post.
In My Life:
… hey, guys! I don't know if you noticed or anything but I've been kind of absent from the blogging community for the past few weeks. It wasn't quite intentional but a mixture of schoolwork pressure (in my final year of high school so it's umm, just a tad stressful) and a health scare has left me feeling sorry for myself and somehow I decided avoiding the problems and isolating myself from everyone would solve everything… turns out that was pretty stupid of me. I missed you all so much! And it's so damn good to be back. I may be a bit scarce on the interwebs for a little while longer (school is still on, unfortunately) but I'll definitely be making more of an effort to make my presence known on the social medias. I really need to get back to Bookstagram!
Oh, and the fourth The YA Circle meet happened this Tuesday, and it was as wonderful as ever. This month was just a discussion session (not an author event), but it was nice to just sit and talk to other people passionate about ooks. Our mods had been to the Sydney Writer's Fest so we got to know some of the goss from that. We also talked about what's releasing – book and movie-wise – in the second half of the year. I totally forgot about the Miss Peregrine's Home for Peculiar Children movie. I really need to read the book series this year. Like asap. There's just so much to look forward to!
Current Non-Bookish Obsessions: 
I recently discovered Scott and Mitch (from Pentatonix)'s YouTube account – SuperFruit – and I'm kind of obsessed. I had no idea they did vlogs as well as their music videos, and they're so damn sweet and hilarious. At one point, I was literally on the floor laughing until I cried. I may have binged their first 100 episodes in an evening… #sorrynotsorry. If you haven't seen their Yoga Challenge at least, watch it.
My aunt gave my her login to this online movie website and it's kind of taken over my life. I've been watching all of the things and I love it. I've literally rewatched Dead Poets Society three times in the past few weeks. It's one of my all-time favourites.
Speaking of watching all of the things, Captain America: Civil War happened since the last time I talked to you, and I went to the midnight premiere AND I'M STILL NOT OKAY. It's taken over my life. BUCKY IS THE MOST PRECIOUS LITTLE HUMAN BEAN AND I'M IN LOVE WTH SEBASTIAN STAN SO MUCH AND CAPTAIN AMERICA HAS LITERALLY NOW MY FAVOURITE FICTIONAL CHARACTER OF ALL TIME. I'm not even exaggerating… the movie was just everything I wanted it to be. I'm so emotionally done though… even if I saw it a month or so ago. It's just my everything ATM. I'll literally burst into tears if you mention Bucky or the ending or plums or the future of Captain America…
I also went and saw X-Men: Apocalypse and *sobs* because it was so damn disappointing. It just didn't wrap up the franchise like it should have. James McAvoy and Michael Fassbender did a fantastic job (as always) but the storyline was a wreck and Jennifer Lawrence's acting was just abysmal. I think I might do a full review for you guys – would you be interested?
What I've Been Reading:
What I'm Currently Reading:
Curio by Evangeline Denmark – Ugh. I've been reading this one for over a week and it's just not happening… I'm not enjoying it at all. It makes no sense. I honestly have no idea what is happening. Not sure how I'm going to muster the strength to finish it.
All the Bright Places by Jennifer Niven – I've been putting this one off since it came out. I'm only a chapter into the story (as I'm writing this) and… it sounds like TFIOS. Not sure whether this is going to be my thing or not.
Haul:
*apologises in advance for the crappy quality of the photo*
Physical ARCs: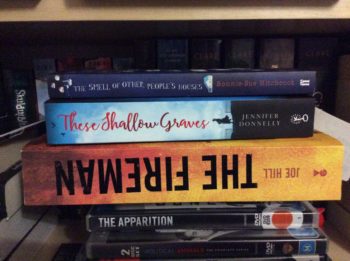 The Smell of Other People's Houses (Faber & Faber) | These Shallow Graves (Hot Key Books) | The Fireman (Hatchette Australia) – how trippy is the upside-down spine!?
Physical Books:

Miss Peregrine's Home for Peculiar Children by Ransom Riggs | It's about time I started this series. It's sounds wonderfully creepy and interesting and I just need to read it before the movie comes out.  I've only heard good things about the first book in this series so *fingers crossed* I'll be joining the fan bandwagon soon.
Ruined by Amy Tintera (ARC provided by Allen & Unwin Australia) | This was my book club (The Ya Circle)'s pick for May/June so I've already read and loved it.
The Program & The Treatment by Suzanne Young | This is next month's Book of the Month. I've heard so many positive, wonderful things about this series so I'm quite keen.
(And just a disclaimer that the following books were all received for free at a book event.)
Tangled Webs by Lee Bross | This cover is just gorgeous and I mean, 1725 London and blackmailing? I don't need any more information. I'm in!
The Kill Order by James Dashner | This is definitely my favourite book in the Maze Runner series, but I borrowed a copy when I read it and didn't own it. Now I do! Yay!
Twisted Fate by Norah Olsen | I'm not actually sure what this one is about but the cover screams creepiness and thrills so I'm eager to dive into it.
Ashes, Ashes by Jo Treggiari | I haven't read a good dystopian in a while so maybe this one will break that streak? Either way, I cannot say no to a nice hardcover.
Library Haul:
eARCs:
As I Descended  | Scythe | The Thousandth Floor | Last Seen Leaving | The Reluctant Crush | How to Keep Rolling After a Fall
What was the last five star book you read? And how have you all been – let me know what you've been up to lately or anything important you think that I might've missed.
Latest posts by Rachel Lightwood
(see all)