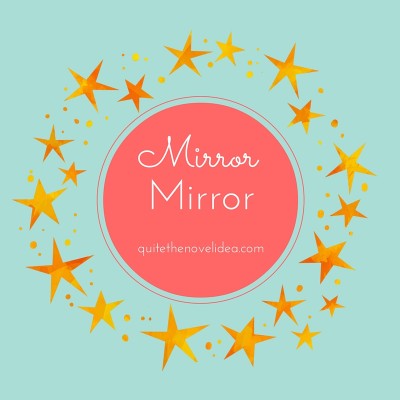 Mirror Mirror is our feature that replaces the old Stacking The Shelves/Weekly Recap posts. Bieke decided to make her own original feature because it was more than just a STS or recap post.
Life, News & Happenings
Hi there gorgeous readers!  It has been a while, right?  Life is as busy as ever but we are doing great.  I promise to write a post about my bullet journal soon!
On the 9th we celebrated Brian's 17th birthday. I can't believe that he's going to be a senior in August, I really have no idea how they grow up so fast.  He got a piano as one of his gifts since he has been taking lessons for about 18 months now.  He's also a wiz in drama and started running track too.  Such a sweet, lovable, smart young man. Love you more!
From May to June I have a few personal (including BEA!)  and business trips planned so it will be a busy time for.  Also, in July my family is coming to visit, and when I say my family I mean like 10 of them (brother, sister, nice and a few cousins)…
You Might Have Missed
New to My Shelves
Purchased for Kindle
The Lilac Sky by Diana Gardin – Well shoot, look at that cover!
Heartborn by Terry Maggert – I got this one in eBook and audio.  I've had a lot of good luck with 'angel' books and this one was hard to resist.
Once Upon a Wager by Julie Lemense – A historical romance about friends turned enemies that sounds so good.
The Hidden Prince by Nadine Millard – This one is a short novella.  It's a historical romance and the cover has nothing to do with it.  I really liked it though 🙂
Scala by Christina Bauer – This is book two of the Angelbound series and I liked book one quite a lot.  Stay tuned for the tour coming soon.
Purchased for Audible
The Alchemists of Loom by Elise Kova – Fantasy! Gorgeous cover! I hope it's as amazing as it looks 😉
Review
Strange the Dreamer by Laini Taylor – I received a copy of this baby for a tour coming soon.  I adore her Daughter of Smoke and Bone series and I cannot wait to read this one.
Words in Deep Blue by Cath Crowley – A lot of great reviews for this book and it sounds awesome.
North of Happy by Adi Alsaid – This book was my WoW a few weeks ago and now I have a review copy. Yay!
Girl Out of Water by Laura Silverman – Another contemporary that sounds so good.
The Girl With The Make-Believe Husband by Julia Quinn – Julia Quinn is one of my favorite historical romance authors of all time!
Legacy of the Mind by H.R. Moore – This book is also for an upcoming tour and I couldn't resist the blurb for this fantasy.
Lifeblood by Gena Showalter – I received a finished copy for participating on the tour. Stay tuned for my review on Monday.
What's new to your shelves?