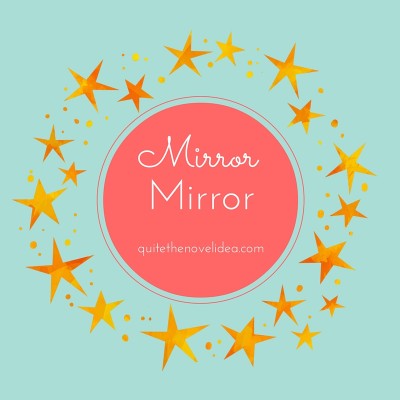 Mirror Mirror is our feature that replaces the old Stacking The Shelves/Weekly Recap posts. Bieke decided to make her own original feature because it was more than just a STS or recap post.
Life, News & Happenings
Hi there gorgeous readers!  Looking back at my last Mirror post, it's been almost a month! Can you tell I'm a busy bee?  Summer is usually a busy time for me since I have a lot of professional (work) events plus my family usually comes to visit.  I was away last week at BEA (event review next week) and then I had a conference from Sunday until Wednesday and then back to work.
Anyway, my kids last day of school was  on Thursday, but we also had two events with the kids before that. I missed Chris's summer concert since I was in BEA, but hubby recorded for me and here he is:
Also, Brian was inducted to the Thespian society and he also received an award for the best actor this season.  My handsome actor:
Next in my busy life: I have another conference in a couple of weeks in DC and I stay there which is nice.  Then in early July, hubby and I will celebrate our 25th wedding anniversary, Chris is turning 12 and my mom is coming for a visit.  I see cake, shopping and cleaning in my future 🙂
You Might Have Missed
Stacking the Shelves
Purchased for Audible 
Lotus and Thorn by Sara Wilson Etienne
Purchased for Kindle
North to You by Tif Marcelo
Deep Waters by Jane Anne Krentz
Review
Fragile Chaos by Amber R. Duell
Audiobooks for Review
Once and for All by Sarah Dessen
Words in Deep Blue by Cath Crowley
BEA Haul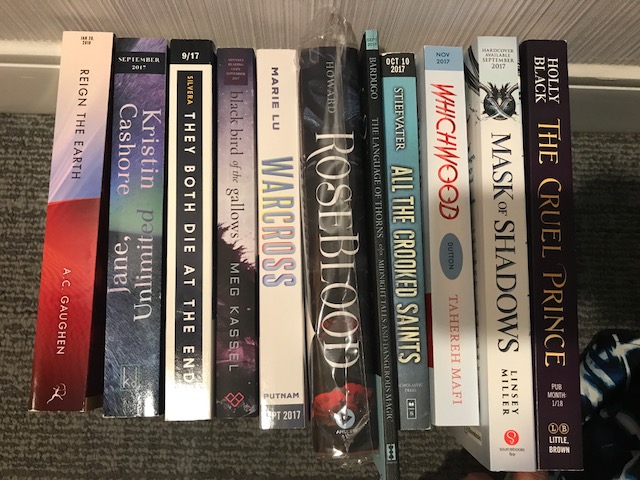 Reign the Earth by A.C. Gaughen
Jane, Unlimited by Kristin Cashore (signed)
They Both Die at the End by Adam Silvera (signed)
Black Bird of the Gallows by Meg Kassel (signed)
Warcross by Marie Lu
RoseBlood by A.G. Howard
All the Crooked Saints by Maggie Stiefvater (signed)
Whichwood by Tahereh Mafi
Mask of Shadows by Linsey Miller
The Cruel Prince by Holly Black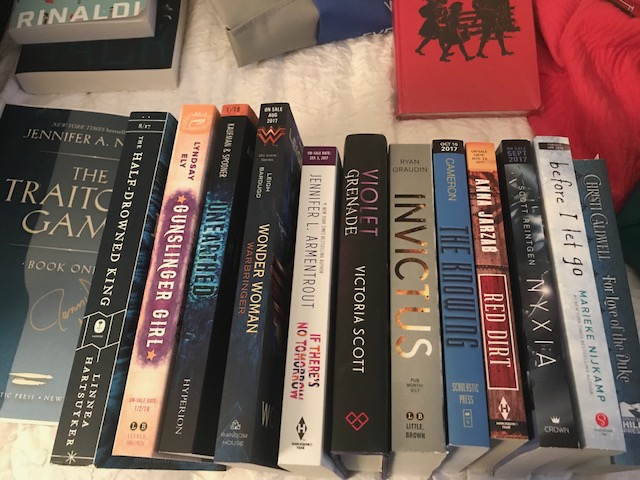 The Traitor Game by Jennifer A. Nielsen (signed)
Half Drowned King by Linna Hatsuyeker (signed)
Gunslinger Girl by Lyndsay Ely
Unearthed by Amie Kaufman and Meagan Spooner
Wonder Woman: Warbringer by Leigh Bardugo (singed)
If There's No Tomorrow by Jennifer Armentrout  (signed)
Violet Grenade by Victoria Scott (signed)
Invictus by Ryan Graudin
The Knowing by Sharon Cameron
Red Dirt by Anna Jarzab (signed)
Nyxia by Scott Reintgen
Before I Let Go by Marieke Nijkamp (signed)
For Love of the Duke by Christi Caldwell (signed)
A Language of Thorns sampler by Leigh Bardugo
Children of Blood and Bone by Tomi Adeyemi
The Love Interest by Cale Dietrich
Berserker by Emmy Laybourne
Moxie by Jennifer Mathieu
Spinning by Tillie Walden
Renegades sampler by Marissa Meyer
What's new to your shelves?