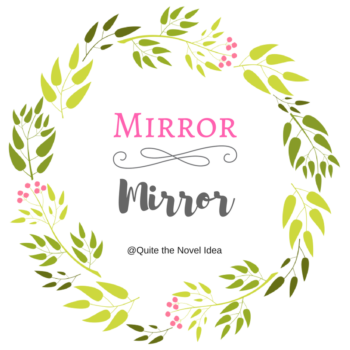 Mirror Mirror is our feature that replaces the old Stacking The Shelves/Weekly Recap post.
Life, News & Happenings
Hi there gorgeous readers! I hope you guys had a wonderful week.  Mine was busy (like always it seemed), work is always challenging,  I'm helping to find speakers for a professional conference, still taking physical therapy…
Reading has been very slow for me this year, I'm already four books behind in my Goodreads challenge, but I mean to catch up!  I mean, there are so many amazing books being published this year that I can't help but want to read them all. Only if days were longer…
Chris was in a concert of the local high schools and middle schools combined and it was really good.  He's only 12, but he's such a smart, serious young man.  Brian is in rehearsals for The Wizard of Oz,  his high school's musical this year.  I bet he's going to be a wonderful scarecrow 🙂
Valentine's Day, which is Puerto Rico is called "día del amor y la amistad" (day of love and friendship) was a quite affair in our house.  The hubby and I exchanged gifts and we gave chocolate to the boys.
Of course, there are words to explain, express or talk about the recent horrific tragedy.  SO sorry for all the students and parents.
You Might Have Missed
New to My Shelves
Purchased 
Waistcoats & Weaponry by Gail Carriger – I finished the first two books of the Finishing School series and they are awesome! This is book #3 and it's going very well indeed.
Prince of Thorns by Mark Lawrence – I finished Red Sister by Lawrence recently and I want to start this series as well.
Purchased for Audible
The Wedding Date by Jasmine Guillory – I've seen this book around lately and it sounds like a fun read.
Review
Eight Simple Rules for Dating a Dragon by Kerrelyn Sparks – This series is SO good.  This is book #3 and I can't wait to read it.
Crossing the Line by Simone Elkeles – I haven't read a book by Elkeles in a while…
Heart of Thorns by Bree Barton – Fantasy!
Let Me List the Ways by Sarah White – I love best friends to lovers stories and this one is just that.
Everlife by Gena Showalter – I hope to start this one soon!  The conclusion of the series and I can't wait!
Ambrose Deception by Emily Ecton – Looks like a fun mystery.
The next eight books came in a box from Macmillan.  Thanks!!!
Shadow State by Elyse Brayden – Love me an angel story 🙂
Out of the Blue by Sophie Cameron
The Supervillian and Me by Danielle Banas
The Brightsiders by Jen Wilde
The Boyfriend Bracket by Kate Evangelista – Doesn't this sound like fun?
Run, Hide, Fight Back by April Henry
Supermoon by H.A. Swain
Girls Can't Hit by T.S Easton
Brazen: Rebel Ladies Who Rules the World by Penelope Bagieu – This book is gorgeous!  It's a graphic novel of different stories and I'm starting it soon.
Gift
Manners & Mutiny by Gail Carriger – I received the fourth and last book of the Finishing School series as a valentine's day gift 🙂
Remember to enter the current the giveaways (listed on the right side of your screen!)
What's new to your shelves?