Mirror Mirror is our feature that replaces the old Stacking The Shelves/Weekly Recap posts. Bieke decided to make her own original feature because it was more than just a STS or recap post.
Life, News & Happenings
Hi there gorgeous readers!  Another busy week comes to an end and I'm SO tired.  However, I'm looking forward to the weekend and the chance to recharge the batteries for the week ahead. The move at work is fast approaching and we are going a bit crazy with it all.
Brian is recovering nicely from the removal of four wisdom teeth.  I have to say that I'm glad my kids are bigger because that first night was brutal for both him and me.  Waking up ever four hours is NOT for me anymore.  I had to monitor him, administer medication, make sure that he had a cold compress at all times… I was so tired by the time the week started that I haven't recovered still.
Fall is here as most of us that live in the North and NE/NW of the States can attest to.  Autumn is one of my favorite seasons: it's not too cold yet, not hot, I love Halloween and Thanksgiving and all the decorations and food that go along with it. I also love the to wear scarfs and boots and start Christmas shopping 🙂
I've made quite a few more Christmas cards, these in the typical holiday colors and they are turning out very pretty (if I do say so myself.)
You Might Have Missed 
New to My Shelves
Purchased for Kindle
Four Letter Word by Daniels – Because Lisa loved it
The Debutante is Mine by Vivianne Lorret – I'm not sure who recommended this one, probably Alyssa,  Nick or Gen…
Purchased for Audible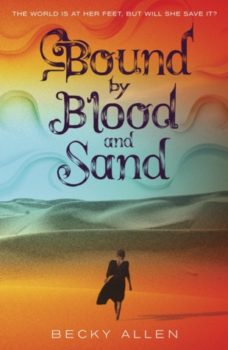 Bound by Blood and Sand by Becky Allen – This one is definitely Nereyda's fault.
Review
In 27 Days by Alison Gervais – I couldn't find the book in Goodreads with this cover and I have to say that it's one of the most beautiful covers ever!  Sound awesome too.
City of the Lost by Kelley Armstrong – I'm a bit Armstrong fan and I received both books in the duology for review.
A Darkness Absolute by Kelley Armstrong – Thanks to Macmillan!
The Girl Who Knew Too Much by Amanda Quick – I am also a big Amanda Quick fan and it's the first book that I've seen by her with a 1930s setting and I'm beyond curious about it.  Thanks Berkley!
Now that I think about it my blogger friends cost me a lot of money in books!
What's new to your shelves?