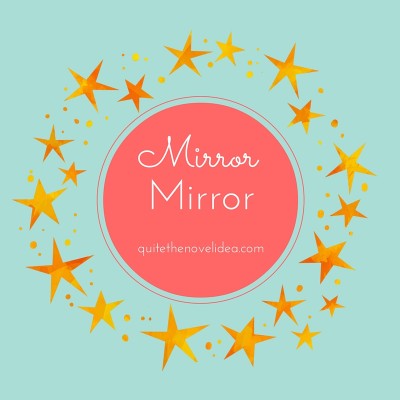 Mirror Mirror is our feature that replaces the old Stacking The Shelves/Weekly Recap posts. Bieke decided to make her own original feature because it was more than just a STS or recap post.
Life, News & Happenings
Hi there gorgeous people!  Goodness, but these past two weeks have been exhausting!  Work as has been a complete zoo, full of changes and stress.  I'm so happy for the long weekend and I plan to catch up with blogging and sadly, I still have to work a bit.
I spend four days in Puerto Rico this week. It was business related so not a lot of sight seeing, but we did get to see a lot of family and that's what matters 🙂  When I got back my laptop did the update from Windows 8.1 to Widows 10 all by itself (my kids claimed they didn't touch it or maybe it was possessed!).  I spend a panicked hour trying to figure out what on earth was going on, but I think I'm okay now.
I'm very frustrated with my reading progress (or lack thereof) this year.  It feels like the older I get, the more responsibility I get at work, the older my kids get I have less, and less time.  It's frustrating and I feel so guilty because I feel like I'm letting my co-bloggers down 🙁  I'm so grateful for Bee, Rachel and also our collaborators Amy and Leah because we all share the load and it's less overwhelming.  Don't get me wrong, I love reading and blogging books, and I know I should feel this way but I do.  I'm very anal and controlling in many aspects of my life and I don't like to feel out of control.  Anyway, sorry for all the ranting!
You Might Have Missed
New to My Shelves
Not a lot of new books these past two weeks, but I'm looking forward to reading these 🙂
There Once Were Stars by Melanie McFarlane
Isle of the Blessed by Suzan Tisdale
Lucky Few by  Kathryn Ormsbee
What is new to your shelves?