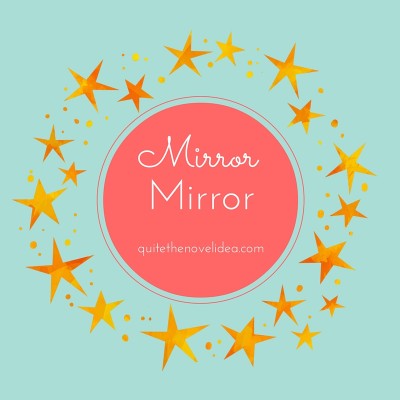 Mirror Mirror is our feature that replaces the old Stacking The Shelves/Weekly Recap posts. Bieke decided to make her own original feature because it was more than just a STS or recap post.
Life, News & Happenings
Hi there gorgeous!  Well, let's start with the most important stuff!  My birthday was on Monday 🙂  I had to work on Monday, but I got home to my gifts (more about that below) and hubby made dinner for us, it was great.
Other than that there's a new software update in 10 days and we've been very busy.  Cross your fingers for me so everything goes okay 🙂
Shopping for school is done, including supplies, clothes, and shoes.  Classes start on Wednesday, Brian is a senior and Chris is going to 7th grade this year.  *Sigh*  I have no babies anymore 🙁
I told you a couple of weeks ago that I started a planner since the bullet journal didn't quite worked for me, and here it is: Erin Condren Hardbound Planner .  It's a big and hardbound planner and I like it fine, but it's heavier that what I would like.  I will keep using it and see how it goes.  I'm not going crazy with the decorations because I really don't have the time and money to invest in it.  I did find a lot of free planner printables that I can use too, but again, not a lot of time for it…
 
You Might Have Missed
New to My Shelves
I'm not commenting on all of these because they are several of them, okay?
Purchased for Kindle
Come Back to Me by Kathy Coopmans and Rising Tide  by Claudette Melanson
Review
The Conspiracy in Belgravia by Sherry Thomas – I already read this one and it AMAZING! Review coming soon.
The Queen's Rising by Rebecca Ross
Love, Life, and the List by Kasie West
Lord Hunter's Cinderella Heiress by Lara Temple – I also finished this one and it was a quick romantic read 🙂
Lady Eleanor's Seventh Suitor by Anna Bradley and Devils Unto Dust by Emma Berquist
Heart of Iron by Ashley Poston and Everless by Sara Holland
Honor Among Thieves by Rachel Caine and Ann Aguirre and Caught by the Scot by Karen Hawkins
Ashes in the Moor by Sarah M. Eden and Pashmina by Nidhi Chanani
Wild Bird by Wendelin Van Draanen
Library
The Emperor's Blades by Brian Staveley and The Trouble with Dukes by Grace Burrowes
Gifts
A Court of Wings and Ruin by Sarah J. Maas – I need to get caught up with this series STAT!
The Hearts We Sold by by Emily Lloyd-Jones
I also got Amazon and a Kohl's gift cards, headphones and hubby got me a Spellbinders die cutting and embossing machine for my paper crafts.
What's New to Your Shelves?
I'm an avid reader (since I learned to read at age four) and a book blogger (since May, 2011).I read mostly YA, but I also read romance, new adult and some middle grade.

Born in Puerto Rico, hola :), military wife for 22-years, and mother of three boys.I work full time doing something else that I love (sadly I don't get paid for reading!)