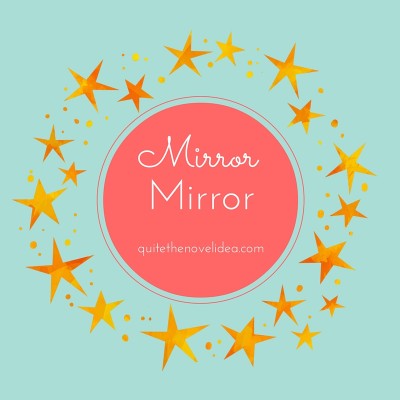 Mirror Mirror is our feature that replaces the old Stacking The Shelves/Weekly Recap posts. Bieke decided to make her own original feature because it was more than just a STS or recap post.
Hi, everyone! This is my first Mirror Mirror post for the blog. 🙂 It's been pretty eventful over here in my corner of the world.
In My Life
Last year, I decided to go back to school to finish my associate's degree requirements. I couldn't pass math to save my life. Fortunately, some new classes were added as math requirements and I had my final for the class on Monday. If I pass this class, I'll just need one more class in the fall and then I can transfer. Woohoo! Until then, I'll be enjoying a no-school summer filled with trips to the movie theater, the beach, and beyond.
I'm now working full-time! I'd had a half-time job at a library for several years and applied for any available full-time work with different departments. I had to take a test, wait a year and four months for job notifications. There were several interviews and an even longer wait period, but the payoff was worth it. I'm still with the library, which is awesome. 🙂
Stacking the Shelves
Back in April, my sister and I went to the L.A. Times Festival of Books. It's always a blast seeing fellow book lovers in one place. One of the bookstores at the event was giving out coupons for 40% off a future purchase if you bought something at the festival. I can't NOT take advantage of this offer, so when the coupon was close to expiring, it was put to very good use. My eyes were bigger than my wallet.
Purchased
I Believe in a Thing Called Love
For Review via Amazon Vine
Wonder Woman: Warbringer by Leigh Bardugo (I don't know how this happened to me, but I am grateful it did! I saw the movie opening weekend, and I never realized how badly I needed to see a woman superhero like Diana kick butt and take action. I'm now on a mission to get to know more about Wonder Woman. And it's Leigh Bardugo writing her story!)
Warcross by Marie Lu (Confession: I've never read a Marie Lu book, but this seems like a good place to start)
An Enchantment of Ravens by Margaret Rogerson (I am over the moon about this one! It was one of my Waiting on Wednesday titles, and I pretty much have basked in its beauty since I got it)
What"s New To Your Shelves?
Co-Blogger
at
Quite the Novel Idea
Leah has always been a bibliophile. An avid fantasy fan, she has spent many hours imagining magical worlds and wondering what it would be like to wield a sword. When she's not dreaming up her own standalone fantasy stories, she enjoys watching movies, traveling, and eating chocolate. She lives in California.