Mirror Mirror is our feature that replaces the old Stacking The Shelves/Weekly Recap posts. Bieke decided to make her own original feature because it was more than just a STS or recap post.
---
In My Life:
Most importantly, I have two weeks of holidays from school. Yay! It's not a true holiday – more of an "absent study" situation – but it's better than nothing. I've been itching to clean out and re-organise my room for the last month or so, but schoolwork got in the way. I'm trying to only do a little a little bit and save the majority of it for my longer, end-of-year holidays (once my schooling is completely over), but I cannot help myself. I'm on a mission!
We had the fifth The YA Circle meet this past Tuesday and the wild, windy weather we've been having lately scared most of our members off. There was only a handful of us or so – and we have to brave hail and thunder to get to the store! – but as always, it was wonderful to see everyone. This month we read The Program by Suzanne Young – which I loved. Our mods were lucky enough to actually Skype with the author, and they filmed it for us, so we could watch too! Suzanne was so, so sweet. She answered some of the questions we'd Tweeted her, and it was nice to learn some behind-the-scenes goss on her writing process.  Our mods have also planned a few extra bookish events in the coming months so we have so much to look forward to, including a HP release party on the 31st that I'm considering attending.
The internet exploded when Pottermore released the Ilvermorny sorting ceremony thing. Of course, I did as soon as I heard. I got sorted into Horned Serpent which I was expected since I'm a Slytherin. I love this description of the house: the Horned Serpent represents the mind, and means that you are analysitcal and make decisions based on what you think is the most logical answer. We definitely need more information before I go buying my merch, though!
Pentatonix is coming to my city in September, and I'm not coping. Seriously. I'm not sure I'll make it. Their music is all I've been listening to for at least two months now, and just… I'm not sure my heart can take this waiting any longer. I need to see them live! If you didn't know, I've been obsessed with them for years so it's kind of a big deal… *sobs*
Supanova released the first draft of November's guest list and Nathan Fillion is coming! We rarely get major stars in my city – they tend to hit up Sydney, Melbourne, Brisbane, and occasionally, Perth, but never my city – so I'm dying. I've been a massive fan of Castle since I was little, and I have a feeling I'll be a mess if I get to see him in the flesh. I'd definitely like to volunteer at the convention this year. It falls just days after my final exam so *fingers crossed* that turns out well.
---
What I've Been Reading:
---
What I'm Currently Reading:
The Sky so Heavy by Claire Zorn – The writing is so beautiful! I love that both the characterization and plotline is realistic, but it's also kind of slow and… dare I say, dull? I want to like it so much more than I am!
Binge by Tyler Oakley – I don't know why I've been putting this one off for so long! I love Tyler's videos. He's hilarious and sweet and so damn relatable so it's about time I get to this. I've already laughed out loud multiple times.
---
Haul:
Frankie by Shivan Plozza is my book club's book of the month for June/July. My book club friend lent me her edition of Black by Fleur Ferris because she said it was the worse book she'd ever read and I was curious! I won The Hatching by Ezekiel Boone from Hatchette Australia's Twitter page and Burning by Danielle Rollins was a surprise from Allen & Unwin Australia, one that I cannot wait to dive into. The Fire Sermon by Francesca Haig and The Mime Order by Samantha Shannon were both on sale for $2 each, brand new, at this pop-up bookstore I went to in Rundle, so I literally just couldn't resist picking them up. With Malice by Eileen Cook was another win from my book club's Twitter page. I was pretty lucky this month!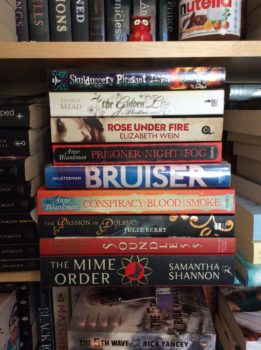 I may have, umm, also gone op-shopping these holidays and picked up a few too many books (none of which cost me more than $4 so it was so damn worth it): Playing With Fire by Derek Landy, The Golden Lily by Richelle Mead, Rose Under Fire by Elizabeth Wein, Prisoner of Night and Fog & Conspiracy of Blood and Smoke by Anne Blankman, Brusier by Neal Shusterman, The Passion of Dolssa by Julie Berry, and Soundless by Richelle Mead.
Latest posts by Rachel Lightwood
(see all)