Hi, everyone! It's been a while since I've done a recap. Things over here have been great. There's been lots of bookish events over here that I attended, but photos speak better than I ever could about them, so let's begin!
L.A. Times Festival of Books
This one is always a blast. I was very excited to meet one of the queens of realistic YA fiction, Laurie Halse Anderson, at the event. Speak and Twisted really opened my eyes to why these stories need to be told. It was an honor to meet her.
LeVar Burton Reads Live
Are you familiar with Reading Rainbow? As a child, my sister, cousins, and I were obsessed with this show. LeVar Burton was one of the people who cultivated my love for reading. One of the tour stops for his podcast brought him to L.A., so of course I had to go. If you haven't heard his podcast, I highly recommend it! He reads short fiction with love.
LeVar (right) speaking with author Nalo Hopkinson after performing/reading her story "Money Tree."
Yallwest
Yallwest, baby! My sister and I braved the crowds for the 4th annual Yallwest. Last year, I spent most of my time going to ARC drops. This year, I went to more panels and got some books signed. It was so much fun and I felt lighter (if that makes sense) instead of stressing over so many giveaways. I did go to a couple though. 🙂
Lines for days.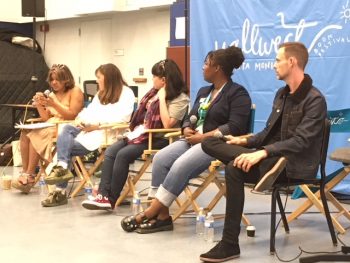 Panel discussion with Danielle Paige, Amy Ephron, Erin Entrada Kelly, Sherri L. Smith, and Ransom Riggs.
Me and Tomi Adeyemi. I was trying not to act stupid excited.
A dramatic re-enactment of Love, Simon.
BOOK HAUL!
From Yallwest (thank you to the publishers!)
Gadzooks! City of Ghosts landed in my hands after standing in the longest line that kept getting longer because peoples' friends kept showing up to stand in line and make it longer. LOL! And I am so pumped for Dragon Pearl!
via Edelweiss (Thank you to the publisher!)
This one looks like so much fun. Can't wait to check it out!
Bought
There's been so many good books coming out. I've just finished Aru Shah, which was cute and fun. My review is coming up soon.
What's new to your shelves?