Mirror Mirror is our feature that replaces the old Stacking The Shelves/Weekly Recap posts. Bieke decided to make her own original feature because it was more than just a STS or recap post.
---
In My Life:
My week has been exhausting, if I'm being honest. School started back last week and I'm just not in the frame of mind for it at the moment. It should be a fun, fantastic year since it's my last year of high school, but it's already a lot of work and we're barely getting into it. I'm not taking as many classes as I did last year, but this year's classes are more intense so it feel like I'm taking about six more! Oh well, it could be so much worse. I'm trying to be a lot more positive this year so I'll try not to complain too much!
The most exciting thing of my week was that I joined a book club and we had our first meeting on Tuesday! Like a lot of readers, in real life I am pretty awkward and kind of a loner. I don't mind it, really, but this year I know that I'm going to be home, studying, a lot so I thought I should have at least one social outlet… and what better idea than a book club! The one I joined just started up brand new this year – a response to the turnout at my city's PTALive event late last year – and it was beyond fantastic. It turns out that a couple of the bookstagrammers I'm friend with (namely @bookishromantic, @bookswithbre and @klarareads – check out their gorgeous accounts if you don't already follow them) are all from my city so I got to meet them in person. I think it's the first and only time that I've met my 'internet friends' in real life so it was kind of surreal and made the night so much better.
We also discussed the upcoming book-to-film adaptions, what '16 release are coming out soon and what our favourite books of last year were. The host and I bonded over our love for Night Owls so that was added bonus! On top of that there were freebies (I got a Glass Sword ARC and I'm dying to read it!) and I won a raffle prize (Panther – never heard of it before but the host said it was a great read). Overall, the night was a blast. We're reading Passenger this month and I just cannot wait to meet up with the girls next month to discuss it.
---
Bookish Plans for the Next Two Weeks:
Reply to all your lovely comments and comment back
Write up some discussions. I've got so many good ideas, I just need to write them.
Finalize my new reviewing style. I'm thinking of doing a more "recently read and currently reading" style post like BookTubers do, but I'm not sure how I'll set it out quite yet.
---
On the Blog:
---
What I've Been Reading & Watching:
Read:
I've read like nothing this month *sobs*. Like I said, school happened and school and reading don't mix too well. Unfortunately, my mother says that school's the priority in this situation so my reading speed has pretty much come to a stand still. I managed to churn through Sanctum (which was actually okay) and Catacomb (which made me dislike the series all over again) but at least I can cross one series off my list. I also picked up The Book of Lies because of a friend's recommendations but I found it a little too simple and juvenile for my current tastes. Of Mice & Men was for my English class but I ended up enjoying it so, so much – the only classic I've ever read and enjoyed, actually.
Watched: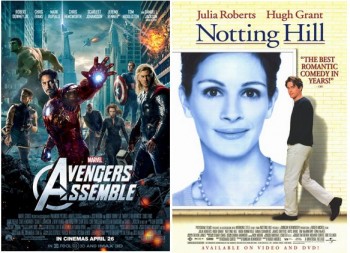 I watched Avengers when it was on TV… for like the fifty billionth time. I also finally watched the film Notting Hill… and meh. I know, I know. It's some sort of classic romance movie and my mum loves Julia Roberts but yeah, just a tad too boring and instalovish for my tastes.
---
What I'm Current Reading: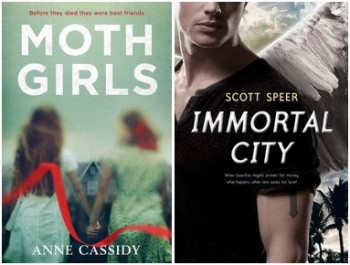 I'm reading Moth Girls by Anne Cassidy (the story is okay but the writing is a little bland) and Immortal City by Scott Speer (the writing is overly descriptive but it's otherwise enjoyable, loving how unique it is).
---
Haul:
Physical Books:
Moth Girls (ARC – Allen & Unwin) | Glass Sword (ARC – won from my book club) | Panther (won from my book club) | The Scorpio Races (bought at my book club) | The Ex (ARC – Allen & Unwin) |
eARCs: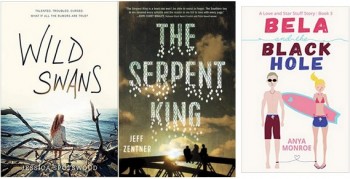 Wild Swans (Jessica Spotswood) | The Serpent King (Jeff Zentner)| Bela and the Black Hole (Anya Monroe)
Library Haul: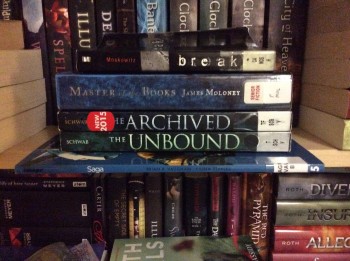 Break  (Hannah Moskowitz)| Master of the Books (James Moloney) | The Archived & The Unbound (Victoria Schwab) | Saga, Vol 5 (Brian K. Vaughan & Fiona Staples)
---
I'm an avid reader (obviously), Pinterest addict, history nerd, coffee drinker, feminist, couch potato, pianist, vegetarian, lover of crime shows, die-hard HP fan and Captain America-obsessed.
Latest posts by Rachel Lightwood (see all)