Hello! Wherever you are, I hope you're staying staying safe, in good health and spirits. Are you starting new hobbies? Are you watching or reading anything interesting? If you're an essential worker (health care provider, in food service, at a grocery store, delivery driver), thank you. Let me know how you're doing.
What I've Been Up To
Wow, April was a hard month. With all of the rising cases of and uncertainty with COVID-19, I went down a very dark path mentally that triggered major depressive episodes. I could not look away from the news. It was hard to be optimistic about anything. I lost interest in a lot of things. Nothing my family said could get me out of it.
It wasn't until I called my best friend who broke down small, doable things I could work on for myself–and, weirdly, finding hope while re-reading the Saga series–that I started feeling like I could get a grasp on my well being again. Her advice: unplug from the news outlets. If I need to be informed, check a local news source. Focus on the now. Concentrate on what you can do. I've been donating to local organizations. I go for walks again. I list things I am grateful for. I try not to be too hard on myself. It's been a few weeks now and I am in a much better place mentally and emotionally.
In my spare time, my reading is not what I thought it would be since the shelter in place order started last month, but I have read a few books. Television is my friend for the time, and that's okay. I binge watched Barry on HBO Go. I HIGHLY recommend it if you like gritty, darkly comedic drama. I've had a crush on Bill Hader for years and I'm glad he's finally getting more credit.
With a free trial of Amazon Prime, I also binge watched Carnival Row. It was a hyped show at last year's Comic-Con and it looked cool. And it is cool! I like the world building and the commentaries it lays out. I can't believe I didn't watch it sooner.
I signed up for Disney+ as well, so I also caught up on a bit of The Mandalorian. Let's face it, The Child is Baby Yoda. Or a relation of Yoda. Mainly, I've been watching the movies of my childhood: Cinderella, Pinocchio, Mulan. I'm enjoying it.
Yallwest becomes Yallstayhome
Yallwest was cancelled this year, but the organizers got together and crafted Yallstayhome, where panels went virtual via Zoom. This was such a blast. It was wonderful of the organizers to do this for the readers, and it allowed readers around the world to check out their favorite authors at this event. Last I heard, they had over 40,000 sign ups for attendees. Here are a few snapshots of the weekend (my laptop could only picture 4 people at a time but I was able to hear the other panelists that were off screen 🙂 ).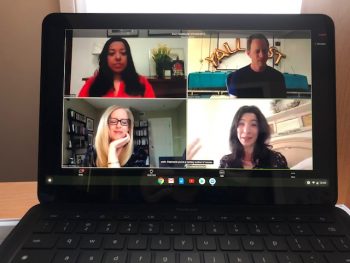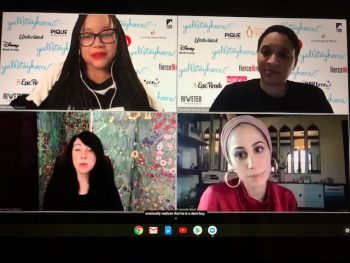 I've also been attending Toastmasters meetings on Zoom. It's a great way to connect with people during this time.
Around the Blogosphere
I tried to pop in more on other blogs. Here are several that I wanted to shout out.
Haiku reviews can be found on Lark's blog
Check out Lydia's photo essay around her home city of Toronto
In memory of her grandmother, Jess posted about her favorite fiction
What I Read
Why yes I did read Pumpkinheads for a second time this year. 😀 Graphic novels were my lifeline in April.
Book Haul
I managed to buy a few books from some indie bookstores around the country. If you have the means, consider purchasing your new reads from an independent bookstore.
From Book of the Month
Onward to May.