Mirror Mirror is our feature that replaces the old Stacking The Shelves/Weekly Recap posts. Bieke decided to make her own original feature because it was more than just a STS or recap post.
Life, News & Happenings
I there gorgeous readers!  Crazy busy week, so I'm happy that I'm able to rest today.  The last members of the family left on Tuesday so we have the house to ourselves again.  This always brings mixed feelings since I miss them but I also enjoy going back to my routine.
Today is hubby's birthday!!!  ¡Feliz cumpleaños tesoro!
So, that's it, no more updates this week (sorry, but I'm so tired and getting a headache!)
You Might Have Missed
Stacking the Shelves
Purchased for Audible
Lucky in Love by Kasie West – I've yet to read a Kasie West book I didn't love and I expect no less of this one 🙂
Review
The Reunion by Sara Portman – Can I just tell you that I fell in love with this cover?  Gorgeous!
Monstress Vol2: The Blood by Marjorie Liu and Sana Takeda – I read volume one a couple of months ago and I can't wait to see what happens next!
The Hawkweed Prophecy and The Hawkweed Legacy by Irena Brignull –  Not requested, but appreciated. These covers are so beautiful that I can't help but want to read them.
A Map for Wrecked Girls by Jessica Taylor – I guess that this is the post of gorgeous covers!  Sounds good too.
Spellbook for the Lost and Found by Moira Fowley-Doyle – I really liked Folwley's previous book, The Accident Season, and this one has been in my TBR since I first saw it.
Purchased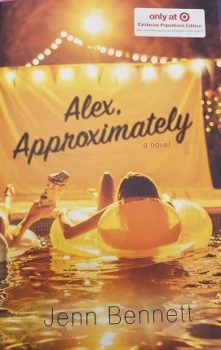 Alex, Approximately by Jenn Bennett – Nick loved this one, so I must read it.
What's new to your shelves this week? 
I'm an avid reader (since I learned to read at age four) and a book blogger (since May, 2011).I read mostly YA, but I also read romance, new adult and some middle grade.

Born in Puerto Rico, hola :), military wife for 22-years, and mother of three boys.I work full time doing something else that I love (sadly I don't get paid for reading!)