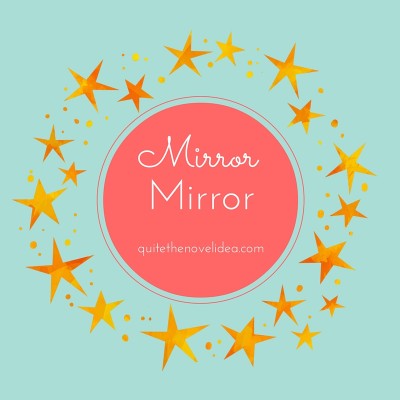 Mirror Mirror is our feature that replaces the old Stacking The Shelves/Weekly Recap posts. Bieke decided to make her own original feature because it was more than just a STS or recap post.
Life, News & Happenings
Hi there gorgeous readers!  Work has been HARD this week, you have no idea how happy I am that the weekend is here.
Not much happened this week.  Taking care of the kids and hubby, taking care of the puppies, taking care of the house, and updating the blog is about how much I managed to do this week.  To top it all was sick with a stomach bug of some sort that made me miserable for most of the week 🙁
I do have a coupe of books on pre-order and a few coming for review, but not much else to report.  *Boring, aren't I*
You Might Have Missed
New to My Shelves
Purchased for Kindle
Eidolon by Grace Draven – Guys!!! I LOVED Radiance, book one of this series (duology?) and I already started reading Eidolon.
The Shadows & the Sun by Monica Enderle Pierce – I just found this one while browsing NetGalley and I just bought it (.99 cents!) because I fell in love with the cover.
Review
And I Darken by Kiersten White – I'm a big fan of White's writing and I cannot wait to read this one.
Hmm… I guess this is the fantasy edition, huh?
What is new to your shelves this week?