Maybe a Mermaid
by
Josephine Cameron
Pages:
288
Published on
March 26, 2019
Genres:
Adolescence
,
Family
,
Friendship
,
Middle Grade
Format:
ARC
Source:
Borrowed
Amazon
|
B&N
|
Goodreads
Eleven-year-old Anthoni Gillis is not the kind of kid who believes in fairies, unicorns, or even the word "maybe." She's more of a comic-books girl. So when her mom brings her to Thunder Lake for a summer at the Showboat Resort, she doesn't believe the local rumors about the Boulay Mermaid.

Anthoni has bigger fish to fry. She's always wanted a True Blue Friend. But it's been hard to find one, since for the past five years she's been bouncing from town to town, helping her mother sell Beauty & the Bee cosmetic products to keep them both afloat. This summer will be different, though. Anthoni has a plan―a foolproof checklist for making lifelong friends! There won't be any maybes this time.

But as she grows entangled in local gossip, and her mother stretches the truth, Anthoni must decide if she'll "stick to the plan," like always, or dive into a summer full of extraordinary possibilities.

Josephine Cameron's energetic and heartfelt debut raises timeless questions about truth, lies, and the hope that grows between them.

After a wobbly start, I couldn't put Maybe a Mermaid down. This is a great look at family: narrator Anthoni and her mom are close and supportive, and while they experience bumps along the way, they're always there for each other. The narration is fresh and feels like a young girl is talking about these moments in her life.
The book has the "magic of summer" vibe, complete with Fourth of July celebrations and swimming in the local lake. It also has some genuinely funny moments that made me laugh out loud, courtesy of a boy Anthoni meets at the lake. I rarely laugh out loud while reading! Mostly, this is a heartwarming look at friendships that unexpectedly happen when you're planning for something else. I was especially moved by the friendship Anthoni has with a former vaudeville star who runs a hotel. By the end, I was crying happily.
There was a whole backstory to Anthoni's mom that I wanted to know more about–it seemed like it was important, but it's forgotten near the end of the book. But this is only a tiny complaint. I really liked the book and can't wait to get a finished copy to add to my shelves.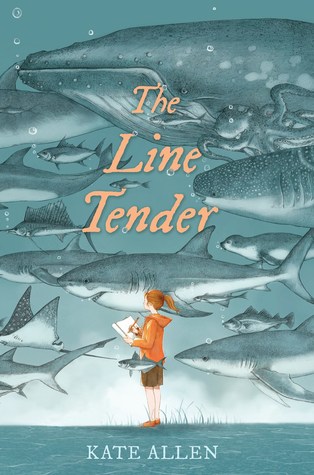 The Line Tender
by
Kate Allen
Pages:
384
Published on
April 16, 2019
by
Dutton
Genres:
Adolescence
,
Family
,
Friendship
,
Middle Grade
Format:
ARC
Source:
Borrowed
Amazon
|
B&N
|
Goodreads
The Line Tender is the story of Lucy, the daughter of a marine biologist and a rescue diver, and the summer that changes her life. If she ever wants to lift the cloud of grief over her family and community, she must complete the research her late mother began. She must follow the sharks.

Wherever the sharks led, Lucy Everhart's marine-biologist mother was sure to follow. In fact, she was on a boat far off the coast of Massachusetts, preparing to swim with a Great White, when she died suddenly. Lucy was eight. Since then Lucy and her father have done OK—thanks in large part to her best friend, Fred, and a few close friends and neighbors. But June of her twelfth summer brings more than the end of school and a heat wave to sleepy Rockport. On one steamy day, the tide brings a Great White—and then another tragedy, cutting short a friendship everyone insists was "meaningful" but no one can tell Lucy what it all meant. To survive the fresh wave of grief, Lucy must grab the line that connects her depressed father, a stubborn fisherman, and a curious old widower to her mother's unfinished research. If Lucy can find a way to help this unlikely quartet follow the sharks her mother loved, she'll finally be able to look beyond what she's lost and toward what's left to be discovered.
I really wanted to love this book. The writing is languid and surreal. The setting is breathtaking. Each chapter (of the ARC) is accompanied by wonderful illustrations of sharks. Stories about grief and loss have my heart, and The Line Tender should be a moving tale of loss and healing.
Lucy is almost thirteen and has experienced major losses in her young life. This brings long absent family friends closer, truths revealed. All of this leads her on her path to eventual healing. Her story is heartbreaking; I wanted to face her losses with her. I wanted to feel her anger and sadness–I did cry at one point.
I just wasn't as moved as I wanted to be. The emotional impact I was waiting for never happens. View Spoiler »Lucy's friend Fred dies. « Hide Spoiler This happens early on, but because this person gets only a small amount of time to develop, it lacks depth. It feels random. The plot still moves forward, but as far as the main subject matter, I wanted more.