Certain Dark Things
by
Silvia Moreno-Garcia
Pages:
336
Published on
October 25, 2016
by
Thomas Dunne Books
Genres:
Adult
,
Fantasy
,
Vampires
Format:
Hardcover
Source:
Library
Amazon
|
B&N
|
Goodreads
Also by this author:
Gods of Jade and Shadow
,
Mexican Gothic
Welcome to Mexico City… An Oasis In A Sea Of Vampires…

Domingo, a lonely garbage-collecting street kid, is busy eking out a living when a jaded vampire on the run swoops into his life.

Atl, the descendant of Aztec blood drinkers, must feast on the young to survive and Domingo looks especially tasty. Smart, beautiful, and dangerous, Atl needs to escape to South America, far from the rival narco-vampire clan pursuing her. Domingo is smitten.

Her plan doesn't include developing any real attachment to Domingo. Hell, the only living creature she loves is her trusty Doberman. Little by little, Atl finds herself warming up to the scrappy young man and his effervescent charm.

And then there's Ana, a cop who suddenly finds herself following a trail of corpses and winds up smack in the middle of vampire gang rivalries.

Vampires, humans, cops, and gangsters collide in the dark streets of Mexico City. Do Atl and Domingo even stand a chance of making it out alive?
Why aren't more people talking about Certain Dark Things? It's a unique look beyond the world of the more well-known European vampires and it seems to have flown under the radar for fantasy lovers. With Silvia Moreno-Garcia's success with her newest book, Gods of Jade and Shadow, I'm confident it will draw more readers to this book.
What can you expect from Certain Dark Things? A world rich with vampire myth. You will be taken to a Mexico where vampires exist, and not just any vampires. There are blood drinkers, but they also have a storied history that goes hand in hand with the Aztec civilization. There are vampires who live off the energy of humans that are feared by other vampires. There's a lonely garbage collector who finds himself in the middle of a vampire feud.
I loved Doningo. He is a sweet, likable young man. He's a little naive when he meets vampire Atl, who is determined to keep him at a distance. Atl's experienced tragedy, so she's not up to dealing with Domingo's infatuation. Because Domingo is so naive when it comes to his newfound loyalty to her though, she ever-so-slowly warms up to him. It's adorable and I approved.
The book flits between several POVs, which adds depth to the plot, but this is also its downfall. Several characters are introduced, each with their own personal experiences with vampires. One of them, a police officer, had this full back story given, and her subplot doesn't go anywhere. This happens a few more times. Why introduce them if only to not fulfill anything?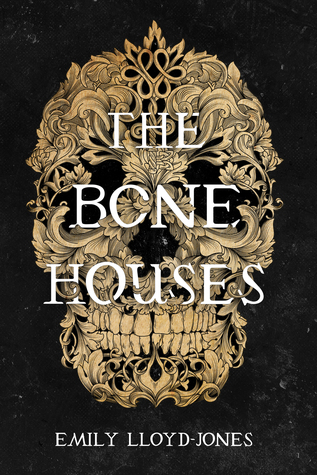 The Bone Houses
by
Emily Lloyd-Jones
Pages:
352
Published on
September 24, 2019
by
Little
,
Brown Books for Young Readers
Genres:
Fantasy
,
Young Adult
Format:
ARC
Source:
Amazon Vine
Amazon
|
B&N
|
Goodreads
Seventeen-year-old Aderyn ("Ryn") only cares about two things: her family, and her family's graveyard. And right now, both are in dire straits. Since the death of their parents, Ryn and her siblings have been scraping together a meager existence as gravediggers in the remote village of Colbren, which sits at the foot of a harsh and deadly mountain range that was once home to the fae. The problem with being a gravedigger in Colbren, though, is that the dead don't always stay dead.

The risen corpses are known as "bone houses," and legend says that they're the result of a decades-old curse. When Ellis, an apprentice mapmaker with a mysterious past, arrives in town, the bone houses attack with new ferocity. What is it that draws them near? And more importantly, how can they be stopped for good?

Together, Ellis and Ryn embark on a journey that will take them deep into the heart of the mountains, where they will have to face both the curse and the long-hidden truths about themselves.
I received this book for free from the publisher or author in exchange for an honest review.
This does not affect my opinion of the book or the content of my review.

Oh, this book.
When Emily Lloyd-Jones promised reanimated dead bodies AND faerie lore with THE BONE HOUSES, I had no idea what to expect, but I was on board. What I got was a fast-paced, atmospheric fantasy that feels steeped in Old Europe. It's told like a fairy tale, urging the reader to sink in to its magical setting, promising wonder and a few horrors. It does all this while also managing to have some pretty funny moments as well.
Lloyd-Jones does much with each word she uses, conjuring a place where the reader can feel the crunch of leaves underfoot, a homey inn warmed by fire and the sound of laughter, or a small house where a small family resides. The dead are a menacing presence to the living, and the way Lloyd-Jones describes their arrival is chilling. The world building is vibrant. I wanted to be part of it, bone houses and all. The mythos of what is causing the dead to rise is fascinating and unique. I enjoyed it immensely.
The quest is full of surprises, not the least of which is Ryn and Ellis finding they care about each other. I loved these two: Ellis is soft-spoken and nerdy, while Ryn has the weight of the world on her shoulders, a fierce nature, and carries an axe. The reversal of hero and savior plays out between them, bu it comes down to finding their equal in each other. They also trade one liners that made me chuckle.
What truly made this book for me was the last third. I was reading this on a plane ride home and although I had my suspicions on where the book was going, I cried. And I couldn't control the tears for a few minutes. It's a bittersweet, satisfying moment.
I think this book is going to be a hidden gem. It's a fun, adventure-packed, beautifully told tale of friendship and love, with an ethereal setting. Give this one a try if you're looking for something unique.