This book may be unsuitable for people under 17 years of age due to its use of sexual content, language, and/or violence.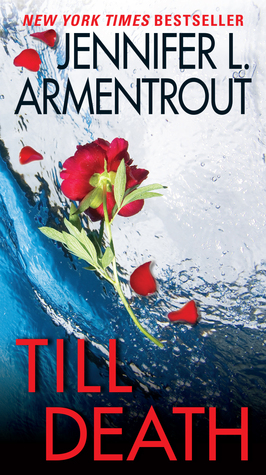 Till Death
by
Jennifer L. Armentrout
Pages:
400
Published on
February 28th 2017
by
William Morrow
Genres:
Adult
,
Contemporary
,
Mystery
,
Romance
Format:
Audiobook
Narrator:
Sarah Naughton
Length:
10 hours and 40 minutes
Source:
Purchased for Audible
Amazon
|
B&N
|
BookDepository
|
Goodreads
Also by this author:
Wait for you
,
Be With Me
,
White Hot Kiss
,
White Hot Kiss
,
Stay With Me

In New York Times bestselling author Jennifer L. Armentrout's gripping new novel, a young woman comes home to reclaim her life—even as a murderer plots to end it. . .


It's been ten years since Sasha Keaton left her West Virginia hometown . . . since she escaped the twisted serial killer known as the Groom. Returning to help run her family inn means being whole again, except for one missing piece. The piece that falls into place when Sasha's threatened—and FBI agent Cole Landis vows to protect her the way he couldn't a decade ago.

First one woman disappears; then another, and all the while, disturbing calling cards are left for the sole survivor of the Groom's reign of terror. Cole's never forgiven himself for not being there when Sasha was taken, but he intends to make up for it now . . . because under the quirky sexiness Cole first fell for is a steely strength that only makes him love Sasha more.

But someone is watching. Waiting. And Sasha's first mistake could be her last.

I've read a few of Armentrout's books before and I've loved them all, but this is the first adult mystery that I read by her and I think she nailed in the head.  She's such a talented, prolific and versatile author 😉
Ten years ago Sasha was kidnapped, tortured, raped and terrorized by a serial killer called The Groom (thankfully, the book is not too descriptive here).  The Groom was killed after Sasha – the only survivor – escaped by cheer luck and her ingrained desired to live.  Now, she's returning home, to a small town in Virginia, to help her mom with the family's Bed and Breakfast.  Being back home is wonderful, her mom, her best friend Miranda, the ornery cook James, and most importantly, Cole are happy to see her.
However, almost immediately strange things start to happen.  Sasha's car gets vandalized, women disappear, she's pushed down the stairs…. Something is definitely going on and it seems that she's the cause.
Sasha has taken a long time to recover.  It has taken a lot of therapy, breaking up with her previous life, working hard to consciously overcome something that will irrevocably break most people.  Her defense mechanisms are always up, she very sensitive and she tries very hard to let her friends and Cole in, to share her feelings, her fears and to rely on someone else.
Cole is now a divorced FBI agent.  He has tried to get over his first love – Sasha – and failed miserably.  He's gorgeous, loving, very protective of Sasha and determined to not make the same mistakes again, to always be there for her.
The story of Sasha and Cole is one of second chances, regrets and continuation of the love they felt 10 years before. This, and the situation they find themselves in, makes it believable and you're rooting for them all the time.
The plot is twisty as we try to figure out who can be targeting Sasha.  We get some chapters from the 'bad guy' and we have a bit of an insight into the crazy's mind.  The pace was slow at the beginning and some of Sasha's doubts and reactions were annoying, but somewhat understandable.
The ending was perfect and I wish we had another book so we can find out if Cole and Sasha got their happily ever after and what happened to Miranda.
Overall, the audibook of Till Death was really good.  I think that narrator Sarah Naughton did a great job with the voices and the pace.  
Have you read Till Death?  Do you live murder mysteries?