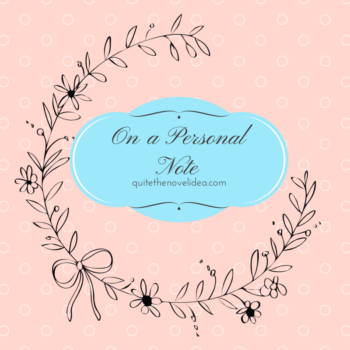 Once upon a time – after reading and following many blogs – I decided that I too could embark upon the world of book blogging.  This was, my dear gorgeous readers, in May of 2011. I figured a lot of things out by trial and error (thanks for Google!), I moved from Blogger to WordPress and I went from a single blogger to have two wonderful co-bloggers and to belong to an amazing community of people that love to talk books.
In other words, I have been consistently blogging for seven years.  During that time I finished a graduate certificate, have been promoted at work, my second son will graduate this year, I travel more for work, and my health has been really challenging too…  I found lately that I don't have the same time to read, let alone blog.  It has become a chore to find the time and the energy to keep up with posts and comments.
For all this reasons, I decided that it's time for me to stop.
Sorry, let me give you a second to get used to the idea…  This has been a VERY hard decision for me since I adore the bookish community, blogging and Bee and Leah.  It feels in a way like a betrayal to them, but they have been more than supportive as has been my hubby.  I even cried while I was writing the email to them.  You have to understand that this has been a BIG part of my life for many years: tracking books to read, participating in blog tours, keeping up with email, requesting and accepting requests, tracking everything in Goodreads, checking NetGalley and Edelweiss, finding book events and going to them.  I'm sure it will take some time to separate myself from all of these things, but I have so many other things to do and read.
I will try to keep being a contributor to Quite the Novel Idea once or twice a month, but for the most part this is goodbye.  I hope to still see you around in Goodreads and social media.  It's been a wonderful run and I've loved you and every minute of it.
Thanks!