Hi there my gorgeous readers! As you might know I was fortunate to go to Book Expo America (BEA) this year.  If you want to see my book haul, check this post.  Before launching into the details of the trip, I have a few words about BEA 2017.   It was different to other years in a few vital ways.  First of all, it's the first time a media badge was not approved for me.  I do understand the tougher restrictions to avoid incidents and let other attendees, such as book sellers, buyers, librarians and teachers enjoy the event better.  I paid for registration that was a lot more (about double for 1/2 day less) of other years.  The application itself requested a lot of links to posts and other contacts in the publishing world that I – being a legitimate blogger – was able to easily answer.
Thus, BEA was a lot calmer and less frenzied that other years.  There was room to walk.  The lines were more organized and for the most part, shorter.  Publishers were more prepared for the lines, they had signs, tickets and such.  There was also a lot more adult, children and MC titles than YA, probably to discourage all the crazy YA bloggers (including myself!)  There was only one baggage check and it was enough.  As I said, a different BEA.
As I've done every year, I went to NYC with Jachy.  She's an avid book reader and book lover and the daughter of a dear friend.
We arrived at Javits on Wednesday and registered that day.
On Wednesday night we went to see Wicked.  Thank you Jachy for the ticket and the great seat! 🙂  I LOVED IT!  I had seen a Broadway play before, but this was my first musical. It was funny, powerful, unexpected and so much fun.
Some of the authors I met:
Holly Black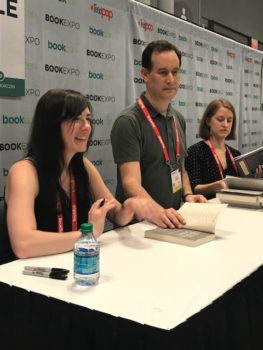 We also went to the Macmillan party on Friday night and we had a blast!  I wish I'd taken more pictures, but I did enjoy talking to a lot of authors and also the amazing goodies bag they gave us.  Thank you so much to the publishers, bloggers and above all, all the authors that were so easy to talk to.
We drove back Saturday morning with our macaroons in tow 🙂
I'm an avid reader (since I learned to read at age four) and a book blogger (since May, 2011).I read mostly YA, but I also read romance, new adult and some middle grade.

Born in Puerto Rico, hola :), military wife for 22-years, and mother of three boys.I work full time doing something else that I love (sadly I don't get paid for reading!)