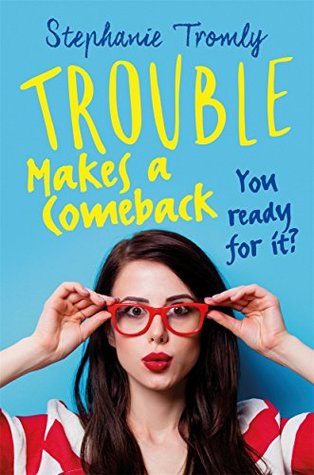 Trouble Makes a Comeback (Trouble, #2)
by
Stephanie Tromly
Series:
Trouble #2
Pages:
336
Published on
November 22nd 2016
by
Kathy Dawson Books
Genres:
Contemporary
,
Mystery
,
Romance
,
Young Adult
Format:
Audiobook
Narrator:
Kathleen McInerney
Length:
7 hrs and 56 mins
Source:
Audible
Amazon
|
B&N
|
BookDepository
|
Goodreads
"How do you like life in the fast lane?" Digby said. "Is it everything you thought it would be?"




Good question.

Achieving high school "normal" wasn't as hard as Zoe Webster expected, but she's beginning to think Hollywood oversold how much fun it all is. Isn't dating a jock supposed to be one long Instagram dream? Shouldn't she enjoy gossiping 24/7 with her two BFFs? And isn't this, the last year before the finish line that is Princeton, meant to be one of her best? If "normal" is the high school goal, why can't Zoe get Philip Digby—decidedly abnormal, completely chaotic, possibly unbalanced, undoubtedly rude, and somehow…entirely magnetic—out of her mind?

However normal Zoe's life finally is, it's about to get blown up (metaphorically. This time. She hopes, anyway.*) when Digby shows up on her doorstep. Again. Needing her help to find his kidnapped sister. Still. Full of over-the-top schemes and ready to send Zoe's life into a higher gear. Again.

It's time for Zoe Webster to choose between staying in the normal lane, or taking a major detour with Digby (and finally figuring out what that stolen kiss actually meant to him).

Guess which she chooses?

* This is a mistake; Zoe should know better than to expect there not to be explosions when Digby is in town.

After falling in love with Trouble is a Friend of Mine, I was eager to see what kind of trouble would Digby and Zoe get into. 
It's been eight months since Digby left to find more answers about his sister's disappearance and in the meantime Zoe has gotten on with her life.  Not only does she has two good friends, but she also has a boyfriend.  She's studying for her SAT, her mom has a new boyfriend too that now lives with them (and he's vegan!) Things are going well, and then Digby waltz back into her life.
Zoe is happy to see Digby, but also upset that he left and didn't call her once while he was away.  She knows him well, takes care of him, goes along with all his silly and often dangerous plans.  Zoe tries to make room in her life for her boyfriend, friends, family and work, but Digby is always bigger than life.  She's smart, snarky, a bit paranoid, and is attuned now to be suspicious and careful.
Digby is, well, weird, paranoid, observant, a genius detective.  He's also now emancipated and done with high school, but has no plans for the future, he can't move on until he finds out what happened to Sally.  He's also caring, straightforward, handsome, and he really cares for Zoe and his friends.
Is there romance?  Yes it is!  Finally! (that's all I'm saying)
We also get to see a lot old friends, former enemies, and new friends too.  Zoe's parents are ever present and I'm happy to see them involved in her life.  Digby's mom makes a bigger appearance in this installment.
The plot has two different mysteries than run parallel to Digby's main purpose of finding what happened to his sister all those years ago.  The shenanigans continue, Tromly manages to make them both scary and funny.  I felt bad for Digby because he's unable to move on with his life and at the same time I laughed out loud many times because they got into a lot of funny situations.
Overall? 
Trouble Makes a Comeback was such a good follow up to Trouble is a Friend of Mine.  A lot of truths are uncovered and discovered and the stakes are a lot higher.  Now, Digby has a definite lead to find out – once and for all – what happened to his sister.  I can't wait for the conclusion 🙂
I also listen to the first book in audio and I think that Kathleen McInerney does an excellent job with voices, pace and feeling.