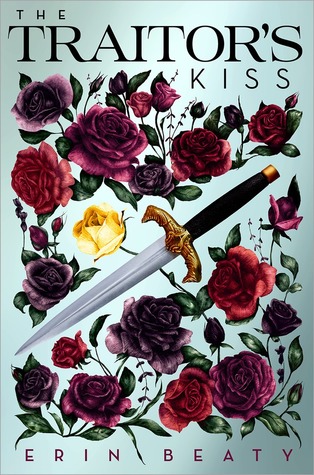 The Traitor's Kiss (Traitor's Trilogy, #1)
by
Erin Beaty
Pages:
352
Published on
May 9th 2017
by
Imprint
Genres:
Fantasy
,
Romance
,
Young Adult
Format:
eARC
Source:
ARC Provided for Tour
Amazon
|
B&N
|
BookDepository
|
Goodreads
An obstinate girl who will not be married. A soldier desperate to prove himself. A kingdom on the brink of war.
With a sharp tongue and an unruly temper, Sage Fowler is not what they'd call a lady―which is perfectly fine with her. Deemed unfit for marriage, Sage is apprenticed to a matchmaker and tasked with wrangling other young ladies to be married off for political alliances. She spies on the girls―and on the soldiers escorting them.
As the girls' military escort senses a political uprising, Sage is recruited by a handsome soldier to infiltrate the enemy ranks. The more she discovers as a spy, the less certain she becomes about whom to trust―and Sage becomes caught in a dangerous balancing act that will determine the fate of her kingdom.
I've seen a lot of mixed reviews for The Traitor's Kiss, but since I'm a lover of fantasy, I wanted to read it for myself.  I'm glad I did.  I didn't read the Goodreads reviews until after I finish the book and I really don't think of it as a retelling of Mulan, rather I took the story for what it was.
You can tell the basic plot from the blurb so I won't repeat it again.  The world in which the story takes place is sort of like England in the 1700's or before.  Women were bargaining tools, a source of income, a way to create alliances.  All of this was too important to leave to chance, so it was left to matchmakers instead. Sage wanted something more for herself and so she took a chance at something different that would at least give her a measure of independence.  The rest of the world building was not as in depth as I'm used to in fantasy, but still easy to follow and well explained.  There is a lot of spying, action, interactions, twists, turns, misunderstandings and understandings.
I liked Sage.  Although she was prone to be sullen and prejudiced against the rest of the females in her company, she's also loyal, discreet, a hard worker and an eye for detail.  Besides, she loves books and learning and that's always my kind of people 😉  Sage made a decent spy, even if she got a bit over her head sometimes.
Now, I LOVED Alex.  He's a newly appointed captain, trying to prove himself and doing a fair job about it.  He's charged to be the escort of the ladies traveling to the capital to be married.  Alex is handsome, loyal, smart, considerate, and fair.
The romance is slow to build, but awesome! I just love the way Alex was first suspicious of Sage and how Sage was so prejudiced against him, but at the end they fell for each other. I really enjoy when characters are flawed and not afraid to speak their mind or show their feelings.
The writing was fluid and interesting. I did felt like the book was a bit longer than it needed to be. I liked that the ending was not a cliffhanger, we do have an ending of sorts, but it's also clear that it is to be continued.  I do hope that the author keeps this couple together because I adore Alex.
Overall, The Traitor's Kiss was a good introduction to the world, the characters, and the politics.  I expect great things from the rest of the series and from Alex and Sage 🙂