This book may be unsuitable for people under 17 years of age due to its use of sexual content, language, and/or violence.
Marked (Servants of Fate, #1)
by
Sarah Fine
Series:
Servants of Fate #1
Pages:
332
Published on
January 1st 2015
by
47North
Genres:
Adult
,
Dystopian
,
Paranormal
,
Romance
Format:
Audiobook
Length:
9 hours 39 minutes
Source:
Purchased for Audible
Amazon
|
B&N
|
BookDepository
|
Goodreads
In a broken landscape carved by environmental collapse, Boston paramedic Cacia Ferry risks life and limb on the front lines of a fragile and dangerous city. What most don't know—including her sexy new partner, Eli Margolis—is that while Cacy works to save lives, she has another job ferrying the dead to the Afterlife. Once humans are "Marked" by Fate, the powerful Ferrys are called to escort the vulnerable souls to either eternal bliss or unending fire and pain.
Unaware of Cacy's other life, Eli finds himself as mesmerized by his fierce and beautiful partner as he is mistrustful of the influential Ferry clan led by the Charon—who happens to be Cacy's father. Cacy, in turn, can no longer deny her intense attraction to the mysterious ex-Ranger with a haunted past. But just as their relationship heats up, an apparent hit takes the Charon before his time. Shaken to the core, Cacy pursues the rogue element who has seized the reins of Fate, only to discover that Eli has a devastating secret of his own. Not knowing whom to trust, what will Cacy have to sacrifice to protect Eli—and to make sure humanity's future is secure?
The Servants of Fate series was my first dive into Sarah Fine's writing and I adored it.  I have to give credit for bringing these to my attention to Alyssa from Eater of Books since she's always right 🙂  This series was amazing!
The premise of the series is dystopian with a paranormal twist.  The world as we know no longer exist, and people although there are advances in science and technology, there is also a lot of need and violence.  The main setting of the books is Boston, that has turned out to be sort of like Holland, with a lot of canals.  The Ferry family – directed by the Charon – is rich and powerful, but also the carriers of the souls of those marked by fate to die.  With me so far? The Kere the ones that mark the souls, under the direction of Moros, the god of death.
Marked is the story of Cacia (Casy) Ferry, the youngest daughter of Patrick Ferry, the current Charon.  She's a paramedic, and she's feisty, hot tempered, stubborn, brave, and a bit reckless.  Eli Margolis is a new paramedic that just moved to Boston because his sister has been hired by Harvard to continue her research.  They are attracted to each other, but each one of them has their own priorities.
The romance is strong, fast, hot and believable.  I know I said fast, but it's not instant.  There is a LOT of action and danger, so it's okay to fall in love in those circumstances.  Eli and Cacy make a great couple and make some sacrifices to be able to stay together.
When Patrick Ferry is murdered, his eldest son (and Casy's brother) becomes the new Charon and then all hell breaks loose.  The story concentrates in figuring out who killed him, as he was unmarked.  The plot is more complicated than it sounds and it continues throughout the series.  The writing is awesome!  You can count me as a Sarah Fine fan for life!
Claimed (Servants of Fate, #2)
by
Sarah Fine
Published on
March 24th 2015
by
47North
Genres:
Adult
,
Dystopian
,
Paranormal
,
Romance
Length:
10 hours 1 minute
Source:
Purchased for Audible
Amazon
|
B&N
|
BookDepository
|
Goodreads
Galena Margolis, a brilliant scientist with a tragic past, is determined to fulfill her destiny and develop the vaccine that could save millions. Yet when Galena's test subjects meet with foul play, it's clear that someone is still determined to stop her, and that Galena herself is a target. As the Ferry empire forges a plan to keep her safe, Declan Ferry, the politics-hating black sheep of the family, steps forward to protect her—but the emotional cost may be more than either of them is willing to pay.
As unknown enemies close in, it becomes terrifyingly clear that they threaten to destroy not only Galena's lifesaving work but also the very fabric of fate. As Galena and Declan race to uncover the traitor, they also forge a special bond that could save both Galena and those she's sworn to help. Torn apart by the past and hunted by those she trusted, can Galena find room amidst her fears for a passion that could make her stronger than ever? And even if she and Declan can find their way together, will it be enough to keep the future from coming apart at the seams?
Claimed
I won't go over the general premise of the series, but instead continue the story with Claimed.  The story picks up where Claimed left up, but this is the story of Declan Ferry – the third son of Patrick Ferry and Cacy's brother – and Galena – Eli's little sister. The new Charon is now Aislin Ferry, their oldest sister.
Galena is a genius.  She's developing a vaccine that can adapt to the patient to cure any virus.  She has been hired by Harvard to keep doing her research in Boston.  As she starts testing the new vaccine, her research subjects are murdered and there are attempts to kill her as well.
In order to protect Galena, it is decided that she should become a Ferry by marriage and Dec volunteers to do the deed.  To do so, he must claim Galena as his and consume the marriage.  Which proves to be difficult due to both Galena's past and the fact that they hardly know each other.
Dec is very sweet, protective, decent, generous, and patient.  He's the chief of the paramedic unit where Cacy and Eli work. He was to do what's right to the human race and for his family, but somehow his new wife has become the most important thing in his life.  Galena and Dec's romance is sweet, slower to develop and more heartfelt.  I'm happy that Galena found her prince charming.
As I said before, the plot is complicated, as the Ferry family, now with the aid of Moros, tries to figure out what is going on and who is betraying them.  Some of the Kere seem possessed and act without Moros permission which is technically impossible.  Stay tuned for more below!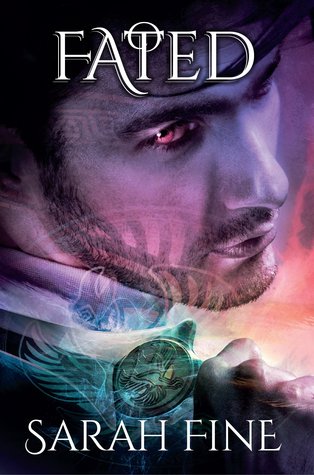 Fated (Servants of Fate, #3)
by
Sarah Fine
Published on
September 29th 2015
by
47North
Genres:
Adult
,
Dystopian
,
Paranormal
,
Romance
Format:
eBook
Source:
Purchased
Amazon
|
B&N
|
BookDepository
|
Goodreads
Aislin Ferry and Jason Moros have only days until they will be called to account before the Keepers of the Afterlife. Yet as they race to restore order and make their case, their worlds fall into total disarray.
Mutiny within the fractured Ferry family threatens Aislin's hold on power and role as Charon. Meanwhile, the fearsome Lord of the Kere has family trouble of his own. Someone is unraveling the fabric of fate, and Moros suspects one of his supernatural siblings is behind the terrible bid to unleash Chaos.
Now unlikely allies, Aislin and Moros each need the other to escape the wrath of the Keepers. As the stakes rise, it becomes clear that protecting their respective empires is not the endgame. With the fate of all humanity dangling by a thread, Aislin and Moros must surrender completely to one another if they are to fight their common enemy. And as time runs out, someone must make the ultimate sacrifice.

Fated
WOW!  As you can tell from the two reviews before I really liked Marked and Claimed, but Fated is the BEST book in the series.  I'll give you the reason in one word: Jason Moros. 
Fates stars right after Claimed ends.  Aislin and Moros are preparing for their meeting with the Keepers of Fate, but things are not going well for them or for humanity as a whole.  Now they know the enemy that they're facing (for the most part) and they have been thwarted at each turn in their attempts to get the upper hand.
So much happens in this book and I have no wish to spoil your fun!  We meet a lot of new characters and the plot becomes more intricate and complicated.  I know you probably think I'm trying to sell this series to hard, but it's a must read. Seriously.
Aislin Ferry is fascinating. She's a blond beauty, always put together, always cold and calculated, always trying to think of others and make sure that her father's legacy remains intact.  She's the new Charon and she takes that mandate as her birthright.  She's had a strained relationship with her siblings, but she loves them dearly.  In order to be trusted by Moros, she decides to let him touch her.
Jason Moros touch is painful and lethal.  But he can tell your future and past, just by touching.  He's the god of death, but on earth to mark the souls destined to die and to be in charge of the Kere.  Moro's sisters are the weaver of the fabric of fate and are bound to their task without respite.
Moros is one of my favorite male characters that I've read in a while.  He's so alone, so lonely.  He's not a good person per se, he's flawed and he knows it.  He knows or thinks that he doesn't deserve to be happy, that he doesn't deserve to be happy, to be loved, to not be feared.  I adored him in Fated.  Aislin and Moros and opposite on most things but their romance is explosive, sublime, so deep, and so big.  I wish could make this book justice, but I know I'm failing miserably L
The ending brought me to tears it was so good.
Overall, the Servants of Fate series is a must for fans of the paranormal, romance, urban fantasy and mythology.  I highly recommend the series. Go and read it!