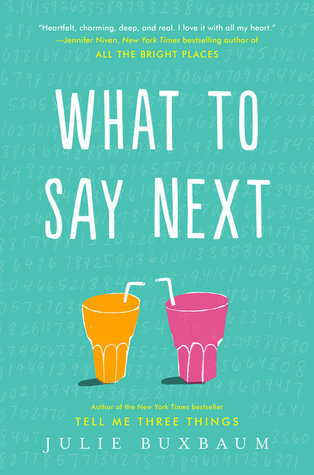 What to Say Next
by
Julie Buxbaum
Pages:
292
Published on
July 11th 2017
by
Delacorte Press
Genres:
Adolescence
,
Contemporary
,
Young Adult
Format:
Audiobook
Narrator:
Abigail Revasch
,
Kirby Heyborne
Length:
9 hrs and 3 mins
Source:
Publisher
Amazon
|
B&N
|
BookDepository
|
Goodreads
Also by this author:
Tell Me Three Things
,
Tell Me Three Things
From the New York Times bestselling author of Tell Me Three Things comes a charming and poignant story about two struggling teenagers who find an unexpected connection just when they need it most. For fans of Sophie Kinsella, Jennifer Niven, and Rainbow Rowell.

Sometimes a new perspective is all that is needed to make sense of the world.

KIT: I don't know why I decide not to sit with Annie and Violet at lunch. It feels like no one here gets what I'm going through. How could they? I don't even understand.

DAVID: In the 622 days I've attended Mapleview High, Kit Lowell is the first person to sit at my lunch table. I mean, I've never once sat with someone until now. "So your dad is dead," I say to Kit, because this is a fact I've recently learned about her.

When an unlikely friendship is sparked between relatively popular Kit Lowell and socially isolated David Drucker, everyone is surprised, most of all Kit and David. Kit appreciates David's blunt honesty—in fact, she finds it bizarrely refreshing. David welcomes Kit's attention and her inquisitive nature. When she asks for his help figuring out the how and why of her dad's tragic car accident, David is all in. But neither of them can predict what they'll find. Can their friendship survive the truth?
Having loved Tell Me Three Things I was very eager to read What to Say Next.  The tone of the book was different, but grieving is still a big part of the story.  All in all, I really enjoyed it.
Kit is a very diverse character.  Her mom is from India and her dad is American, so we get to say how her two backgrounds form part of her life.  Kit just lost her dad in a car accident and she's devastated.  Not only dad, but she finds out other things about her mom that make her question the happy life she led up until the accident.  Her friends expect her to bounce back and be the same "Kit", but she can't.  That's how she ends in David's lunch table…
David has a type of autism.  This is the second book I've read in which the MC is autistic and I learn more each time. He takes everything literally, he can't follow social queues, he always tells the truth.  He's very smart, especially about math and science and struggles to stay in a 'normal' school in hopes that life after high school gets better.
Both stories are heartbreaking in their own way.  David is relentlessly and often brutally bullied and abused by his peers and other students.  The texts that he received made me cry.  I'm happy that he was able to eventually rise above it and that his family was so supportive.  On the other hand, Kit lost her dad, part of her support system, her tribe.  Her friendship with David helps, but being friends with him is not easy.  It takes a lot of patience, understanding and getting used to hearing always the uncensored truth.
I really liked all the characters, but I found David endearing, sweet, gentle and above all, misunderstood. Kit's agony and breakdown seemed out of proportion, until the twist at the end.
The writing is full of angst, details, sweetness, heartbreak.  It's compelling, funny, sad and exquisite.  I which the book was longer, that we could see more of David and Kit together, of the possibilities of them being a friends and even more than that.
Overall
What to Say Next is a heartbreaking story of loss, grief, change, and growth.  It is also a story of the healing power of love, friendship and truth.  It's heartbreaking and an emotional roller coaster
The audiobook was amazing.  Abigail Revasch is a new narrator for me and she did a tremendous job in What to Say Next.  She was able to convey so much pain and heartbreak with her voice, tone an pace.  Kirby Heyborne is also one of the narrators of The Sea of Tranquility which is one of my favorite books. I think that the audibook for this book is a gem. SO GOOD!