Hi there gorgeous readers!  I know, I know, you're probably wondering what's I'm doing here, but you can read that and other updates  here.  Now that you're caught up, let me share a bit of the books I've been re-reading lately.
Pride and Prejudice
by
Jane Austen
,
Anna Quindlen
,
Mrs. Oliphant
,
George Saintsbury
,
Mark Twain
,
A.C. Bradley
,
Walter A. Raleigh
,
Virginia Woolf
Pages:
279
Published on
October 10, 2000
by
Modern Library
Genres:
Romance
Length:
11 hours and 35 minutes
Goodreads
'It is a truth universally acknowledged, that a single man in possession of a good fortune must be in want of a wife.' Thus memorably begins Jane Austen's Pride and Prejudice, one of the world's most popular novels. Pride and Prejudice--Austen's own 'darling child'--tells the story of fiercely independent Elizabeth Bennett, one of five sisters who must marry rich, as she confounds the arrogant, wealthy Mr. Darcy. What ensues is one of the most delightful and engrossingly readable courtships known to literature, written by a precocious Austen when she was just twenty-one years old.

Humorous and profound, and filled with highly entertaining dialogue, this witty comedy of manners dips and turns through drawing-rooms and plots to reach an immensely satisfying finale.

Pride and Prejudice is one of my favorites books ever.  This time I listened to the audiobook for the first time and it was wonderful.  The narrator was Rosamund Pike which played Jane in the Keira Knightley version of the P&P movie. I love all the characters, good, silly and bad and I absolutely adore Mr. Darcy.  I love his character development and his complexity. I love how he showed Lizzie how much he cared without expecting anything in return.  I love outspoken, well read and kind Lizie is.
So much love for this book.  Go read it.
---
Persuasion
by
Jane Austen
,
James Kinsley
,
Deidre Shauna Lynch
Pages:
249
Published on
March 18, 2004
by
Oxford University Press
Genres:
Romance
Length:
8 hours and 20 minutes
Source:
Audible
Goodreads
Twenty-seven-year old Anne Elliot is Austen's most adult heroine. Eight years before the story proper begins, she is happily betrothed to a naval officer, Frederick Wentworth, but she precipitously breaks off the engagement when persuaded by her friend Lady Russell that such a match is unworthy. The breakup produces in Anne a deep and long-lasting regret. When later Wentworth returns from sea a rich and successful captain, he finds Anne's family on the brink of financial ruin and his own sister a tenant in Kellynch Hall, the Elliot estate. All the tension of the novel revolves around one question: Will Anne and Wentworth be reunited in their love?

Jane Austen once compared her writing to painting on a little bit of ivory, 2 inches square. Readers of Persuasion will discover that neither her skill for delicate, ironic observations on social custom, love, and marriage nor her ability to apply a sharp focus lens to English manners and morals has deserted her in her final finished work.

This is my second favorite book by Austen and it's all due to Captain Wentworth's letter to Anne (you can read it here).  I dare you to read it without sighing….  I feel for Anne, for her loss, for her wait, for being there for everyone and for being so often ignored.  I love that Wentworth was able to see beyond her looks and know the person within.  Such a sweet story.
---
Castles (Crown's Spies #4)
by
Julie Garwood
Pages:
354
Published on
November 4, 1996
by
Pocket Books
Genres:
Romance
Format:
Paperback
Source:
Purchased
Goodreads
Orphaned and besieged Princess Alesandra knew that only hasty marriage to an Englishman could protect her from the turmoil in her own land. To the amusement of her makeshift guardian, Colin, younger brother of the Marquess of Caineswood, the bold raven-haired beauty instantly captivated London society. But when Alesandra was nearly abducted by her unscrupulous countrymen, the fighting instincts that won Colin a knighthood for valor were rekindled.

Deceiving himself that he wanted only to protect her, Colin swept her into a union meant to be a marriage in name alone ... yet Alesandra's tender first kiss and hesitant caress ignited a wildfire in his soul. As the lovely princess dashed headlong into unforeseen dangers, Colin would follow, knowing he must claim her as his own forever. Now he would risk life itself before he would lose this sweet, tempestuous angel ...

Julie Garwood is one of my favorite historical romances authors (she now writes contemporary romance) and Castles is one of my many favorites.  The plot is about a princess that has been displaced from her kingdom and that is in need to marry right away to avoid being forced to marry the tyrant now ruling her country.  Colin, the son of her guardian, is the lucky one that marries Alesandra to protect her.  Colin and Alesandra make a live together and learn to tolerate and then nurture each other.  The subplot is a murder mystery of a serial killer than is linked to a friend of Alesandra's.
I love all the characters.  The over-protectiveness of the male characters. The quite strength and intelligence of the women.  The writing is always amazing and funny.  A true gem.
---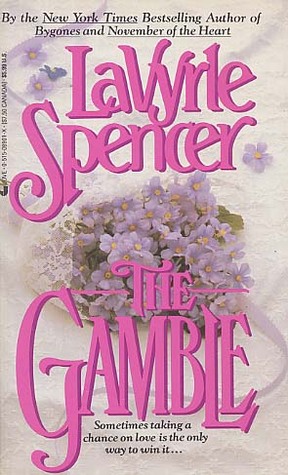 The Gamble
by
LaVyrle Spencer
Pages:
423
Published on
March 1, 1987
by
Jove
Genres:
Romance
Format:
Paperback
Source:
Purchased
Goodreads
ONLY THE GIFT OF LOVE COULD FREE THEIR LONELY HEARTS

AGATHA was the picture of primness and propriety although her green eyes could blaze with anger or sparkle with humor ...

SCOTT was the picture of lazy charm and happy indifference to what others thought was right and wrong.

They were enemies, then friends. Then the sweet innocence of a child opened their eyes and their hearts. And in each other's arms they were reborn ... by the soft, wondrous gift of love.

I've never read a book by LaVyrle Spencer that I didn't love.  This is an author that doesn't write anymore so all her books are to be treasured.  I re-read The Gamble and fell in love all over again.  This is a story of two flawed, imperfect, broken characters that learn to love others and to create a family with their friends.
Agatha and Scott overcome prejudice on both ends, their tight upbringing, the aftermath of abuse and the civil war and fall in love against all odds.  This is a story so rich in character development, on the history of the moment, on the sweetness and newness of love and friendships.  I adore Spencer's writing and I will probably start re-reading other favorites soon.
Well, that's it for now.  I hope you read some of these.