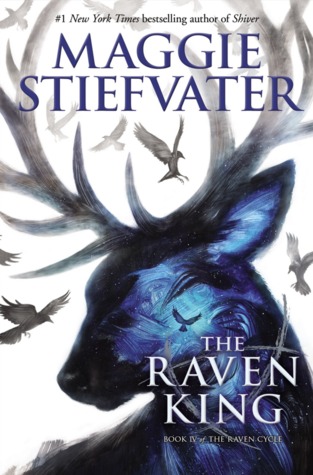 The Raven King (The Raven Cycle, #4)
by
Maggie Stiefvater
Series:
The Raven Cycle #4
Pages:
439
Published on
April 26th 2016
by
Scholastic Press
Genres:
Contemporary
,
Magical Realism
,
Romance
,
Young Adult
Format:
Hardcover
Source:
Purchased
Amazon
|
B&N
|
BookDepository
|
Goodreads
Also by this author:
Blue Lily, Lily Blue
,
The Raven Boys
,
The Raven Boys
,
The Dream Thieves
,
Blue Lily, Lily Blue
Nothing living is safe. Nothing dead is to be trusted.
For years, Gansey has been on a quest to find a lost king. One by one, he's drawn others into this quest: Ronan, who steals from dreams; Adam, whose life is no longer his own; Noah, whose life is no longer a lie; and Blue, who loves Gansey… and is certain she is destined to kill him.
Now the endgame has begun. Dreams and nightmares are converging. Love and loss are inseparable. And the quest refuses to be pinned to a path.

The Raven King is the last book of The Raven Cycle series and it couldn't have been more perfect.  I'm quite sure that I won't be able to do this book justice or the series for that matter, so please take this review and multiply it by ten.
The Raven King starts where Blue Lily, Lily Blue ended and finds our main characters getting closer to complete their quest.  Gansey, Adam, Ronan and Blue, add now a new member to their group.  Henry fits like a glove into this group of misfits while they all try to figure out how to find the King, how to fight a demon, how to save the world, how to be adults, how to love and be loved in return, how to be a true friend and how to tame dreams and magic.  I wish I could say more, but it's supposed to be a spoiler free review, remember?
"The kitchen window groaned open, and Jimi shouted out, "Blue! Your boys are out front, looking like they're fixing to bury a body."
Again? Blue thought."
I'm so happy with the outcome, so happy that Gansey and Blue decided that life was too short to hide their feelings.  Happy than Ronan and Adam found peace. So happy that everything went back to normal.  Happy that we finally had some answers, even if we lost a few characters along the way.  I laughed, I cried, I cringed, I loved it all.  
"He was a king. This was the year he was going to die."
Maggie Stiefvater's writing is a thing of beauty.  I know it's not for everyone, but I happen to be one of thousands that adore her lyrical, quirky, gorgeous writing style.  It's so full of feels, it appeals to the senses, it's freaking amazing and packed with magic.  The plot of The Raven King, and indeed of all the books in the series is intertwined and finally comes to a great ending during this installment.  It's complicated, intricate and surprising all at once.
"I take it we're friends now," Henry said.
"We must be," Gansey replied. "Jane says it should be so."
"It should be so," Blue agreed."
Overall, The Raven Cycle will forever live in list of favorite series.  Maggie Stiefvater can do no wrong in my eyes, she's one of those authors that I will automatically buy everything from.  Perfect.