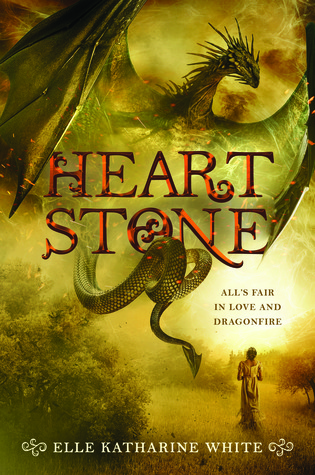 Heartstone
by
Elle Katharine White
Pages:
352
Published on
January 17th 2017
by
Harper Voyager
Genres:
Fantasy
,
Romance
,
Young Adult
Format:
eBook
Amazon
|
B&N
|
BookDepository
|
Goodreads
A debut historical fantasy that recasts Jane Austen's beloved Pride & Prejudice in an imaginative world of wyverns, dragons, and the warriors who fight alongside them against the monsters that threaten the kingdom: gryphons, direwolves, lamias, banshees, and lindworms.
They say a Rider in possession of a good blade must be in want of a monster to slay—and Merybourne Manor has plenty of monsters.
Passionate, headstrong Aliza Bentaine knows this all too well; she's already lost one sister to the invading gryphons. So when Lord Merybourne hires a band of Riders to hunt down the horde, Aliza is relieved her home will soon be safe again.
Her relief is short-lived. With the arrival of the haughty and handsome dragonrider, Alastair Daired, Aliza expects a battle; what she doesn't expect is a romantic clash of wills, pitting words and wit against the pride of an ancient house. Nor does she anticipate the mystery that follows them from Merybourne Manor, its roots running deep as the foundations of the kingdom itself, where something old and dreadful slumbers . . . something far more sinister than gryphons.
It's a war Aliza is ill-prepared to wage, on a battlefield she's never known before: one spanning kingdoms, class lines, and the curious nature of her own heart.
Elle Katharine White infuses elements of Austen's beloved novel with her own brand of magic, crafting a modern epic fantasy that conjures a familiar yet wondrously unique new world.

Let's get one thing out of the way from the beginning.  I love Jane Austen's books (and the movies based on said books.)  Two of my all-time-favorites are Pride & Prejudice and Persuasion.  A P&P retelling with dragons?  What is not to like?
I hope you know the story line of P&P and if you don't go read it or at least watch one of the movies. I'm not kidding, go now and I'll wait right here.  Now that you're back, let me tell you about all the awesome.
Aliza Bentaine lives in a Manor with his mom, dad and three sisters in the island kingdom of Arle.  Lord Marybourne's Heart Run is being attacked by gryphons so he contracts with Riders to rid him of his problem.  Riders are trained to kill monsters and other bad creatures with the help of another being – such as a dragon – which they bond with.  The world building in fascinating and so well thought out, taking different aspects of Greek mythology and fantasy and mixing them together in something that's unique.   There are dragons, lamias, banshees, sirens, gigantic worms, elves, gnomes and more.  There is also social conventions, classes, a hierarchy of things, a new religion.  Also, although the story is very like P&P, there are differences enough to keep the reader always interesting, always guessing how certain things would be handled.
Aliza is our Elizabeth Bennett.  She's brave, strong, straightforward, loyal, well read, loves to sketch and loves art.  She's a trained herbalist/healer and loves deeply.  I loved her to pieces 🙂  Alastair Daired is a Rider (our Darcy), heir of the house of Pedragon, that is to say that he's a very rich, important man.  He's also caring, socially awkward, a bit bad tempered and strict.  He's also very responsible, and an overachiever.
"I can't make you stay, can I?"
"No."
"Fine. If you must then you must, but before I let you walk out that door, your'e going to have to promise me something."
"Before you let me? Oh, Master Daired, I'd like to see you try and stop me. "What's that?"
"Don't die today."
"Thank you, sir. Now that you mention it, I'll make a point not to."
Aliza and Alistair have a rough beginning, but soon find that they make each other better, to trust each other and save each other.  The dialogue and banter is amazing.  The story is told from Aliza's point of view and she's so sweet and lovely. It's fun to see how her feelings change and develop into something more.
Akarra is Alastair's dragon and she talks!  She's is such a big part of his life and she likes Aliza right away.  She's very practical and willing to bend the rules as needed.  Our cast of secondary characters are all very easy to like (well, the good guys are) and well fleshed out.  From Aliza's parents, uncle, aunt and sisters, to Alistair's friends and family, to the gnomes.
A masterful story, full of action, quests, misunderstandings, magical creatures.  Great pace, amazing writing and world building.  I can't wait for White's next book.
"I've been in many battles in my lifetime. I've slain monsters by the hundreds and won more victories than I can count, but against this there's no defense. From the moment we met I tried fighting it—gods, I've tried. Nothing works. I thought I'd be safe at the other end of the country, but the minute I heard you were coming to Edan Rose I flew here as fast as Akarra would take me. I'm a Rider and you're a nakla," Daired said. "There's nothing we have in common. There's nothing we should have in common. Your birth, your bloodline, all of it—it's beneath me. I know all of that, and it hasn't changed a thing. I've lost, Aliza. You've defeated me."
Are you about to swoon after that quote?
Overall, Heartstone is just plan awesome. It's a perfect blend of the best qualities of the beloved Austen's masterpiece and the magic that is Elle Katharine White's characters and world building.  I'm going to start wishing really hard for a book based on this world and based on Persuasion.