Hi there my gorgeous readers!  I have been in a historical romance mood lately and I've manage to read quite a few of them.  I have to say that they were all pretty good and I appreciate the opportunity of reading them all 🙂
The Lost Letter: A Victorian Romance
by
Mimi Matthews
Pages:
204
Published on
September 19th 2017
by
Perfectly Proper Press
Genres:
Adult
,
Historical Fiction
,
Romance
Format:
eARC
Source:
Netgalley
Amazon
|
B&N
|
Goodreads
A Proud Beauty

Society beauty Sylvia Stafford is far too pragmatic to pine. When the tragic death of her gamester father leaves her destitute and alone, she finds work as a governess in a merchant's household in Cheapside. Isolated from the fashionable acquaintance of her youth, she resigns herself to lonely spinsterhood…until a mysterious visitor convinces her to temporarily return to her former life—and her former love.

A Scarred Beast

Colonel Sebastian Conrad is no longer the dashing cavalry officer Sylvia once fell in love with. Badly scarred during the Sepoy Rebellion, he has withdrawn to his estate in rural Hertfordshire where he lives in near complete seclusion. Brooding and tormented, he cares nothing for the earldom he has inherited—and even less for the faithless beauty who rejected him three years before.

A Second Chance

A week together in the remote Victorian countryside is the last thing either of them ever wanted. But when fate intervenes to reunite them, will a beastly earl and an impoverished beauty finally find their happily ever after? Or are some fairy-tale endings simply not meant to be?

Once I saw the cover for this book, I just had to requested. The Lost Letter is a short book, barely over 200 pages long and a quick read.  However, it packs a huge punch.
The Lost Letter is a story of misunderstandings.  Of things felt, but not said, of missed opportunities, heartbreak, and resilience.  Sylvia and Sebastian fell in love before he had to go to war in India.  While he was away, Sylvia's dad commits suicide after loosing all gambling.  This leaves Sylvia ostracized and thus she becomes a governess in a merchant's house.  In the meantime, Sebastian is badly hurt and scarred during the war and comes back to find himself now the new earl after the death of his father and brother. So, now that we are over the sad parts, let's move to the good bits.
As you might know, I love books with the Beauty and the Beast vibe and The Lost Letter did not disappoint.  I loved how brave and resilient Sylvia was, how she tried to make a live for herself in a time that shunned women and didn't leave a lot of options for a livelihood.  I also liked that she was honest and straightforward with Sebastian.  On the other hand, Sebastian was very cruel and vindictive for what he believed happened three years prior.  I loved how he was so vulnerable and was able to overcome his fears and take his future in his own hands and truly live.
The only thing that I wish for is more time with Sylvia and Sebastian together or some sort of epilogue of their lives together.  Also, it is very clean, which surprisingly worked very well here. There might be room for short story… *hint, hint*  Overall, a great historical romance for sure.
This book may be unsuitable for people under 17 years of age due to its use of sexual content, language, and/or violence.
Lord Hunter's Cinderella Heiress (Wild Lords and Innocent Ladies)
by
Lara Temple
Series:
Wild Lords and Innocent Ladies
Pages:
288
Published on
October 17th 2017
by
Harlequin Historical
Genres:
Adult
,
Historical Fiction
,
Romance
Format:
eARC
Source:
Netgalley
Amazon
|
B&N
|
Goodreads
Betrothed…to the wrong man!

Building a life away from her bullying family, schoolmistress Helen Tilney now needs to convince her childhood sweetheart she's a worthy bride. Standing in her way is Lord Hunter—the man Nell has just discovered she's betrothed to!

Hunter's offer of marriage to Nell came out of guilt, and now seems less than appealing! So when she asks for his help to win another man, he agrees. Until their lessons in flirtation inspire a raging desire that has Hunter longing to keep Nell for himself…

Book 1 in the Wild Lords and Innocent Ladies trilogy
Another gorgeous cover, right?  Lord Hunter's Cinderella Heiress is another amazing read.
Hunter had a lot of responsibility at a young age due to his abusive father and often sick little brother.  He is very protective by nature, but a run-in with the effects of war and the suicide of his brother left him reeling.  To deal with it, he has turned quite rakish and with his friends Raven and Stanton, they started a "House" to help war veterans.  Years before, while visiting the Tilney stables to buy horses and negotiate water rights for his land, he finds Nell, a feisty young  that has been bullied by her aunt and sadly neglected by her father.  To try to protect her Hunter negotiates with Nell's father for her to go away to school and to before engaged until she turns of age and therefore can use her inheritance.
Of course, Nell didn't know anything about it until her father sends notice to the papers.  Now, ensues a race of both Hunter and Nell, to locate her dad, break the engagement, but still appear to be engaged so Nell can lure her childhood 'love' into marriage.  With me so far?  This book was funny, hot, while also dealing with serious topics.  I liked how spirited Nells was, how she wasn't aware of her looks, but knew horses better than any man.  She went into business on her own and was only looking for what she missed growing up: unconditional love.
On the other hand, Hunter is fighting his attraction and trying to do the right thing by her.  He's done with being noble and responsible, but he is undoubtedly both.  I love them together and how they learned to rely, protect and love each other.  I imagine the next books in the series will have to do with Hunter's friends and I hope to see more of him and Nell since the ending was not as satisfying to me it could have been.
The Reunion (Brides of Beadwell, #1)
by
Sara Portman
Series:
Brides of Beadwell #1
Pages:
320
Published on
September 26th 2017
by
Kensington
Genres:
Adult
,
Romance
Format:
eARC
Source:
Netgalley
Amazon
|
B&N
|
Goodreads
An inconvenient engagement turns a marriage of convenience into so much more in this sparkling new series from award-winning author Sara Portman . . .

Lady Emmaline Shaw's reputation was irreparably damaged when her fiancé, John Brantwood, disappeared immediately after their engagement four years ago. Since then, she's grown from a shy, uncertain girl to a woman who knows her own mind. And what she knows is that London society holds nothing for her.

Rumor has it that John ran off to war and died in battle. Now, as the new Duke of Worley, his shocking resurrection throws the ton into a tizzy and makes him one of England's most sought after bachelors—except that he's already engaged.

John needs a wife capable of smoothing his beloved sister's introduction into society. But though Emma happily grants him his freedom, her fiery beauty and resilient spirit hold him captive. In fact, John has no intention of letting her go. Her fate is now in his hands, but will her heart be safe there as well?

The Reunion was a satisfying read for the historical romance lover in me.
This is the story of John, the new Duke of Worley that has come back from the death.  He returns to London to take a wife in a hurry since he needs one to help launch his sister into a season. He's looking for a woman of character and not a simpering miss, and luckily he's still engaged to one.  On the other hand, Emma wants nothing to do with the man that disappeared four years before, leaving scandal at his wake.  However, due to pressure from John and her aunt, she sees the benefits that being a duchess (who wouldn't ,  right?)  Besides, John had a very noble and reasonable explanation for leaving everything behind, and not giving a second thought to his fiancee.
The marriage is very passionate, but rocky at times, especially since John believes that loving his wife will be his undoing.  In the meantime, his sister Charlotte arrives and she's a hellion!  It is hilarious at times all the trouble she causes and her banter with Hugh (John's best friend) as they abuse each other.  I loved how these two smart, loving, resourceful people start to change and love each other.
I really liked Portman's writing. It was witty, funny, easy to read and hot!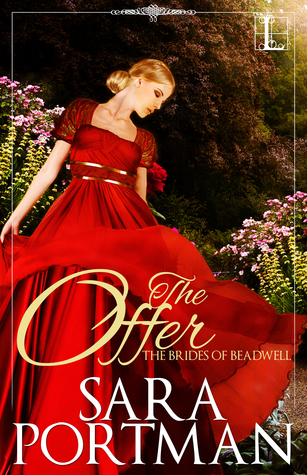 The Offer (Brides of Beadwell, #2)
by
Sara Portman
Series:
Brides of Beadwell
Pages:
320
Published on
October 24th 2017
by
Kensington
Genres:
Adult
,
Historical Fiction
,
Romance
Format:
eARC
Source:
Netgalley
Amazon
|
B&N
|
Goodreads
The award-winning author of The Reunion continues her dazzling new series with a novel of one woman's fall from saint to sinner . . .

Lucy Betancourt's future looks bleak. The daughter of an ailing vicar in a village with no eligible bachelors, her only hope is to find employment as a governess or companion. As she helps her childhood friend, the new Duchess of Worley, through her pregnancy, the ever-practical Lucy makes her plans. But life—in the way of the dashing Bex Brantwood—has something else in store for Lucy…

Upon meeting Bex, the duke's cousin, Lucy offers herself up to him. But Bex is no family man looking for a governess. And Lucy is not exactly mistress material. Still, the misunderstanding ends in a kiss neither can forget . . .

Bex finds the proper vicar's daughter and her most improper proposal endlessly amusing—and attractive. But, saddled with debt, he's in no position to keep a woman, much less marry one, which is what a woman like Lucy deserves. Little does he know that even with her reputation at stake, Lucy will take the biggest gamble of her life by following her heart—straight into his arms
The Offer is the story of Lucy, Emma's best friend and John's cousin Bex. Their story starts with a misunderstanding and a kiss.  They are instantly attracted to each other, but fall in love a bit more slowly than that.  They embark in field trips, adventures and shenanigans than allows them to be friends, to be honest, to get to know one another.
As they fall deep in love with each other, they each convince themselves that they have no future together.  Lucy is penniless and destined to be a governess and Bex is deep in debt and unable to provide any kind of life for a wife.  Therefore, Lucy decides that she was nothing to lose in asking Bex to be her lover for a short time.  As you might guess, not all goes well for the young lovers.
Although I didn't love The Offer as much as I did The Reunion, it was still a good read.
Have you read any of these?