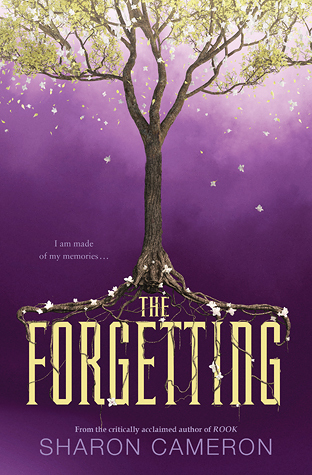 The Forgetting (The Forgetting, #1)
by
Sharon Cameron
Pages:
403
Published on
January 1st 1970
by
Scholastic
Genres:
Romance
,
Science Fiction
,
Young Adult
Format:
Audiobook
Narrator:
Thérèse Plummer
Length:
13 hours and 6 minutes
Source:
Purchased for Audible
Amazon
|
B&N
|
BookDepository
|
Goodreads
What isn't written, isn't remembered. Even your crimes.
Nadia lives in the city of Canaan, where life is safe and structured, hemmed in by white stone walls and no memory of what came before. But every twelve years the city descends into the bloody chaos of the Forgetting, a day of no remorse, when each person's memories – of parents, children, love, life, and self – are lost. Unless they have been written.
In Canaan, your book is your truth and your identity, and Nadia knows exactly who hasn't written the truth. Because Nadia is the only person in Canaan who has never forgotten.
But when Nadia begins to use her memories to solve the mysteries of Canaan, she discovers truths about herself and Gray, the handsome glassblower, that will change her world forever. As the anarchy of the Forgetting approaches, Nadia and Gray must stop an unseen enemy that threatens both their city and their own existence – before the people can forget the truth. And before Gray can forget her.

Wow!  What an amazing story.  The Forgetting is such an unexpected story, it reminded me of the movie The Village that way.  I'ts one of those stories that stays with you for  along time.  It is my first read from author Sharon Cameron, but it shall not be my last.
What is The Forgetting?  Here we go:
"At the first sun rising of the twelfth year, they will forget. They will lose their memories, and without their memories, they are lost. Their books will be their memories, their written past selves. They will write in their books. They will keep their books. They will write the truth, and the books will tell them who they have been. If a book is lost, then so are they Lost. I am made of my memories. Without memories, they are nothing."
Clear as mud?  Well, I cannot divulge all the secrets, but basically, everyone in the "city" of Canaan keeps a diary of all their life so when the forgetting comes, they can find out who they are, what family they belong to, what is their profession, etc.  Can you imagine how awful this must be?  Waking up one day and don't have any memories at all?  This whole, unique story revolves around this terrible fact.
The story is told from Nadia's point of view in the first person.  Unlike the whole of Canaan, Nadia remembers everything.  The traumatic event of the last forgetting has turned her into a very quite, distrustful, careful, and curious person.  As the the next forgetting looms, she's in a race against time to uncover its cause to try to same her family.  Nadia is also fiercely loyal and very smart.  She starts jumping over the fence of the city out of curiosity and to find a sense of freedom and gets caught by Gray.
Gray, the glass blower's son, is an outgoing, popular and handsome young man.  He has his own secrets and tries to earn Nadia's trust and smiles.  It is really hard to make her talk, but Gray seems to have infinite patience.  He's sweet, very smart, open minded, resourceful and strong.
Gray and Nadia's romance is slow to develop.  It's wrongs very strong. It makes them both better people and better for each other.  It helps them grow and realize what is to care deeply about the future and the status quo.  A favorite couple for sure!
"We are supposed to write the truth, for no one to see but ourselves. But how easily that truth can be twisted. Bend a little here, omit a little there, make yourself into the person you wish you were instead of the person you are. How easy to cut the truth away, to throw it in a fire, open your eyes, and have the whole world remember nothing of who you are. Nothing of what you've done. When you will not remember who you are or what you've done."
There is a big host of characters in The Forgetting, even though we see everything through Nadia's eyes.  Nadia and Gray's family, Rose, the bad people, Jonathan, neighbors.  Sorry that I can't remember them all right now, but the characterization is really good.  We can see their motivations, their choices, how their past and the forgetting change their personality.
Cameron's writing is a gem.  As you can tell the premise is original and well thought out.  It's like peeling an onion, with layers upon layers of why things happen.  I loved every single layer.  The pace is a bit slow at the beginning as the world building is developed, but it picks up quickly.  This book is part sci-fi, part fantasy, part romance, part thriller… all sorts of amazing.  
Overall, The Forgetting is an unforgettable trip to a world beyond. A story full of lies based on fear.  It is also a story of a love strong enough to defy memory, to incite change and to make the world better.  I cannot tell you how excited I am for The Knowing.
Thérèse Plummer did an amazing job.  There are a many characters in The Forgetting and she managed to make the voices all distinctive from each other. The pace was good, the acting with a cadence so full of feeling that you can't help but getting a kick in the feels.  Highly recommend the audiobook.