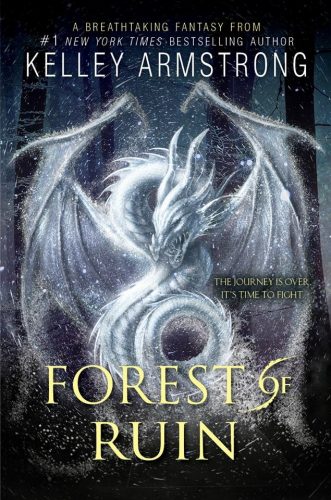 Forest of Ruin (Age of Legends, #3)
by
Kelley Armstrong
Pages:
448
Published on
April 5th 2016
by
HarperCollins
Genres:
Fantasy
,
Romance
,
Young Adult
Format:
ARC
Source:
ARC Provided for Tour
Amazon
|
B&N
|
BookDepository
|
Goodreads
Also by this author:
Sea of Shadows
,
Empire of Night
From #1 New York Times bestselling author Kelley Armstrong comes the breathtaking conclusion to the Age of Legends trilogy, perfect for fans of Graceling and Game of Thrones.
The empire rests on the edge of a knife, and sisters Ashyn and Moria are the handle and the blade. Desperate to outmaneuver the evil Alvar Kitsune, whose hold on the people grows stronger every day, Emperor Tatsu begs Moria to put aside past grievances and ally with Gavril—at least long enough to make an attempt on Alvar's life. Meanwhile, reunited with her long-lost grandfather, Ashyn discovers that she is the key to a ritual that could reawaken an ancient dragon and turn the tide of the coming battle in their favor.
But with lies and betrayal lurking around every corner, Ashyn and Moria will have to decide once and for all where their allegiances are. And it may not be where their hearts would lead them....
In this breathtaking final book in her epic trilogy the Age of Legends, #1 New York Times bestselling author Kelley Armstrong blends fantasy, action, and romance to give readers the unforgettable ending they've been waiting for.

Kelley Armstrong sure knew how to end her Age of Legend series with a BANG! I love all her other YA books, with tend to be paranormal and have to confess to liking this fantasy series a lot more.  I've been waiting to write a review for a looonnggg time since I read Forest of Ruin back in October (lucky me!) You can see my review of Sea of Shadows and Empire of Night and you'll see what I mean.
The previous book ended in a cliffhanger so I was eager to get my hands on Forest of Ruin (and thus my lack of restraint).  This book picks up right where Empire of Night ended and finds both of our heroines in a bind.  Moira being ordered to return to captivity and Ashyn lost in the forest with newly found 'friends'.  And dragons.
Can I tell you that I adore these sisters?  Moira and Ashyn are strong female characters that took care of themselves, made their own mistakes, and figure things out, but also know when to ask for help.  I think they have grown into their roles and their powers and are more comfortable making decisions.
Now, on to the boys!  Gavril appears in this book much more and he finally realized where his alliances truly lie (and that his dad is bat s*#! crazy!)  Talk about character development!  I was ambivalent about Gavril for the longest time, but this time around he won me over.  Prince Tyrus is a gem, he grows up to be more confident, both in politics and with Moira and his feelings of her. He's sweet, selfless, loyal and has a very strict view of what's wrong and right.  Moira and Tyrus finally get together, and I mean in all the sense of the word.  Ronan fights so hard.  He fights for Ashyn, for his family, to win back his honor (caste) and his right to finally tell Ashy how he feels for her.  It's sometimes infuriating how these two dance around each other when the reader can clearly tell they are so in love.
The plot of the whole series is just engrossing.  It kept me on my toes since you never know what new monster, or spirit or calamity was going to befall our heroes.
All the loose ends were wrapped up (maybe too neatly), but I love happy endings, even if it has a few compromises here and there. It might come to no surprise to you that I cried. Yep, I did. Not my fault though, it's dear Ms. Armstrong's fault because she did something towards the end that had me gasping (not funny, by the way!)
Overall, this was the perfect ending to a beloved series.  I really liked the world building, the characters, the fantastic creatures and creepy monsters and the plot of the series.  A must read for fantasy lovers.