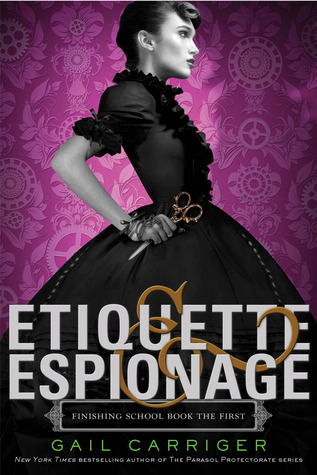 Etiquette & Espionage
by
Gail Carriger
Series:
Finishing School
,
#1
Pages:
307
Published on
February 5th 2013
by
Little
,
Brown Books for Young Readers
Genres:
Steampunk
Format:
Hardcover
Source:
Purchased
Amazon
|
B&N
|
BookDepository
|
Goodreads
Also by this author:
Soulless
It's one thing to learn to curtsy properly. It's quite another to learn to curtsy and throw a knife at the same time. Welcome to Finishing School.

Fourteen-year-old Sophronia is a great trial to her poor mother. Sophronia is more interested in dismantling clocks and climbing trees than proper manners--and the family can only hope that company never sees her atrocious curtsy. Mrs. Temminnick is desperate for her daughter to become a proper lady. So she enrolls Sophronia in Mademoiselle Geraldine's Finishing Academy for Young Ladies of Quality.

But Sophronia soon realizes the school is not quite what her mother might have hoped. At Mademoiselle Geraldine's, young ladies learn to finish...everything. Certainly, they learn the fine arts of dance, dress, and etiquette, but they also learn to deal out death, diversion, and espionage--in the politest possible ways, of course. Sophronia and her friends are in for a rousing first year's education.
I am a big fan of Gail Carriger's Parasol Protectorate series because is made of pure awesome, and if you haven't read it go and read it right now.  I'm also eagerly awaiting the third book of the Custard Protocol series, which is just as good.  Therefore, I was bound to start this series (her only YA books) sometime, right?
The Finishing School series is based in the same world as her Parasol series, but about 20 years earlier (1850's).  Even if this is your first Carriger book, she does such a good job at world building that you are bound to love it like all her readers.  It's easy to understand, full of mechanicals, paranormal creatures – vampires, werewolves, ghosts and the like – dirigibles, gadgets, spies, and more.  Please note that in this Victorian world, paranormal beings are incorporated into society and accepted by most.
Sophronia is 14 when the story ends and she's sent by her long suffering mother to Mademoiselle Geraldine's Finishing Academy for Young Ladies of Quality as a last effort to curve her daughter's enthusiasm and unruliness. However, this finishing school is different, not only do they learn about etiquette and the rules of society, but also about espionage, poison, and fighting.  In this environment Sophronia thrives, finally, there's a school where she can have fun and do what she's naturally good at.  The school itself is a combination of ungainly dirigibles.
She makes friends with some of the new recruits, proper and fashion conscious Dimity turning quickly into her best friend and roommate.  Lady Sidheag  Maccon and Agatha compose the rest of her new friends.  Sophronia likes to explore and thus finds a lot of new friends around the sooties in the lower decks, most especially Soap.  One of the best things about supernatural beings is that they are immortal!  That means we get to see a lot of characters throughout the series that we met in other of Carriger's books (this might mean nothing to you if you haven't read any of her other books though).  Oh, and lets not forget that we get to meet Genevieve Lefoux as a child!
Carriger's writing is witty, inspiring, true to the period and her world.  Love it!
I love this school environment, the uniqueness of the teachers and the classes.  So much fun, intrigue, and mystery! 
"She had to give her teachers credit: they were right to insist all pupils carry scissors, handkerchiefs, perfume and hair ribbons at all times. At some point she'd learn why they also required a red lace doily and a lemon." 
The first book of the Finishing School series is SO good.  It's like visiting a beloved world and finding more about it.  It's like making new friends, it's like visiting old ones.  Such an amazing beginning to the series! 
---
Curtsies & Conspiracies (Finishing School, #2)
by
Gail Carriger
Series:
Finishing School #2
Pages:
320
Published on
November 5th 2013
by
Little
,
Brown Books for Young Readers
Genres:
Steampunk
Format:
ARC
Source:
BEA
Amazon
|
B&N
|
BookDepository
|
Goodreads
Also by this author:
Soulless
Does one need four fully grown foxgloves for decorating a dinner table for six guests? Or is it six foxgloves to kill four fully grown guests?

Sophronia's first year at Mademoiselle Geraldine's Finishing Academy for Young Ladies of Quality has certainly been rousing! For one thing, finishing school is training her to be a spy--won't Mumsy be surprised? Furthermore, Sophronia got mixed up in an intrigue over a stolen device and had a cheese pie thrown at her in a most horrid display of poor manners.

Now, as she sneaks around the dirigible school, eavesdropping on the teachers' quarters and making clandestine climbs to the ship's boiler room, she learns that there may be more to a field trip to London than is apparent at first. A conspiracy is afoot--one with dire implications for both supernaturals and humans. Sophronia must rely on her training to discover who is behind the dangerous plot-and survive the London Season with a full dance card.

In this sequel to New York Times bestselling Etiquette & Espionage, class is back in session with more petticoats and poison, tea trays and treason. Gail's distinctive voice, signature humor, and lush steampunk setting are sure to be the height of fashion this season.
This review will be shorter, since I've given you a full account of the setting and main characters above.
Curtsies continues a couple of months after the first book ended. It finds Sophronia being shunned by her friends due to her high scores in her tests.  She's lonely and seeks solace in the company of the sooties and Bumbersnoot (her mechanical dog) more than ever.  However, someone is out to get her beloved friend Dimity and she means to find out who and why!
Some boys from Bunson – the evil genius school accompany in school because they are all going to a demonstration of ether travel in London.  It's all very exciting and the girls get to practice dancing and other guiles with the boys.  This is were Sophronia gets to meet Lord Felix formally for the first time.  He seems to be taken by her and tries to court her quite purposely.
There's a lot of mysteries and intrigue in this installment of the series.  Sophronia gets so good at all of it and drags her friends into all kinds of mess.  I loved it all.
"You're a wonderful dancer, Ria."
"Mademoiselle Geraldine's takes such things seriously."
"Ah. And how many ways do you know to kill me, while we dance?"
"Only two, but give me time."
"You have lovely eyes. Has anyone ever told you that?"
"What rot. They are a muddy green. What are you about, Lord Mersey?"
Felix sighed, looking genuinely perturbed. His air of ennui was shaken. "I am trying to court you. Truth be told, Miss Temminnick, you make it ruddy difficult!"
"Language, Lord Mersey." Sophronia felt her heart flutter strangely. Am I ready to be courted?
"See!" 
What else can I say dear reader to make you run to start this series?  Or any of Carriger's books?  Cannot wait to carry on to book #3 🙂