This book may be unsuitable for people under 17 years of age due to its use of sexual content, language, and/or violence.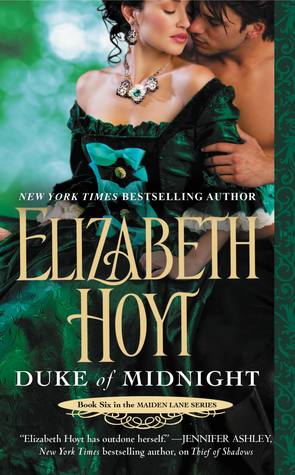 Duke of Midnight (Maiden Lane, #6)
by
Elizabeth Hoyt
Pages:
360
Published on
October 15th 2013
by
Grand Central Publishing
Genres:
Adult
,
Historical Fiction
,
Romance
Format:
eBook
Source:
Purchased
Amazon
|
B&N
|
BookDepository
|
Goodreads
WHEN A MASKED MAN . . .
Twenty years ago Maximus Batten witnessed the brutal murders of his parents. Now the autocratic Duke of Wakefield, he spends his days ruling Parliament. But by night, disguised as the Ghost of St. Giles, he prowls the grim alleys of St. Giles, ever on the hunt for the murderer. One night he finds a fiery woman who meets him toe-to-toe—and won't back down . . .
MEETS HIS MATCH . . .
Artemis Greaves toils as a lady's companion, but hiding beneath the plain brown serge of her dress is the heart of a huntress. When the Ghost of St. Giles rescues her from footpads, she recognizes a kindred spirit-and is intrigued. She's even more intrigued when she realizes who exactly the notorious Ghost is by day . . .
DESIRE IGNITES A DANGEROUS PASSION
Artemis makes a bold move: she demands that Maximus use his influence to free her imprisoned brother-or she will expose him as the Ghost. But blackmailing a powerful duke isn't without risks. Now that she has the tiger by the tail, can she withstand his ire-or the temptation of his embrace?

The other day I felt like reading a historical romance and I asked Alyssa from The Eater of Books for a recommendation and being a wonderful friend as always, she told me about Elizabeth Hoyt's Maiden Lane series and her favorite book among them, Duke of Midnight.
Duke of Midnight was a delight to read!  I really enjoyed this book, even if I started the series out of order; worry not, I will read them all later 🙂  Duke of Midnight is the story of Maximus, the Duke of Wakefield, who saw his parents murdered.  Since then, he has dedicated his life to take care of his family, avenging his parent's death and being the perfect duke in all ways.  Artemis is the companion of lady Penelope, a distant relation that took her in after her fathers death and Apollo, her twin brother was sent to Bedlam.  She tries to fade in the background and keep Penelope out of trouble.  When Maximus starts courting Penelope – his ideal of the perfect duchess – he becomes aware of Artemis.  What comes after includes a mystery, deception, a prison break, gossip and a lot of other shenanigans.
Maximus and Artemis are such a great couple.  I adore their relationship and how it developed even if Maximus was a bit misguided and pigheaded.  Isn't it always amazing when strong men cannot admit when they are in love?  A strong, steamy, hot, and dare I say, practical romance. 
Penelope is self-centered and vain  I really like Craven, Maximus valet and partner in crime (so to speak), he's efficient, fatherly, discreet and loyal.  Apollo is good at this core and I doubt he did what was said he did.  I  hope it all clears up eventually and that he gets his happy ending in another book in the series.  The Duke of Scarborough is older than Maximux, but he really cares about Penelope and tries to carry our her every whim. I also liked Maximus sisters.  Overall, an amazing cast of characters. 
I have read other books by Hoyt before, but none recently.  I really liked her writing style and the plot of the romance since it contained a mystery or a couple of them, as well as a lot of action.
Overall, I cannot wait to read the rest of the series given the many other characters that make appearances in the Duke of Midnight or that are mentioned.