This book may be unsuitable for people under 17 years of age due to its use of sexual content, language, and/or violence.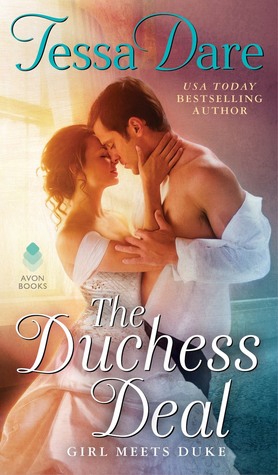 The Duchess Deal
by
Tessa Dare
Series:
Girl Meets Duke
,
#1
Pages:
384
Published on
August 22nd 2017
by
Avon
Genres:
Adult
,
Historical Fiction
,
Romance
Format:
eARC
Source:
Edelweiss
Amazon
|
B&N
|
BookDepository
|
Goodreads
Also by this author:
Romancing the Duke

When girl meets Duke, their marriage breaks all the rules…


Since his return from war, the Duke of Ashbury's to-do list has been short and anything but sweet: brooding, glowering, menacing London ne'er-do-wells by night. Now there's a new item on the list. He needs an heir—which means he needs a wife. When Emma Gladstone, a vicar's daughter turned seamstress, appears in his library wearing a wedding gown, he decides on the spot that she'll do.

His terms are simple:- They will be husband and wife by night only.- No lights, no kissing. - No questions about his battle scars.- Last, and most importantly… Once she's pregnant with his heir, they need never share a bed again.

But Emma is no pushover. She has a few rules of her own:- They will have dinner together every evening.- With conversation.- And unlimited teasing.- Last, and most importantly… Once she's seen the man beneath the scars, he can't stop her from falling in love…
Oh, Tessa Dare, how I love thee.  Your books are absolute magic and I adore them.  The Duchess Deal has a Beauty & the Beast vibe and as you might know, that's my favorite fairytale and I'm a sucker for retellings.
What's makes the story is the characters.  First, lets meet Emma. She's a vicar's daughter that made a youthful mistake and was cast aside my a cruel and unloving father.  Emma had to make a living and a life for herself, so she's bold, self reliant, prudent, good to the core and strong.  What she's not, is crazy and thus, she cannot refuse a duke's marriage proposal.  Even if a former seamstress makes for an unusual duchess.
"He leaned forward in his chair. "I can't even take the whole thing in. It looks like the unicorn vomit. Or the pelt of some snow beast rumored to menace the Himalayas." 
Now, on to Ash *be still my heart*  Ash is very difficult.  He suffered a lot of burns due to a weapon that backfired during the war and his former fiancee dumped him.  He's in search of a wife so he can have a heir for the dukedom and into his library walks the unsuspecting Emma, wearing an atrocious wedding gown.  He makes an outrageous marriage offer on the spot.
Ash is strong, realistic, he has a deep love for his father's legacy and an ingrained sense of duty to the people that depend on him.  He's often unreasonable, but wants to do what's right at the end.  His beastly behavior is all bark and no bite. LOVED Ash!
Emma and Ash's relationship is slow to grow and very steamy and hot, but nothing that they both agree to.  Ash is very protective of Emma, and would like nothing more that to cater to her every whim.  His insecurities threaten to end the relationship, but at the end their love was stronger.
"She gave him a chastening yet affectionate look. A wifely look. "No, you aren't. You are very much a man."
His heart kicked and trashed like an unbroken colt in a stable.
A man, she said. Not a title. Not a fortune. Not a twisted monster formed of scars. She couldn't know how those two simple words affected him."
I liked the secondary characters, which are mostly Emma's unusual group of friends, Ash's servants and his unlikely sidekick.
The writing is priceless.  The dialogue between Emma and Ash is lovely, funny, snarky and sometimes very hot.  I love that there are no secrets between this couple and that they learn to love each other's flaws, enhance their virtues, and compromise with each other.
Overall
The Duchess Deal is easily one of the best historical romances I've ever read.  Although, I have to say that I have yet read a book by Dare that I didn't like.  She's a genius and she manages to make each of her historical romances unique and her characters made of amazing stuff.  A new favorite.