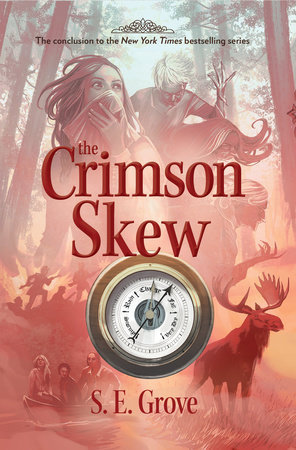 The Crimson Skew
by
S.E. Grove
Series:
The Mapmaker's Trilogy
,
#3
Pages:
432
Published on
July 12th 2016
by
Viking Books for Young Readers
Genres:
Action & Adventure
,
Fantasy
,
Middle Grade
Format:
Audiobook
Length:
13 hours and 15 minues
Source:
Publisher
Amazon
|
B&N
|
BookDepository
|
Goodreads
The final volume in S.E. Grove's stunning, bestselling Mapmakers trilogy.
At the end of The Golden Specific, Sophia was on her way home to Boston, anticipating her reunion with Theo. But he has been conscripted to fight in the Western War—Prime Minister Broadgirdle's twisted vision of Manifest Destiny. Shadrack is in his thrall as War Cartologer and cannot help his niece.
Sophia leaves right away to track down her best friend and solve the mystery of her parents once and for all. Then Shadrack hears of a horrifying weapon. It is a red fog called the Crimson Skew, and if you inhale it, you become a murderer. Sophia and her companions—and Theo's army company—are directly in its path. There is a fate worse than death, and it is about to ruin their lives…
Although I've listen to all there books in audio, I failed to review them and so I must give you the basic premise of the series without spoiling it for you.  So there it goes:  Some years ago there was a "big disruption" that shifted territories into different "ages.  For instance, Boston, one of the main settings of the series is in the 1800's "Age", Australia is in the future, and Spain is in the Inquisition age.  This creates travel and exploration between ages dangerous, and very strange. Some of the are off limits since they are in the past (like in the Ice Age) and others are so far ahead in the future that it would cause a lot of confusion to go there.
That being said, the Mapmakers trilogy is a fantasy and even though it is considered middle grade, it had an universal appeal.  There is magic, religious fanaticism, prejudice, bad people (and I mean BAD people), pirates, adventure, exploration and much more.  It is really hard to put into words how much is housed between the pages of the book.  The plot is intricate, complicated, full of twists and turns and action packed.  I mean, Grove is a genius to create so many settings, languages and cultures. The writing is beautiful.  
Sophia, Theo and Shadrack are our main characters.  Shadrack is one of the most famous cartologists of New Boston, a professor and prominent citizen very active in the government.  Sophia is Shadrack's nice. She's in search of her parents that left to help a friend in Spain when she was very little and never came back. She's also a student of maps and her internal clock is broken (that means she looses track of time very easily).  Theo is an orphan that we get to met on the first book of the trilogy and is sort of adopted by Shadrack. The characterization is incredibly good and there are SO many characters both new and old. The character growth that both Sophia and Theo undertake throughout the course of the series is amazing.
I really don't want to get into the details because so much happens here and a lot of it is spoilery if you haven't read the first two books.
The only thing I didn't like is that even at the end, Grove didn't explain how the Disruption came to be.  I thought that we would get some sort of explanation of what happened.
Overall, The Crimson Skew is an imaginative series of a that creates an intricate world building based on a catastrophic event. It s a series about family and friendship, about adventure, about following your heart, about doing the right things even when it's not the easiest thing to do. It's about being open to the possibilities and about maps.  
The Crimson Skew (indeed, the whole series) was narrated by Cassandra Campbell.  She is a veteran at voice acting and it shows.  The voices are amazing, very distinctive from each other and cohesive thought the series which is a big accomplishment since there SO many characters and accents.  An outstanding job.